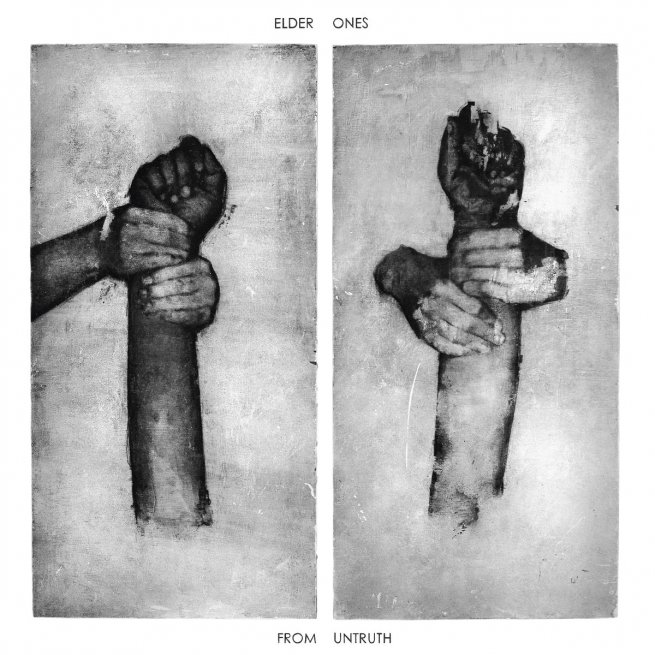 "Eat the rich or die starving." Repeated mantra-like at the end of the first song on Amirtha Kidambi's impressive new record with her band the Elder Ones, From Untruth, that sentiment somehow lands less as provocation than as simple statement of fact, a moment of clarity that throws the sonic maelstrom preceding it into relief. The world seems increasingly divided between those who feel the fierce urgency of "now" coursing through them in waves of horror and rage, and those who do not. Kidambi, it feels safe to say, is in the former category.
The Elder Ones' 2016 debut, Holy Science, introduced their unique mélange: wordless jazz- and classical-influenced vocals from Kidambi, meshed with her own harmonium drones and synth spasms, free-jazz saxophone courtesy of Matt Nelson, and big riffs from bassist Nick Dunston, anchored by drummer Max Jaffe's heavy rhythms. From Untruth is a major step forward on all fronts. Kidambi's introduction of lyrics brings a new focus to her music, and it's explicitly political—in addition to "Eat the Rich," the album's other titles are "Dance of the Subaltern," "Decolonize the Mind," and "From Untruth" (into truth, that is). The riffs, often in augmented or diminished modes, are heavier and more hypnotic—witness in particular the 7/4 climax of "Dance of the Subaltern"—with vocals, bass, harmonium, synth, and saxophone all trading duties; the rhythms are more complex; the solos and song structures are tighter.
Each of the album's four songs—which range from nine and a half minutes to over fourteen—are intricately structured. This is a jazz album, more or less, but one that is refreshingly beyond the head–solo–head structure so typical of even much free jazz. Rather, each song cuts not only between composition and improvisation but between motifs and textures as well. Instruments come in and fall out, now in a support role, now leading, now out entirely; vocals give way to riffs, drones, howling solos, duets, and trios. Yet the music is so direct and the compositions so rigorously structured that the feel is less tone poem than protest suite, harking back to the spirit of classic 1960s avant-jazz suites.
It is as though Kidambi has inherited the structures and affects of Abbey Lincoln's early-'60s work with Max Roach (We Insist!'s "Triptych" and "All Africa," in particular) and, confronted by an apocalyptic present replete with massive inequalities, right-wing propaganda, and impending ecological catastrophe, reworked the formula with the forceful language of critical theory and DSA slogans and a global, transhistorical musical palette that weaves Western classical art song, drone, and subcontinental influences into its avant-jazz fabric. It is some of the most fully realized music to emerge in the jazz idiom this decade.