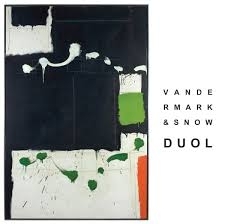 Recorded in Toronto, this brief program of slashing, staccato improvisations by Toronto visual artist and pianist Michael Snow and visiting Chicago multireedist Ken Vandermark shows that a first-time meeting can engender fresh impetus. Vandermark, who has a university film degree, and Snow, who is as renowned for his experimental films as for paintings, together produce the sonic equivalent of seething cinematography on a CD recording named for a 1960 Snow canvas.
Especially on the extended "Duol One," technicolor-styled drama is supplied by the arabesque trills and yelping split tones from Vandermark's clarinet, as Snow's unperturbed, high-frequency chording provides a wide-angle-like expanse on which reed heroics can be displayed. By the climax, tongue slaps from Vandermark's tenor saxophone and keyboard pumps from Snow dissolve slowly into almost identical irregular vibrations.
More low-key (literally, on Snow's part), the two subsequent tracks showcase the pianist's individualist hunt-and-peck sound extensions, as Vandermark, playing baritone saxophone, moves from rhino-like snarls to altissimo trumpeting. The pianist advances the tempered cadenzas further and further without breaking the harmonic line, his asides fitting perfectly among the breathing spaces left by Vandermark's note clusters. Overall, on a musical basis, the two are perfectly matched in having produced what, in cinematic terms, would be a high-grade short. Perhaps they should meet again to create a feature-length production.