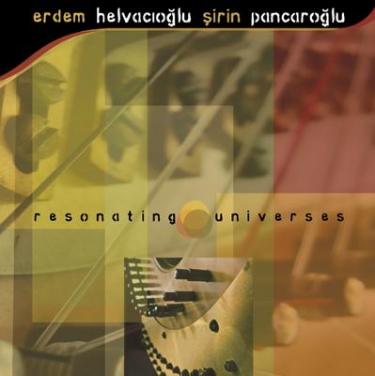 Resonating Universes is an apt title for this collaboration between electroacoustic composer Helvacioğlu and harpist Pancaroğlu. Each section of this disc-long composition teems with microscopic activity—flocks of muted plucking and granular shivers weave their way around resounding sheets of sound.
Helvacioğlu has a found for his electronics a lovely balance with the natural acoustic and spectral properties of the harp. By and large, the electronics are employed in an extremely colourful and varied manner, so they always feel like an extension of the harp, rather than a separate, discreet voice. Pancaroğlu performs on electric harp, concert harp, and Turkish çeng (with metal strings), affording a wide range of harp timbres, including extended techniques that produce an array of insectoid clicks, purrs, creaks, knocks, ghostly exhalations, and whinnies. Even the harp's pitched material is extended—through the use of various external implements the notes are bent, scraped out, or inflected with buzz.
The aesthetic of the work shifts and glides between various stylistic regions, evoking variously the highly gestural language of the post-concrète canon of electronic music, harmonic clouds of spectralism, the fidgeting hyperactivity of Xenakis' atomized sonic legacy, and the glazed-modal wash of people like Tim Hecker and Fennesz, who bridge ambient and glitchy processing. There are even, at points, reminiscences of Middle Eastern music and psychedelia.
Each section, however, charts its own unique territory, while mapping a skewed, hallucinatory sense of perspective and scale through the various strata of gestural activity—one moment you've got a stethoscope on an anthill, and the next you're peering through a telescopic aural lens, glimpsing a vast expansive landscape. Sometimes you're doing both simultaneously.