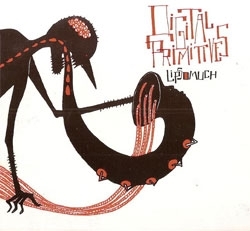 This two-disc release features a trio of free-jazz stalwarts who do not engage in your standard squawk session. Instead, they slice ninety-four minutes into nineteen funky cuts, as much influenced by country blues, rock, and various world musics as by modern strains of jazz.
Digital Primitives is Assif Tsahar (tenor sax, bass clarinet, and mbira), Chad Taylor (drums), and Cooper-Moore, who plays a variety of home-made instruments including diddley bow, a one-string, plucked instrument that largely functions here as a bass, and is responsible for the old-time twang dominating many tracks. Elsewhere, the twinger (Cooper-Moore's one-string bass) and a fretless banjo impart earthy vibes and conjure rattling spirits.
The opening tracks on each CD, "Beastit" and "Grass Blade" respectively, both have straightforward rock beats upon which Tsahar blares anguished angular lines. "Eye Perceives" and "Soul Searchin'" are barn burners, Taylor's insistent cymbal work sizzling behind Tsahar's scorching sax. "Ol' Blu" evokes dustbowls and rural back porches, while the aptly titled "India" is a minimalist Eastern spiritual. "Talking in Tongues" extends the range even further to avant–world, with Tsahar switching to mbira (African thumb piano).
Given the all-acoustic lineup, the first half of the group's moniker likely refers to human rather than electronic digits. In contrast, "primitive" accurately forecasts the overall aesthetic, which glues together the diverse strains on this inventive yet fun disc.