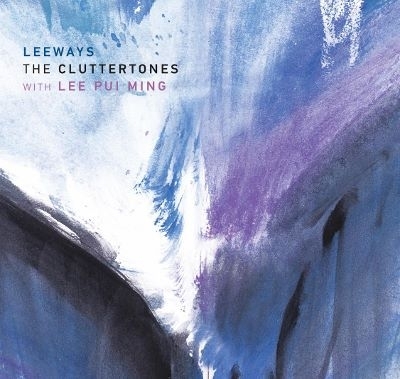 Bassist Rob Clutton has been composing for his group the Cluttertones for over a decade, modelling his work for a quartet that includes trumpeter Lina Allemano and guitarist–banjoist Tim Posgate, with Ryan Driver playing analog synthesizer and singing. The approach is unusual, combining occasional folk-like melodies and lyrics with electronica and frequent freely improvised solos. On LeeWays, Clutton and the group extend the dialogue of parts and personalities by adding pianist and singer Lee Pui Ming.
The first five pieces come from a series of contrapuntal works that Clutton composed at the rate of one per month during 2014. A couple of the series appeared on the group's previous release Ordinary Joy. Each composition features a single member of the group, with Lee adding her own piano in subtly interactive ways as well, from understated percussion to string textures. The opening piece, Gull, foregrounds Driver's synthesizer and voice. It's an oddly folk-like use of electronics in which initially brief trumpet interruptions gradually lead to developed contrapuntal lines from trumpet and guitar. That folk-like aspect is still more pronounced on Bears, with Driver's reedy, keening voice mining Clutton's rustic lyrics amid a continuous obbligato from Posgate's banjo. Julio features Allemano, who explores wind effects through her horn without articulating notes, as group elements gradually appear and grow stranger until the piece revolves back to Allemano alone. Septiembre begins with Clutton's feature fluid bass solo, which eventually encounters sudden collective intrusions from the rest of the band, led by Allemano's trumpet, and ultimately transmutes into a calmly extended group piece.
The album's second half is given to Leeways, a five-part suite in which Lee is given freedom to improvise throughout in a kind of concerto, at times providing great lyric sweep. The group continues to emphasize solo and duet voices, such as the pianist's developed dialogues with Posgate in the first segment and with Allemano in the second. At times, identities seem to pass from one instrument to another, Allemano's trumpet functioning as percussion while Clutton's bowed bass soars into the cello register, the banjo assuming a kind of unlikely nobility while the synthesizer resembles a hurdy-gurdy.
As songs match up with instrumental abstractions, the Cluttertones happily provide a forum for Clutton's highly personal musical visions, combining improbable materials into textures and sequences with dreamlike qualities.