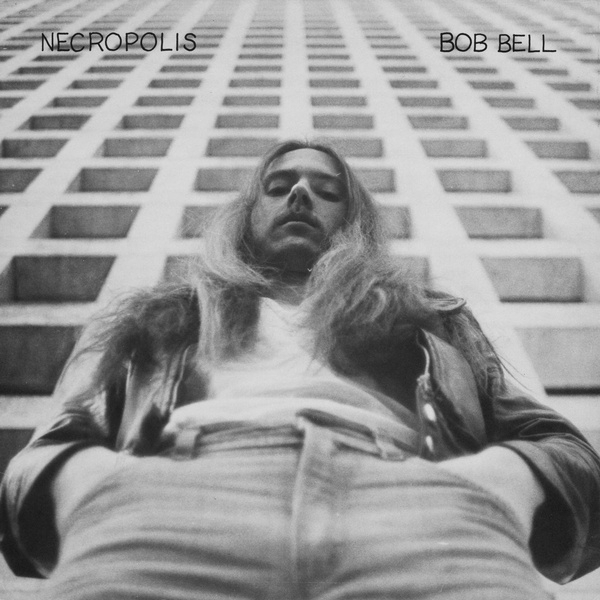 Since its release in 1978, Bob Bell's Necropolis has grown in stature to become one of Canada's most highly sought after private-press LPs. The glassy-eyed Vancouver longhair gazing out from the album's cover photo—strikingly shot from an ant's eye view pointing up at his denim crotch—doesn't welcome listeners into his musical world as much as dare them to join him. Recorded over forty-eight hours during which Bell presided over two separate trios, it has him playing guitar on the A-side in four superhuman bursts of psychedelic basement rock by one trio, and switching to alto sax on the flip side for a fifteen-minute free-jazz blastoff by the other trio.
Bell's blazing guitar skills become obvious within the first minute of the LP's opening untitled number, with tentative stabs storming into cyclical riffs as Paul Franklin's tumbling drums match his intensity. Track two finds bassist Mark Franklin taking over with some of the busiest fretting this side of Soft Machine's Hugh Hopper if he were joined in a fantasy band with Sonny Sharrock. The Franklin brothers, who would later join space-rock collective Melodic Energy Commission, featuring Hawkwind's Del Dettmar (whose album Migration of the Snails was also recently reissued by Telephone Explosion), proved their mettle with this descent into sonic madness.
The album's B-side finds Bell's squealing sax in heated conversation with double bassist Lisle Ellis and pianist Paul Plimley, who later became acclaimed free-improv figures. Bell stayed the course as well, sharing stages with Miles Davis and James Blood Ulmer, and remaining a fixture on Vancouver's avant-garde scene while working in the jazz department at A&B Sound. Four decades later, the unearthing of his Necropolis still sounds like a graveyard smash.