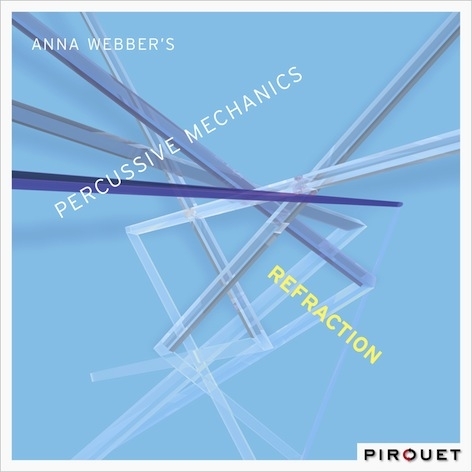 Audaciously extending her conceptual chops, avant-jazz reedist and composer Anna Webber creates a suite, of sorts, with Refraction, bookending the program with a prelude and postlude sonically coordinated but not copied, all seven tracks on the album subtly reflecting motifs that swirl throughout. A British Columbian turned Brooklynite, Webber, who plays tenor saxophone and flute on this disc, is joined by other musicians whose playing is neither overly percussive nor mechanical.
Interpreting the work in the form of parallel contributions, Webber's sensitive arrangements balance duality. Her horns are matched by the alto saxophone and clarinet of James Wylie, while pianist Elias Stemeseder and vibist Julius Heise are like two integers needed to create a sum, as are percussionists Martin Kruemmling and Max Andrzejewski. Odd man out is bassist Igor Spallati, who, except for dedicated arco slides on "Theodore," produces pulses more commonly felt than heard.
Webber's compositions careen from one genre to another, like the bicycle celebrated on "The All Pro 3 Speed," in which her alto flute, voiced alongside piano chords, emphasizes the drive's steadiness. Just as it appears as if gears have locked into place, Wylie's impassioned reed pressure ups the excitement for a wilder ride. Reaching a climactic stopping point, intermittent drumbeats keep the theme revolving until the end. Related refractions reflected on the CD include the near-goofy humour of "Tacos Wyoming," with its Tex-Mex-accordion-like sway, tick-tock clockwork drumming, and duelling sax lines; as well as "Relentless," whose quirky rhythmic grid below Webber's solos on flute and tenor sax threaten to transform the line into a Northern Hemisphere bossa nova.
Seriousness isn't neglected either. "Theodore," which is as complex as any notated chamber piece, concurrently deconstructs and sutures together like opposite motions reflected in an M. C. Escher print: the composition is set up by a marimba-vibes duel, with every player contributing improvisations from many angles, including reed squeaks, inside-the-piano string strumming, and parallel harmonies between horns and keyboard. In the end, this multilevel theme is as emphatic as it is emotional. Embedded as part of Webber's musical vision, it's one more example of what makes her performances and writing sophisticated and satisfying.