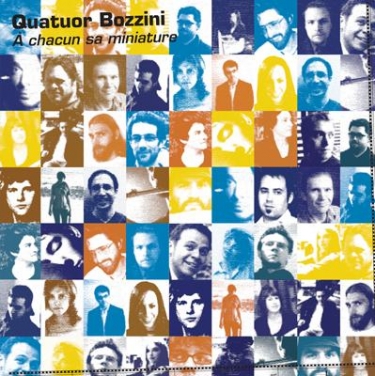 Since 2005 Montreal's Quatuor Bozzini—leading interpreters of new string-quartet music—have hosted the Composer's Kitchen, a workshop for emerging composers, where they hone their craft. In 2011 the ensemble approached previous workshop participants, and harvested thirty-one miniatures to celebrate the workshop and to be incorporated into the ensemble's repertoire. This disc captures this large and widely varied body of pieces.
The double CD serves as a rare snapshot of Canadian talent born 1969–1985 and features the likes of Cassandra Miller, Emilie LeBel, Olivier Girouard, eldritch priest, and Taylor Brook. While the interests and sound worlds of the individual composers are radically individual, the album's curation causes it to flow together seamlessly, as though it were one long work, making for a satisfying yet perplexingly uniform listening experience.
It's not, however, without moments of surprise. In fact, in spite of the sly, smooth sequencing of the tracks, each piece is still its own tiny discreet world. Eric KM Clark employs blended vocal doublings of the strings amidst a stark microtonal sound world. Jeff Morton's use of motivic pizzicati interspersed with oddly choked bowed notes is quite striking. Ghislain Lecroulant fleetingly touches upon material with strong ties to Ravel's String Quartet. Daniel Brandes' work takes luminous harmonic chords glazed with whistling from the quartet and intercuts the gestures with sharp bursts of noise. The Girouard piece masterfully deploys various techniques to create a cloud of mysterious, purring friction, with few moments that resemble string playing at all.
As always, the quartet's execution is clean, precise, and radiant, making this a real treat to listen to, especially since the highlighted composers are seldom recorded elsewhere!