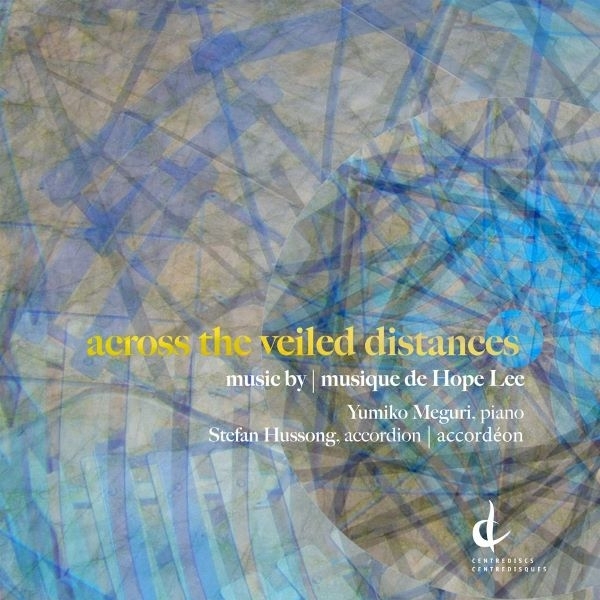 Covering almost four decades of Hope Lee's writing for the piano, Across the Veiled Distances encompasses a wide musical investigation in a retrospective album of her evolving relationship to the instrument. Through five works, Lee layers foreground and background piano gestures, balancing moments of deliciously angular dissonances with delicately evolving lines. Featuring thoughtful interpretations from long-time collaborator Yumiko Meguri, the album is distinct in that it is Lee's only disc devoted to solo works, as she often works on long-term multipart chamber music projects, such as Secret of the Seven Stars.
Throughout much of the album, Lee's piano explorations take shape in her use of extreme registers and her predilection for using repeated note gestures. Entends, entends le passé qui marche (1992), a work inspired by the coexisting concepts of present, past, and future, deftly weaves subtle electronics of piano and vocal chant into the work to create moments of organic musical intersection. The only duo work of the album, Imaginary Garden V (Renewed at Every Glance) uses the accordion (played by Stefan Hussong) as an extension of the piano by introducing long sustained and crescendoing notes.
The piece covers a wide range of moods— from the slow, rhapsodic beginning, through the Prokofiev-like march, to its eerie, choral-esque conclusion. The album ends on an introspective note with O som do desassossego…(Reflection on Recollection) (2015), an elegantly constructed work made of high register splashes and intricate counterpoint, underpinned by a quiet but insistent bassline. The attention to detail, both in terms of the compositions and interpretations, is keenly felt in Across the Veiled Distances.