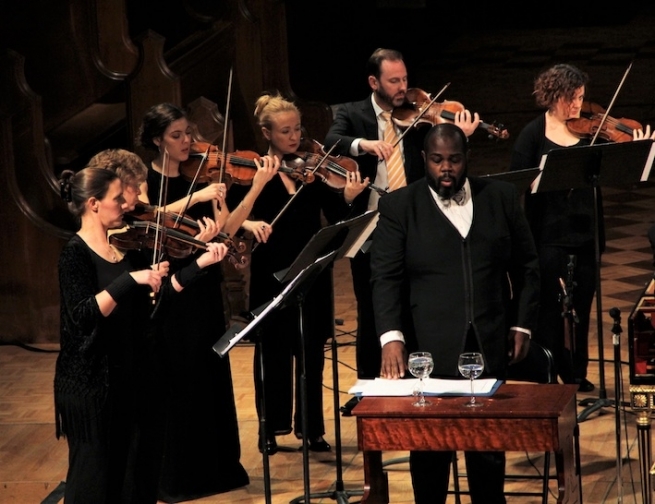 LIKE A BENEVOLENT OCTOPUS, THE VANCOUVER SYMPHONY ORCHESTRA'S ANNUAL NEW MUSIC FESTIVAL HAS BEEN EXTENDING ITS TENTACLES in a variety of occasionally surprising directions since its inception four years ago. This year, for example, the event opened with a performance by avant-jazz big band the Hard Rubber Orchestra—not quite as shocking as it might seem, given that leader John Korsrud has studied composition with Dutch minimalist Louis Andriessen, but still a bold left-field move. Another ambitious collaboration found the VSO teaming up with Vancouver Early Music and the Pacific Baroque Orchestra to present two nights of New Music for Old Instruments, beautifully curated by former VSO composer-in-residence Rodney Sharman. Closing night's On a Wire performance found the Standing Wave ensemble onstage at the Orpheum with the orchestra, performing Jennifer Higdon's lengthy and taxing title piece for the evening—an impressive feat of focus, given that just a day later the new-music sextet was to play the first of two concerts featuring Nicole Lizeé's music for the Music on Main concert series.
Running concurrently with all this was the Turning Point Ensemble's three-day presentation of music by Edgard Varèse, Frank Zappa, and John Oswald, whose fifteen-minute Refuse received its world premiere. The new-music scene in Vancouver has been enjoying near-exponential growth in the past few years, but even so, this was an extraordinary glut of sonic exploration, most of it successful.
Of the three VSO concerts that Musicworks attended, closing night at the Orpheum may have been the most consistently impressive—and not just because it featured the full orchestra. Part of its success rested on the ectomorphic shoulders of current VSO composer-in-residence and concert curator Jocelyn Morlock, whose Hullabaloo—Sesquie for Canada's 150th and Corvid, both world premieres, opened the night. The latter, appropriately dark, introduced an avian theme that continued in Emilie LeBel's Monograph of Bird's Eye Views, an agreeable drift over shifting harmonic textures. Morlock also programmed The Smile of Maud Lewis, a piece by her late teacher and mentor Nikolai Korndorf (1947–2001) that didn't seem at all out of place in this program of works by much younger composers.
Of the two longer works, VSO associate principal trumpet Marcus Goddard's Spooky Action at a Distance lived up to its advance billing as "dreamy, heroic, and foreboding." A typically assertive and cinematic undertaking, it was given a vibrant reading by the orchestra under conductor Bramwell Tovey. Each time the VSO plays one of Goddard's pieces, it's apparent how much he's respected by his colleagues; everyone stepped up for this—especially his fellow brass players, who had wonderfully rich textures to work with. Higdon's On a Wire also impressed, although its overall form was not immediately apparent; an episodic piece, it would need at least another hearing for full appreciation. Higdon's mastery found its clearest expression in how well she integrated band and orchestra—and her provocative intelligence offered a gorgeous surprise when the members of Standing Wave clustered around Allen Stiles's Steinway to extract gossamer clouds of sound using the "bowed piano" techniques developed by composer Stephen Scott in the late 1970s.
Pure Piano, the third concert in the festival, offered more extraordinary piano sonorities, especially in Lisa Cay Miller's études for prepared or "extended" piano, as delivered by either Rachel Kiyo Iwaasa or Miller herself. Although some of the subtleties of this work were lost in the cavernous Orpheum (amplification might have helped) Miller's quest to unlock the percussive possibilities of the piano proved both thoughtful and physically intense. Morlock excelled again with Corybantic: dedicated to and performed by Corey Hamm, it suggested a century-wide survey of provocative piano textures, from sweet-sour atonality to gamelan-inflected minimalism. It's not going too far to say that it was thrilling, and thrillingly performed.
Alas, the long wait for Farshid Samandari's Vanishing Borders, played by Iwaasa on Disklavier, with the composer on electronics, diminished this intriguing work's impact—and we're not entirely sure that we heard it as it was meant to be heard. Software glitches kept computer and piano from communicating properly at first, and even after those had been rectified and the performance was underway, Samandari seemed to be adjusting the digital-keyboard settings on the fly. There were also issues with the work's electronic component, based on spectral analysis of the Persian tar; the amplified sound often overpowered the piano in a way that undercut the work's message of unity. This piece, too, deserves a second hearing.
No such technical difficulties plagued the second New Music for Old Instruments concert, at Christ Church Cathedral on the festival's fourth night. Morlock again contributed a standout piece in the appropriately titled Golden, a radiant showcase for countertenor Reginald L. Mobley and the Pacific Baroque Orchestra. Thierry Tidrow's Ricerar, a solo for PBO concertmaster Chloe Meyers, mined the expressive possibilities of the gut-strung baroque violin; Linda Catlin Smith's Sinfonia was an unusually warm and emotive work from this often-austere composer; and Patrick Giguère's La Belle-Anse, inspired by a visit to the Magdalen Islands, paid effective tribute to the otherworldly atmosphere of that Atlantic archipelago.
The three excursions into the Great American Songbook that closed the program were, for this listener, a mild letdown—but that's probably a matter of taste. Certainly Sharman and PBO music director Alexander Weimann provided effective arrangements of George and Ira Gershwin's "Lady Be Good," Joe Raposo's "Bein' Green," and Cole Porter's "Ev'ry Time We Say Goodbye." Mosley sang beautifully, but there might have been too much cross-pollination going on here—even if most listeners left this night of genre-bending music with a smile.
---
Photo: Counter tenor Reginald Mobley and members of the Pacific Baroque Orchestra at the 2017 VSO New Music Festival, Vancouver. Photo by: Matthew Baird