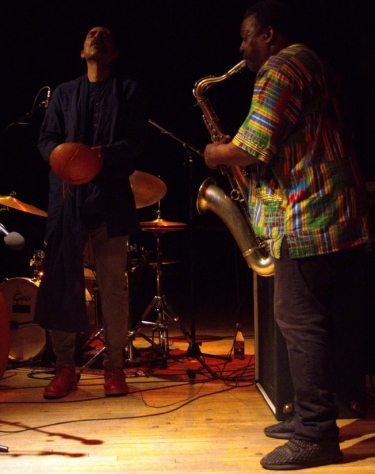 Like the accordion played in the large improvising ensemble GGRIL, this year's Suoni per il Popolo expanded in some dimensions and contracted in others, while continuously bellowing out fascinating sounds. Some years the festival has unfolded over a full month, but the 2018 edition ran just under three weeks; while the first festival was presented in one room, fourteen venues were used this year; whereas early years predominantly featured free jazz, today we hear every conceivable genre, from contemporary classical and alternative rock to ambient electronics and hip-hop. There were noontime concerts in a hospital, late afternoon performances in record stores, workshops with visiting musicians, soundwalks, film screenings, art exhibits, meditation sessions, dance parties, and even an outdoor barbecue with deejays.
The Black Ark is a work in progress from Julie Richard, who is researching lost, destroyed, or unfinished compositions by female African-American composers from the 1920s to today. For her Suoni festival concert, Richard compiled fragments of a work by Julia Perry, a Chicago composer of orchestral works, filling in missing voices and composing new material to complete it. She conducted a large orchestra featuring a string quartet, piano, harp, oboe, trombone, flute, clarinet, saxophone, vocals, and five percussionists. The concert, which felt like an exhumation ceremony, consisted of four movements that were separated by silences and played against a film screen. The work started with percussion gradually joined by ostinatos from the strings and trombone, the second featured slow-moving, dissonant strings, while the third was more rhythmic, in three-four time. The fourth movement began with a sax solo by James Goddard, which morphed into operatic singing by Ida Toninato.
In the concert from the trio Eave—Anna Weber (tenor sax, flute), Erik Hove (alto sax), Evan Tighe (drums)—breathy drones of shifting overtones mixed with cymbal scrapes, as pieces slowly evolved. This was minimalist free jazz, the aural equivalent of a candle flickering.
In Bain Mathieu (a disused indoor swimming pool converted to a space for shows) heavy curtains cut the excess reverb to create a decent-sounding hall for the Nouvel Ensemble Moderne,  with guest conductor Dina Gilbert. Its program was curated by composer-in-residence Keiko Devaux, who chose music from six female composers. Bunita Marcus' Lecture for Jo Kondo was a meditative piece for violin, flute, harp, piano, celeste, and vibraphone, while Chaya Czernowin's Ayre filled the air with and roaring percussion and start-stop glissandi from the strings. Kaija Saariaho's Lichtbogen, inspired by the Northern Lights, was hauntingly atmospheric with whistles and drones from the strings and single-note hits from the percussion and piano. Jennifer Walshe's Zusammen was a bizarre performance-art piece of single notes separated by silence, during which some musicians walked about angrily and others "shot" finger pistols or embraced each other. Sofia Goubaïdoulina's Concordanza, the most tonal composition, gave each musician melodic lines supported by lush orchestration. Devaux's own Ebb had horn players twirling around, splaying tones around the room; the flow was enhanced by images of water waves projected onto the ceiling by video artist Myriam Boucher. Masterful orchestration included rapidly descending glissandi and ostinatos buried inside rumbling drum rolls, making good use of the NEM's resources.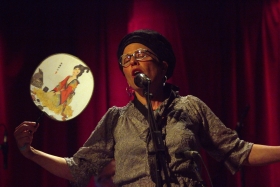 A somewhat unusual pairing in the main Sala Rossa Hall, the quirky love songs of Castor et Compagnie opened for the free-jazz sax-and-drums duo of David Murray and Kahil El'Zabar[(TOP PHOTO]. Castor et Compagnie is a five piece band led by Joane Hétu (vocals, sax) [LEFT PHOTO] and featuring Jean Derome (sax, flute, tiny noise objects), Diane Labrosse (keyboards), Pierre-Yves Martel (electric bass), and Pierre Tanguay (drums); eerie music conveyed a range of emotions, with the love theme enhanced, as objects such as hand fans were used as noisemakers. El'Zabar moved from drum kit to kalimba to cajón and back, while Murray stuck to his alternating in-and-out free jazz lines on tenor sax, excep on the pair's final piece, a funk workout that would have sounded at home backing the Pointer Sisters, on which he played bass clarinet. 
La Sotternea, a small basement room below the Sala Rossa, housed an installation by N. M. Ryan. Six guitars were suspended upside down from the ceiling, each connected to its own amplifier and fitted with a single A string. An EBow constantly vibrated each string, and visitors were invited to turn the tuning pegs to alter the pitches and add swooning sweeps. The results were reminiscent of a Glenn Branca concert. 
Shortly after closing time, l'Oblique Records became the venue for two sets of free improvisation: Portugal's Luis Lopes led listeners down feedback alley, where his dexterous combination of scraped and banged metal on strings created a merciless flow of multilayered wails and percussive crashes. This was followed by a quieter set from Portuguese violist and Creative Sources label head Ernesto Rodrigues, who formed a trio with Montrealers Vergil Sharkya (analog synths) and percussionist Paulo J. Ferreira Lopes, playing only cymbals. Rodrigues used a soft bow, the hairs of which straddled the bridge to elicit sounds both above and below, drawing a rainbow of soft murmurs. Sharkya's quick timbral changes showed close listening, while Lopes added various colours, using mallets, sticks and even a cloth rag to coax sounds from the cymbals. The next evening Rodrigues and the two Lopes proved their versatility in a high-energy free-jazz quartet with pianist Karoline Leblanc.
Over at the Darling Foundry south of downtown, the Bozzini Quartet presented the world premiere of Occam Delta XV by French composer Éliane Radigue. As the title implies, this work is based on the principle of parsimony, with string overtones from single long tones interacting with each other to create a shifting harmonic spectrum and a constant state of tension. As Occam proclaimed, simple ideas can support complex results
Ron Samworth (guitar) and Mili Hong (drums) were the resident musicians for the annual Trading Places series, wherein two Vancouverites are invited to lead an improvising workshop and play in several shows. They participated in an eight-hour marathon improvisation session celebrating Mardi Spaghetti's ten years of improvised-music meetings, and were also on the bandstand  for Ted Crosby's take on Duke Ellington's Far East Suite. Crosby's interpretation alternated smooth orchestral sections, which were close to Ellington's originals, with extended solos where everyone got a chance to shine. Solos ranged from Craig Pederson's blistering but tonal trumpet to ones—like Samworth—with added effects and extended instrumental techniques more common in free improvisation than in swing bands.
Moniker—a new trio comprising percussionist Roger Turner, trombonist Scott Thomson, and guitarist Arthur Bull—presented a constant clatter; Turner played with a fork and noisily adjusted his kit, while Bull struck his strings with an aluminum pie plate and Thomson gurgled along, the utilitarian implements suggesting the common person's daily struggles. Turner continued the theme when he started taking apart his kit during the last few minutes of music
GGRIL, formed by Éric Normand in Rimouski in 2007, is a democratic unit with a unified collective sound. The thirteen-piece improvising ensemble includes three basses, three guitars, harp, bass clarinet, trumpet, violin, vibraphone, bass saxophone, and accordion, and presented composed works and conductions. John Butcher's "Burst" had each musician contributing staccato blasts, while Fire by Fred Frith began with a cacophonous "bonfire," which eventually died out.
The duos of William Parker with Milford Graves and of Sylvie Courvoisier with Mark Feldman both displayed the combination of virtuosity and very high musicality, and achieved heights that were otherwise attained in a variety of ways throughout the festival.
---
Suoni per il Popolo 2018 photos by Pierre Langlois.