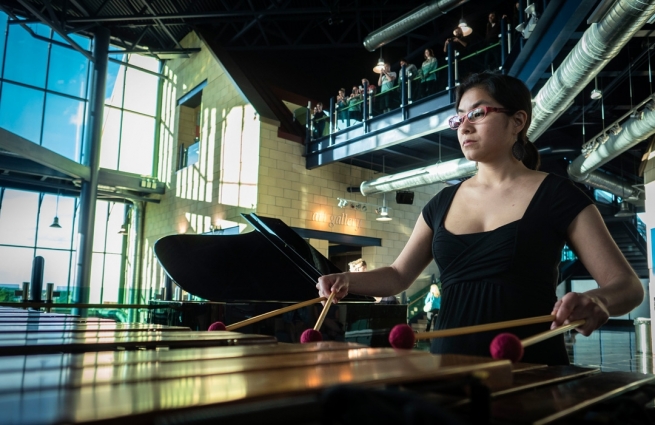 The nineteenth iteration of the biennial Sound Symposium was distinguished by its colloquium, new awards, and of course, world premieres of risk-taking works. The event opened with the Indigenous Improvisation Colloquium: Freedom and Responsibility; and heritage ceremony and cultural ontology soon became the themes that were threaded throughout the ten days of Symposium performances. Raven Chacon, a member of the American Indian arts collective Postcommodity, situated improvisation as a safe place for marginalized cultures. Meanwhile, Dawn Avery and Cris Derksen, both innovative cellists, added First Nations voices that challenged simple categories. Frode Fjellheim and Snorre Bjerck, featured artists from Norway, expanded the scope of discussion to include the resurgence of the Sami vocal tradition of yoiking. These themes probing the symbiotic relationship between place and identity have a special resonance in the cultural psyche of Newfoundland and Labrador.
With ten international and forty-three Canadians artists creating sonic adventures in concert halls, cathedrals, galleries, pubs, and the unforgettable Harbour Symphonies, one finds it difficult to convey a cohesive picture in a short review. Performances went from dawn to dawn. I have to admit I didn't make David Buley's 4:30 a.m. organ-and-voice performance in the Anglican cathedral, although I know from previous experience that the four-manual Casavant Frères  organ is a treat to hear. Still, having concerts throughout the day meant that there were multiple opportunities and impromptu contexts in which to absorb the many talents singly and together. If you didn't make the Subhira Quartet's set in the formal concert hall, you could catch their pub feature of Chilean-infused world music. How often do you get to hear a guzheng and didgeridoo throwing down dance tunes?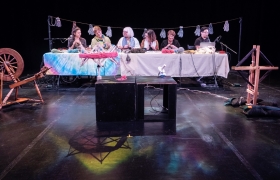 Concerts were interspersed with events such as a sunrise meditation (Rosalind MacPhail), mindful soundwalks and gatherings (Gayle Young and James Harley), and technical workshops on composition, instrument building, and graphic scores. The screening of Payton MacDonald's film Sonic Divide gave audiences an in-depth look at the training, inspiration, and interpretation of MacDonald's unique practice of using his mountain bike and found materials as percussion instruments. MacDonald performed as part of a concert program that also featured Rokkur (composer-performers Heðin Ziska Davidsen, Reuben Fenemore, and Sarah Albu) and Newfoundland knitters and storytellers, and U.S. composer Doron Sdaja. The audience was taken on a sonic odyssey that moved from pure acoustics—bicycle wheels, spinning wheels, and wool winders—to synthesizers, extreme frequencies, and dense noise. This ambitious programming requires the audience to open its mind and ears. As the Symposium unfolded, it was rewarding to see the audiences and artists gradually accommodate each other. 
Jordan Nobles' ambient Cinquanta—played by percussionists, guitarists, and keyboard and harp players situated in different parts of the Atrium at The Rooms—charmed the audience, which listened not by sitting but by walking through the environment, making the piece a collaborative act. Nobles' composition suited the soaring vistas of sky and sea on view through the venue's large windows.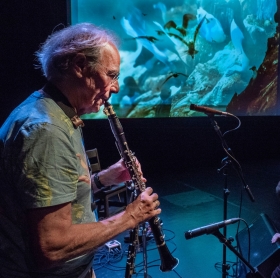 A few hours later, the audience was figuratively transported to cliffs and ice flows when Roarshack—the impressive Newfoundland trio of Paul Bendenza, Rob Power, and Andrew Staniland—performed Birds and Ice Report, two interarts works, first performed at Sound Symposium 1983. Conceived by visual artist Frank Lapointe and the late percussionist-composer Don Wherry, they are delicate without being precious; neither image nor sound overwhelm the other. Photographer Greg Locke designed and digitized Lapointe's original images for this 2018 version.  
Women were strongly represented at this year's Symposium. In addition to Hildegard Westerkamp and Gayle Young, we met powerhouse players such as the aforementioned cellists Cris Derksen and Dawn Avery; the duo of Jennifer Thiessen (viola d'amore) and Ida Toninato (baritone sax) admirably built performances on their contrasting instruments; and improvisers Susan Alcorn (pedal steel guitar) and Amy Brandon (acoustic guitar and electronics) connected their energy to that of their audiences.
The Sound Symposium has been a consistent creative pressure cooker for decades. With its sense of adventure and community, the nineteenth edition could not be dampened even by Hurricane Chris, which was reduced to a post-tropical storm by the time it joined St. John's soundscape.
---
PHOTOS: (Top) Percussionist performing with others (not shown) the world premiere performance of Jordan Nobles' Cinquanta; Local knitters joining Sarah Albu (far left) and Reuben Fenemore (far right) of Rokkur; (bottom) Paul Bendzsa performs as part of Birds And Ice Report. SOUND SYMPOSIUM XIX PHOTOS BY: Greg Locke.