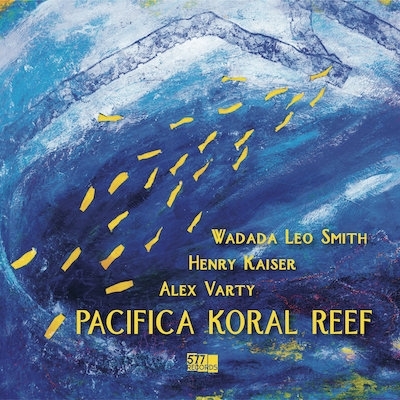 Trumpeter and composer Wadada Leo Smith might be best known for his expansive celebrations of civil rights, Ten Freedom Summers and Rosa Parks: Pure Love; guitarist Henry Kaiser for his soundtracks for Werner Herzog films and underwater musical journeys to polar ice caps; and Alex Varty is known as a music critic in Vancouver. But here Varty plays impressive guitar with those two musicians of the first rank. The three undertake Smith's Pacifica Koral Reef, from his series of Ankhrasmation scores—Smith's name for his own musical notation that interweaves multiple materials, from notes to colours. It's a slowly unfolding, fifty-five-minute work that's both a panorama of contrasting dimensions and a profound meditation deeply rooted in a sense of voice.
The piece begins with Varty playing a kind of raga on acoustic guitar, which transforms into a traditional English ballad. Smith enters with a rich, yet wounded trumpet sound, each long tone a distinct clarion call. If the roots are in Miles Davis, Smith transforms them: soon the horn is echoed by the bending tones of Kaiser's alien electric guitar and Varty's punctuating harmonics.
The depths of the ocean draw the listener further in until the trumpet cedes to the weird deep-sea radio howl of one guitar and the acoustic rumbles and scrapes of another. Slow shifting between solos and micro-ensembles alternately evokes feelings of certainty and mystery. Hints of urban blues, a percussion procession, and an exotic market each supply contrasting touchstones, until the work concludes with a spare and searing trumpet that seems more voice than voice, each individual passage contributing to the intense, testamentary character of this prayer-like work.