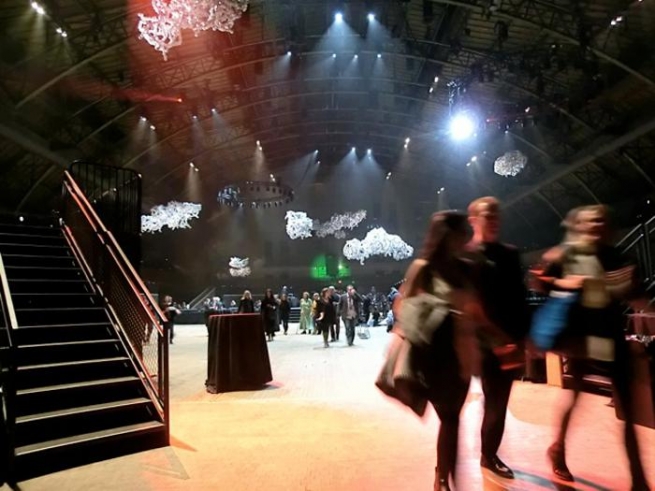 It is with wistfulness and admiration that I'm writing a review of the last-ever Merce Cunningham Dance Company Event, the second of two shows at the Park Avenue Armory last New Year's Eve.
Wistfulness, for obvious reasons: this performance marked the end of a cultural institution that since 1953 has fostered a unique intermedia practice, a practice which still has the power to challenge and confuse and annoy audiences—at this performance, I overheard people still chitchatting their amazement at the revelation that the music and dance and décor are created separately and only brought together in the moment of performance. Wistfulness, because the Company has been an umbrella for a particularly wonderful school of musicians and composers who made careers, or large portions of careers, out of its unfailing dedication to new commissions and extensive touring. This followed on the insistence of the Company's first musical director John Cage, whose accompaniments for his life partner Merce's dances had to be living things, created anew with each performance.
The admiration I express, after witnessing the final curtain call of the Company, is for the vision of its founder for its planned demise, following his own death. Cunningham carefully set out what would happen after he died: a worldwide "Legacy Tour" of two years, a final series of Armory Events in New York City, affordable to all (the egalitarian $10 ticket price was his specification), and then: disbandment of the Company and its parent organization, the Cunningham Dance Foundation. This apparently in recognition of the danger that once the dancemaker and rehearsal master was no longer producing new work, the Company might decline and become only a museum piece. This plan was set in motion after Cunningham died in July 2009.
The final Event was a fifty-minute performance, and was visually stunning. Cunningham's Events were invented by him as a way to collage together fragments of many formal compositions, particularly to suit non-theatrical spaces. This Event incorporated scenes from dances created between 1959 and 2009, with dancers continuously coming and going on three large square stages erected asymmetrically on the floor of the cavernous Armory. There was almost no seating for the audience, which was free to move about the floor space or stand atop several large viewing platforms. In the darkness of the space, large grape-like clusters of illuminated white balls designed by Daniel Arsham hung like odd clouds. A low, expansive riser was given to the musicians.
And the musicians! Here again was wonderful evidence of the long and very special history of the company. Four new compositions were commissioned for this Event series, and all of the composers were present as performers of their own works: Christian Wolff, whose music first accompanied a dance in the year of the Company's founding (when he was 19!); David Behrman, who received his first commission in 1968; Takehisa Kosugi, whose first was in 1976; and John King, the "newcomer" with his first commission dating to 1985.
Behrman's Open Space With Brass led the charge in this final show, with three trumpets and three trombones positioned around the Armory balcony playing a muted, dissonant fanfare as the lights dimmed and the dancers entered to great applause. Behrman's signature, stately, steady-state electronics blended beautifully with brass clusters, and Okkyung Lee's cello floated over the top with surprisingly romantic effect. A series of long tones, sliding from low to high pitch, marked the beginning of the transition out of Behrman's piece into Takehisa Kosugi's Octet.
The "octet" in question was two groups of four photocells each, wired to control the frequencies of eight simple oscillators; Kosugi performed the piece as an extremely animated solo, raising and lowering the level of desk lamps shining on the devices, hiding them under boxes, creating massively noisy soundbursts by rhythmically interrupting the light with his hands or hand-held objects. After the relative solemnity of Behrman's work, this was a party piece also reminiscent of David Tudor's years with the Company, particularly his use of sound spatialization. Jesse Stiles caused Kosugi's noises to ricochet madly amongst the speakers, and volume levels gave an impressively physical quality to the sound without being overbearing.
Following Kosugi was John King, whose Astral Epitaphs returned to a spatialized brass sextet and an even more romantic quality than the Behrman piece. This was in large part due to the strong presence of massive choral harmonies sampled by King with the Brooklyn Youth Chorus and subjected to his live-electronic processing. The piece moved through tonal and atonal sections, with hints of underlying processing making everything feel slightly uneasy, climaxing in a massive brassy drone which segued into the final piece.
Song [for 6], by Christian Wolff, was performed by an amplified acoustic sextet comprising double bass, percussion, drum set, French horn, trumpet, and Wolff on piano. Unison melodic and rhythmic fragments were interspersed with constellations and expansive silences with single instruments interloping. Characteristically modest—and rather serious, where Wolff can sometimes be playful—this piece, of all the four, best evoked Cage's lingering influence and his interest in sounds as themselves. Events came and went without a sense of past or future and, as with all Cunningham Company shows, when the dance ended, so did the music, turned off as if with a tap.
Ten minutes of tumultuous applause followed, with groupings of dancers taking to the three stages for innumerable curtain calls. Some were clearly working hard to control their emotions, others were in tears, and others simply played out the final moments of their performing life with the Company as upright and composed as if it had been just another stop on the long tour. The composers were acknowledged with numerous curtain calls as well, and the scene at their riser after the show was a congratulatory Who's Who of composers, musicians, and sound engineers from the Company's history and the New York scene.
Cunningham's work lives on through the creation of archival "dance capsules" which keep together all the materials needed for another company to license and stage one of his creations. Licensing terms will insist upon live performance of the original musical works commissioned. It won't be the same—but it couldn't have been anyway. Farewell MCDC! 
---
Image: the audience leaving NYC's Park Avenue Armory after the last-ever Merce Cunningham Dance Company Event, New Year's Eve, 2011. Image by: Matt Rogalsky.