On two recent albums, Toronto multi-instrumentalist Matthew Bailey taps into the imaginations of digital-age dreamers.
Camargo
, a solo release, and
Vol. 1
, a release by ES + MB, Bailey's improv duo with Edwin Sheard, differ aesthetically. The former is filled with angular electronic tones and the latter with round sounds, but both recordings mirror vibrant thoughts bred by blue light.
Camargo is an eight-bit electronic album. Listeners are locked into the sounds of a side-scrolling, 2-D video game through most of the album, as Bailey's whirrs, glitches, and strange clicks, bleeps, and bloops escort listeners through soft dreamlands and eerie places with ghosts and demogorgons. On the appropriately titled album closer, "Game Over," which clocks in at over seven minutes, Bailey gradually eases the listener out of the Camargo experience with a steady synth line at the pace of slow-crawling end credits, before the piece flickers and stops to mark the end of gameplay.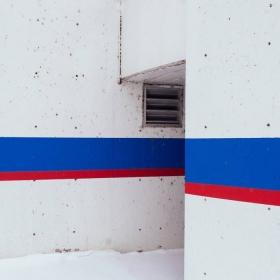 Bailey's oneiric tones are gentler on Vol. 1., his duo CD with Edwin Sheard on alto saxophone. Throughout seventeen tracks created during the pair's jam sessions, Bailey's synth and electric guitar meld with Sheard's saxophone like the 3-D pipes in the Windows '95 screensaver. Bailey and Sheard alternate between playful and anxious outbursts and longer and calmer meditations. The fluttering sax and electronics on "Unwelcome Thought" evoke the heart's quick pace when you're filled with dread, while "Big Feelings" is another emotional exploration, but this time with Sheard and Bailey having shut their screens off to indulge in tranquility.
Whether moulding sounds as a soloist or with a partner, Bailey's curious mind conjures enthralling animated soundscapes for wired daydreamers.