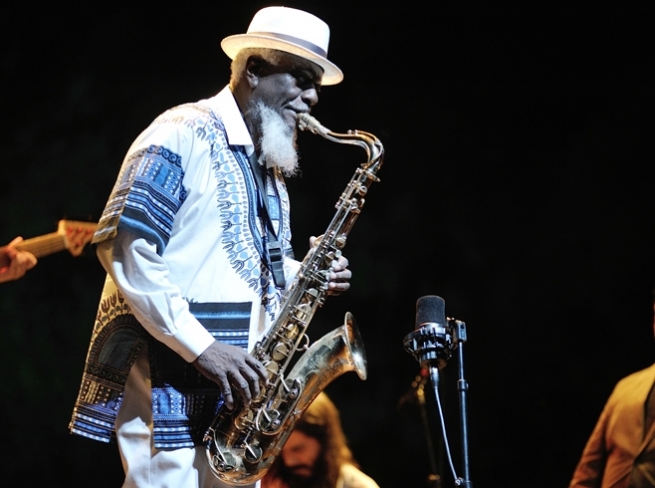 Jazz em Agosto's thirtieth edition added a few more performances than usual, but stuck to what it's done so well for so long. The festival is presented by the Calouste Gulbenkian Foundation, sponsor of a symphony, a concert hall, a major museum, and a modern art gallery, all in one large park in central Lisbon. The concerts are presented in an open-air amphitheatre with state-of-the-art sound, the rustle of trees, and an occasional quack from a nearby duck pond. Rui Neves, the festival's artistic director, emphasizes the creative traditions and possibilities of the music, and does so with significant resources. In Lisbon, you encounter widespread publicity for innovative masters like John Zorn, Anthony Braxton, and even the young trumpeter Peter Evans.
Presenting just one concert a day for ten days is a rare approach for a festival. Each concert is to be contemplated—not conditioned by something just heard or consumed by something heard right after. Even with the occasional low-flying plane, bands sometimes sound better than I've heard them sound elsewhere. (Full disclosure: this year I was hired by the festival to coauthor Arrivals/Departures—New Horizons in Jazz, a book profiling significant musicians who have played at Jazz em Agosto.)
The festival's first weekend celebrated John Zorn's sixtieth year, marked elsewhere by five concerts at Quebec's FIMAV and a twelve-group marathon at Spain's San Sebastian. In Lisbon, "less is more" prevailed, with Zorn playing three concerts. He conducted his most lyrical ensemble, The Dreamers—an optimum fit for the warm, scented night air, with its resonant touches of lounge music (glittering vibraphone, idiomatic percussion, and surf guitar) elevating period genres with extended interpretations, and guitarist Marc Ribot providing a dramatic central voice. In another concert, Electric Masada improvised in perfect synch with Zorn's hyperkinetic conduction. For the third, Zorn performed live scores to classic experimental films. For Joseph Cornell's Rose Hobarth, Ribot surfed an exotic wave to the Middle East, emphasizing the film's continuous and mysterious narrative tension. Ikue Mori's electronic percussion matched the kaleidoscopic, cartoon imagery of Harry Smith's Oz: The Tin Woodsman's Dream, and Zorn's complex, episodic score for Wallace Berman's outtakes from Aleph and other ephemera treated them as a continuous work of art, mixing elements of '50s jazz with an explosive sax performance by Zorn.
The festival's early-evening screening program featured Cycle John Zorn—four radically different realizations of Zorn's "Treatment for a Film in Fifteen Scenes" (a sequence of lists of images), each placing special emphasis on the relationships between the visual and the auditory. The films, all produced and edited by Zorn in 2011, included director Lewis Klahr's focus on childhood and memory Well Then There Now, and Gobolux's playful video transformations 15 Scenes: 254 Shots. The screening program also included aTensãoJazz, a ten-part television series about the history of jazz in Portugal created by Rui Neves and director Paulo Seabra. An early episode features remarkable archival footage that demonstrates why free jazz is embraced with such passion in Portugal: In 1971, three years before the Carnation Revolution overthrew the country's long-running right-wing dictatorship, Charlie Haden performed his "Song for Che" with Ornette Coleman at the First International Cascais Jazz Festival, dedicating the performance to the anti-colonial insurgents in the Portuguese colonies of Angola, Guinea-Bissau and Mozambique. The audience's affirmative response is still galvanizing more than forty years later. In Portugal, free jazz literally stands for freedom.
Festival history and Portuguese music came together in a live performance by Drumming GP, a Porto-based percussion quintet led by Miquel Bernat that paid tribute to the drummer Max Roach, who performed at the festival in 1995. Expanding to nine percussionists for the occasion, Drumming GP paid tribute to Roach's M'Boom, an assembly of percussionists devoted to world music. It was richly resonant music, alive with the sounds of bass marimba and massed African percussion, traversing continents in its varied rhythms and timbres. One of the highlights, though, came when the ranks shrank to a duo: two guests, vibraphonist Jefferey Davis and Alexandre Frazão, playing a standard drum-kit, brought tremendous élan to Thelonious Monk's "Epistrophy."
The festival was both adventurous and diverse, giving listeners and musicians rare opportunities to expand their palettes. The Scandinavian trio The Thing, with saxophonist Mats Gustafsson, can create a roiling cauldron of sound. Here, as The Thing XXL, they grew to seven musicians for an explosion of driving free jazz highlighted by an extended version of John Coltrane's India. More remarkable still, the festival presented the world première of the Peter Evans Octet, which had the emerging master of extended trumpet technique emphasizing subtle orchestration of electronics, brass, and percussion, with sometimes dramatic individual incursions, most notably from guitarist Brandon Seabrook. When Evans finally soloed at length, his trumpet sounded like a cyclone in a pipe organ, an effect ultimately matched by Dan Peck's exploration of amplified tuba.
Saxophonist-composer Anthony Braxton's Falling River Music Quartet launched a new chapter in his music, weaving continuous linear threads with cornettist-trombonist Taylor Ho Bynum, saxophonist Ingrid Laubrock, and guitarist Mary Halvorson. The graphic score explored every permutation of duos and trios available in the ensemble, while buried melodies— such as "Cherokee," "My Old Kentucky Home," and "Tenderly"—bubbled up. The next night, Halvorson led her own quintet in compositions with traditional jazz lines and sonorities—Jonathan Finlayson's trumpet, Jon Irabagon's alto saxophone—suddenly converged with the pitch-bending electronics of Halvorson's guitar.
The festival finale celebrated the vision and emotion that flowered with free jazz in the 1960s, a theme explored in recent years with appearances by some of its founders, such as Ornette Coleman, Cecil Taylor, and Sunny Murray. This year, seventy-two-year-old tenor saxophonist Pharoah Sanders—John Coltrane's last major collaborator—appeared with Chicago cornettist Rob Mazurek's conjoined trios São Paulo and Chicago Underground. The drums-and-electric-keyboard ostinatos sometimes drowned out Sanders, but moments of beauty and substance still emerged in his playing, from flute-like highs to the dense multiphonics that first distinguished his work nearly fifty years ago. It was a memorable conclusion to a festival that presented substantial work from veterans Braxton and Zorn as well as the emerging generation of Evans and Halvorson.
[EXTENDED WEB VERSION OF REVIEW PUBLISHED IN PRINT EDITION]
---
Image: Pharoah Sanders at Jazz em Agosto. Image by: Nuno Martins.