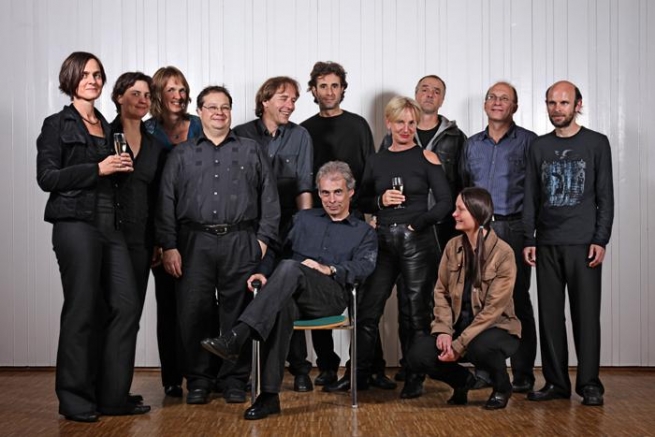 Every five years since 1955, the small German city of Kassel hosts documenta, Europe's preeminent contemporary visual-arts exhibition. documenta attracts over one million curious viewers to Kassel, including world-renowned artists, cultural critics, academics, and international media. The citizens of Kassel are, as a result, one of the most open and culturally sophisticated audiences on the continent, ensuring that the city's galleries and academies are always presenting a steady supply of challenging and provocative art works year round.
The International Minimal Music Festival is a recent addition to Kassel's rich cultural life. It's the brainchild of Förderverein Minimal Music and composer and academic Dr. Ulli Götte and his eleven-piece orchestra in process—a festival celebrating minimal music in Kassel every two years. This, the third internationales Minimal Music Festival, featured performers from Canada, Lithuania, Switzerland, and Germany with [répétition] being both the festival title and the overarching theme of the compositions and performances at this edition of the festival.
The festival began on Thursday evening at the auditorium of the Institut für Music/Universität with Michael Mantel, Tilmann Scheer, and Peter Arens of in process performing Tom Johnson's simple but deviously clever 1991 composition Maximum Efficiency. After such a fitting introduction to the festival, Dr. Martin Zenck from the University of Würzburg presented a paper probing the various philosophical and compositional uses of repetition. Zenck suggested—rather controversially—a direct relationship between nineteenth- to early twentieth-century compositions featuring elements of repetition and that of the concentrated repetitive compositional practice of Steve Reich.
Friday evening's concert at the Kunstverein gallery in the Fridericianum was a jaw-dropping performance by Swiss interdisciplinary artist Ania Losinger and her partner Mats Eser. Combining virtuosity and athleticism in equal measure, Losinger danced Flamenco while simultaneously using two six-foot poles as percussion mallets on a gigantic custom-built xylophone. Eser accompanied her on marimba and drum. Losinger's energetic hybrid performance was both sonically engaging and visually exciting. The audience in the Fridericianum justifiably demanded five curtain calls.
Evangelische Kirchengemeinde Wehleiden, one of Kassel's oldest churches, was the perfect site for Saturday evening's performance featuring Kassel's own in process orchestra and the Kantorei St. Michaelis choir from Hamburg. A capacity crowd enjoyed the pristine acoustics of this church and the evening's program, which included Steve Reich's Music for 18 Musicians and several original compositions by in process founder and conductor Ulli Götte.
Your itinerant correspondent performed a set at a Sunday matinee at the Giesshaus/Universität. The performance, titled Metricks +, featured a rigorous hour-long selection of my process-based texts and sound poems. The same venue was also the site of the festival's high-octane closing performance on Sunday evening by Lithuania's youthful and stylish NICO—New Ideas Chamber Orchestra.
NICO is creating quite a buzz in Europe at the moment. This string orchestra of two men and four women, all in their early twenties, is under the direction of the equally youthful and charismatic conductor and composer Gediminas Gelotas. NICO memorizes all it's repertoire in an attempt to alter the formal tradition of the seated chamber orchestra. NICO's female violinist's are thus free to stand or move about the stage, soloing with flamboyant theatrical gestures generally reserved for rock and roll guitarists. While the very expressive neo-Romantic compositions by Gediminas Gelotas dominated much of the first half of NICO's concert, the second half was more in keeping with the aesthetic mandate of the festival. After a brief intermission the orchestra honoured John Cage with their arrangement of 4'33". Following the silence of the Cage piece, Gelotas began pounding out the pitch C in a bravura half-time arrangement of Terry Riley's In C that was simply spectacular. Gelotas and NICO proved to be the appropriate conclusion to a marvellous little music festival that engaged both the ears and the eyes over four wonderful autumn days in Kassel. 
---
Image: Ulli Götte and 11-piece orchestra, "In Process". Image courtesy of Ulli Götte.