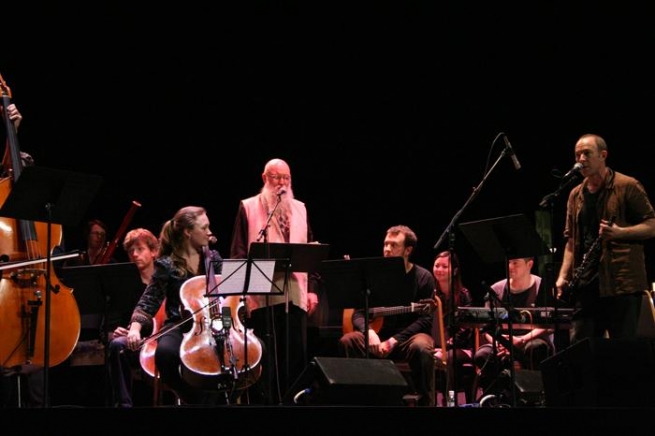 Clean, tidy, and walkable, downtown Knoxville feels more like Europe than America. Unlike the Next Big Thing-chasing club crawl of that other Southern-U.S. fest, South by Southwest, in Austin, the Big Ears Festival is a carefully curated festival driven by an artistic mandate to showcase cutting-edge artists from a wide variety of practices.
This more civilized approach makes for an effortlessly enjoyable festival-going experience. Taking place in a handful of venues located within walking distance of each other in this small Tennessee city, Big Ears is organized so that the dedicated listener has the chance to catch almost everything. The brainchild of hometown success story Ashley Capps, a local entrepreneur whose company AC Entertainment started the huge outdoor Bonnaroo festival, Big Ears launched to great acclaim in 2009. But it went truly big in its second year, offering a stacked lineup that more than justified the fourteen-hour drive from Toronto.
One could argue that going big simply means going pop: while, on the one hand, Big Ears offered world-class experimentalists, including minimalist pioneer Terry Riley, on the other hand, its second "big name" was Vampire Weekend, a group who recently had the number one record in America. This is where the European flavour dissolves. In Stockholm or Berlin, such unapologetically commercial programming might contaminate any high-art aspirations; but this is America, and something for everyone is democracy in action.
Things started off right on Friday night at the Big Ears Annex, a vacant former bluegrass club set up as a fantastic rock venue just for the fest. The very first act we witnessed was Brooklyn duo Buke & Gass (pronounced "gase"), and they turned out to be the find of the fest. Don't be put off by the name; it actually describes this like-named pair's unique, home-made instruments. Arone Dyer (female) plays the "buke" (baritone ukelele) while Aron Sanchez (male) is on "gass" (guitar bass). Offering astonishingly creative riffage on their stringed beasts, the duo underpinned their stop-start madness with playful folk-punk melodies. Even more affecting was Dyer's voice, which swooped from soaring soprano to punk staccato, the mischief in their music evident, as she chanted evil mantras ("out to get you / out to get you") with a smile.
Buke & Gass were all the more impressive, considering they were opening for The Ex, the legendary Dutch art-punk collective. In early 2009, the band marked their thirtieth birthday with a major change: long-time vocalist G. W. Sok left the band. Whereas most groups would have taken that as a cue to call it a day, The Ex simply recruited a new singer—and took this as an opportunity to write and play all new material. Performing as the The Ex Quartet, guitarists Terrie Ex and Andy Moor, and drummer Katherina Ex were joined by new vocalist Arnold de Boer, who brings more melody and frontman moves to the band. The noise and intensity of this set may have shocked those who expected the ecstatic brass party of their recent collaboration with Ethiopian sax player Getatchew Mekuria, but their lock-groove Congotronics-inspired rhythms still kept the crowd moving.
Saturday began at the Tennessee Theatre with the disintegration loops of California composer-performer William Basinski. A master minimalist, Basinski's piece consisted of a single descending four-note progression emanating from his reel-to-reel decks, accompanied by digital clicks and a visual projection of a lone cloud. Next up was DJ /rupture, a.k.a. New York's Jace Clayton, who created a seamless pastiche of global beats, dropping in Latin, Jamaican, and Indian rhythms, plus some Diana Ross & the Supremes for good measure—all fun, but also pointless in a theatre setting. This matinee's headliners were Brooklyn's Dirty Projectors, who moved from the freak fringe to the indie mainstream with their brilliant 2009 album, Bitte Orca. Now solidified both as a co-ed sextet and as this generation's Talking Heads, the DPs are the vision of Dave Longstreth, an avant-garde composer and virtuosic guitarist who has absorbed the influences of Malian pop, classic rock, and commercial R&B.
Resolving binary oppositions—high vs. low, classical vs. pop—seems to be the task of much modern music. Witness the career of Big Ears guest curator Bryce Dessner, who is a member both of a straightforward rock band The National (one of the festival's other crossover names, alongside Joanna Newsome and The xx), and of a classical chamber-pop quartet, Clogs. Performing at the Bijou along with a series of guests including Sufjan Stevens, Nadia Sirota, and the Calder Quartet, Clogs played a number of operatic songs off their new album to a packed house that was significantly older than many of the other concert audiences.
Any opposition between the worlds of guitar rock and DJ culture were not in evidence back at the Annex, as DJ /rupture faced off with Ex guitarist Andy Moor for a set of improvisations that packed a visceral impact. Konk Pack, a trio of European free improvising veterans—Thomas Lehn, synth; Roger Turner, drums; and Henry Cow's Tim Hodgkinson, guitar—later played a wildly churning set to a sadly small house. Was it a coincidence that Vampire Weekend were playing at the same time?
Festival Artist in Residence Terry Riley played a midnight concert at the Tennessee. The new piece by this living legend was truly bizarre—a long-form jazz odyssey featuring a spoken dream-diary by Riley, and concluding with a crooned tune that declared, "Cannabis is a wonderful drug." The audience didn't need to smoke up to get in the right frame of mind for the fantastic, all-star rendition of In C that followed.
Sunday, the last day of the festival, began with the only Canadian act on the Big Ears bill, Vancouver-born, Montreal-based sound artist Tim Hecker. Filling the Tennessee Theatre with his amorphous, ever-evolving noisescapes, Hecker played in nearly total darkness. Our Big Ears experience concluded with The Books, the Massachusetts duo whose mix of pastoral acoustic explorations and digital clicks fits firmly in the folktronica camp. The tranquility of their music is nicely offset by their hyperactively integrated video pieces, created by plundering vintage VHS tapes for material ranging from hypnotherapy to Mormon hat-tipping customs. The result was a humourous yet thoughtful audiovisual experience, a perfect way to end a three-day feast for those with voracious musical appetites.
---
Image
: Terry Riley and Bang on a Can All-Stars play Riley's 
In C
.
Image by
: Kevin Parnell.