The Festival International de Musique Actuelle de Victoriaville (FIMAV) celebrated a milestone this year, presenting its 30th festival of musique actuelle—that unique French descriptor covering improvised music, chance, electronica, the avant edges of jazz, rock, folk, and world, and any other genre that has challenged expectations over the past few decades. That durability might seem unlikely for a festival of marginal music presented in a rural hamlet 160 kilometres from a major city, but FIMAV is persistent testimony to the vision and energy of its founder and artistic director Michel Levasseur, who has tirelessly maintained the festival in his hometown.
FIMAV doesn't feel unlikely anymore: it feels like a community, whether it's the town itself, the festival's staff and volunteers, the audience members who return year after year, or the networks of connections that arise in diverse ways through twenty concerts in four days. There were solos and duos and large ensembles, playing in a welter of genres, some unidentifiable. There were diverse groups from Canada, the U.S., and Europe, and groups from as far afield as Japan and Russia. Only a sponge could absorb it all, and not even a sponge could welcome it all, but there were treats for open ears (and a couple that called for them, like the late-night appearance by the Italian metal band Ufomammut, or the all-star Franco-Japanese noise band made up of guitarists Richard Pinhas and Keiji Haino, drummer Tatsuya Yoshida, and Masami Akita on electronics).        
The 30th edition celebrated communities both immediate and conceptual. This year saw an intimate retrospective of the American composer Meredith Monk in a shamanic performance that sprang from subtle and formulaic repetition and variation of the simplest materials. Monk constructed overlays and collisions—whether singing solo, accompanying herself on the piano or joining with guest vocalist Katie Geissinger—in works that linked minimalism to the spiritual roots of American choral singing.
A transcendent community was apparent in a concert by Montreal's nineteen-member Ratchet Orchestra, celebrating the 100th anniversary of Sun Ra's birth with special guest Marshall Allen—the long-time saxophonist with the Sun Ra Arkestra and that band's current leader—nine days short of his 90th birthday. Begun as a Sun Ra tribute band twenty years ago, the Ratchet Orchestra has gone far beyond that, evident in the eighty-minute suite that merged Sun Ra themes with Ratchet leader, bassist, and arranger Nicolas Caloia's own ideas. The music moved like a slow majestic blues, highlighted by contrasting explosions of instrumental colour (bass reeds, shouting brass, strings, electronic keyboards, and percussion), often surmounted by the explosive fury of Allen's saxophone or the exotic flute of fellow Arkestra veteran Danny Thompson, and hitting its climax in Allen's extended passage of orchestral conduction.
That sense of orchestra as community also came across strongly with GGRIL (Grand Groupe Régional d'Improvisation Libérée), a fourteen-member collective from Rimouski. GGRIL is a kind of poststructuralist village band. During a program that included works by Robert Marcel Lepage and Jean Derome, leader and bassist Éric Normand and violinist Raphaël Arsenault engaged in a coconduction, in which the two exchanged orchestra halves and seemed to compete comically for authority and sound, taking the conductor's role to the level of professional wrestling.
Beyond these large ensembles, the spirit and range of current Quebec music was evident in the free-jazz duo of saxophonist François Carrier and drummer Michel Lambert, and larger projects such as rock band Gros Men.
Above all, FIMAV manages to celebrate a musical diversity that can reveal common impulses. That inclusive vision connected the driving momentum of Montreal violinist Sarah Neufeld and reed-player Colin Stenson's virtuosic collaboration to Norwegian Maja Ratkje's playfully personal art made with voice, kalimba, and extensive electronics. In the impassioned Jerusalem in My Heart, Radwan Ghazi Moumneh sang traditional Arabic songs with bouzouki and electronics. Gordon Grdina's Haram combined his oud and a ten-member Vancouver ensemble of jazz and Arabic improvisers to invest his mid-Eastern themes with real power, then deconstructed them with moments of controlled improvisation. In contrast, Astma, the Russian duo of Olga Nosova and Alexey Borisov, created coolly mysterious overlays of video shot from a train with sung and spoken Russian, eerie ancient recordings, and unpredictable explosions of guitar and percussion.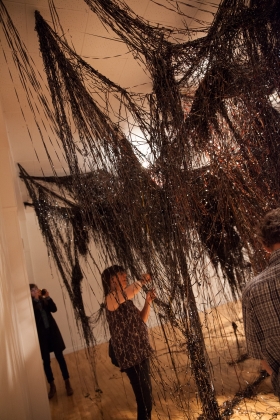 Some of the finest performances came from festival veterans. The English saxophonist Evan Parker and guitarist Fred Frith sustained a series of improvised duets that exceeded high expectations, while their individual projects were also highlights. Parker led the distinctly New York-based Electro-Acoustic Septet, matching younger improvisers trumpeter Peter Evans, cellist Okkyung Lee, and computer musician Sam Pluta with veteran explorers Ikue Mori and George Lewis on electronics and reed player Ned Rothenberg. It was a concert of coolly involving layers sparked by incendiary virtuosity, Parker creating a continuous synthesis of structural and collectivist vision. Frith revisited his 1980 studio masterpiece Gravity with a band of younger California associates.
This was also the fifth year of FIMAV's innovative program of sound installations. Among the most inviting pieces was Boîte à musique, by Christian Calon, Chantal Dumas, and Mario Gauthier, which encouraged participants to become improvising turntablists with unidentified LPs, playing on old turntables and a background collage of archival music. Belgian artist Colin Ponthot's works included Monster Happy Tapes: a pile of 2,500 broken cassette reels and their boxes lay on a gallery floor, while the tapes themselves hung from the ceiling, ready to be played with two yellow audio cables. It's a stimulating invitation to turn a discarded technology into creative freedom. This year the installations received 10,000 visitors, as well as visits from 32 classes from local elementary and high schools—making FIMAV a breeding ground for future audience and artists.
---
Images: (Top) Marshall Allen plays with The Ratchet Orchestra at FIMAV 2014. (Bottom) Colin Ponthot's Monster Happy Tapes. Images by: Martin Morrisette (c), courtesy of FIMAV.