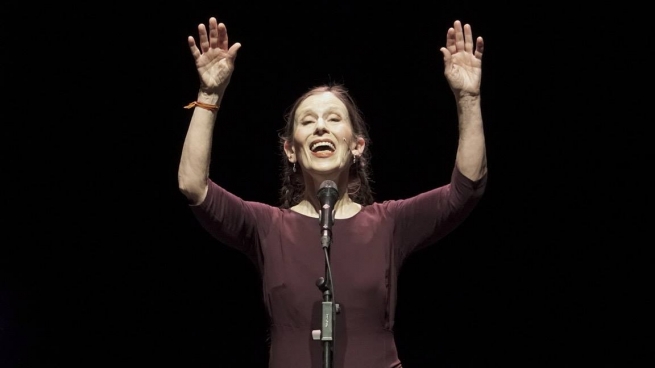 Winnipeg New Music Festival (WNMF) in recent years has been noteworthy for its eagerness to book a program that edges ever further from expectations. The twenty-sixth edition of WNMF was anchored, as usual, at the Centennial Concert Hall. Unconventional satellite venues have become the norm at this festival, however, and this year was no exception: the basement of a nearly abandoned department store, an experimental art gallery, a community athletic arena, and a church were all turned into festival sites. The concert hall itself was subject to duties beyond the usual, with an after-hours multidisciplinary art party animating the lobby after the opening-night concert.
That concert concluded with Christos Hatzis' sprawling Syn-Phonia: Migration Patterns, a musical meditation on climate change, population displacement, and societal evolution. For the piece Hatzis called upon a range of musical and technological modes ambitious in scope, though that very range may have been too much, because the other media drew away attention from intriguing musical passages. A surroundsound system was employed, but its interjections were sometimes jarring. Ushers handed out 3-D glasses to view a virtual-reality painting, but any sense of magic was obscured, because the 3-D projection also showed the user interface being employed by the painter.
Meredith Monk was this year's featured composer, with an entire evening devoted to her work, plus a number of pieces included in other programs. Canadian composers were also featured prominently, the concert that focused exclusively on them proving a diverse and engaging night. The New Music Tomorrow–Canada program was invigorating in both its breadth and quality, ranging through Michael Ducharme's black hole tribute X-1 (winner of the fourteenth annual Canadian Music Centre Prairie Region Emerging Composer Competition for Orchestra) to Avner Dorman's lively and dynamic Mandolin Concerto, Eliot Britton's electronics-laden orchestral Heirloom Bison Culture, and Dinuk Wijeratne's inquisitive Tabla Concerto.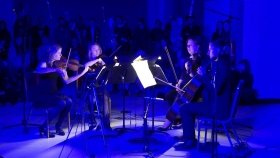 The downtown Hudson's Bay building has become all but a colonial relic: a warming station for pedestrians but otherwise largely dodged unless perfume discounts are announced. Its visage, however, continues to loom large in the local imagination of a city that has complex historical ties to the Hudson's Bay Company, and for many there was a seductive element to an event held there. The dimly lit basement drew a buzzing audience that carried folding chairs from post to post for a program that included some positively mesmerizing moments. Jessica Moss premiered Glaciers I & II in that nostalgic subsoil cavern, layering violin lines through a loop pedal interspersed with weighty and repetitive single-word statements. Pianist Lubomyr Melnyk offered The Dreamers Ever Leave You, a relentless work that came out of the blocks at full pace, its yearning textures gradually unfurling through thematic repetition. Undoubtedly, one of the best pieces of the festival was Nicole Lizée's Isabella Blow at Somerset House—a standout thanks to the haunting performance by Cecilia String Quartet.
An immersive, interactive piece even worked its way into the mix, as the festival beckoned attendees to bring a portable radio to the Plug-In Institute for Contemporary Art for a listening party featuring Music for Two Radios by Ben Shemie. This piece covered a lot of sonic ground, ambient passages intersecting with more crunchy electronic bits, and was written in two parts to be played simultaneously on two different FM radio stations. Shemie's work could thus be listened to by anyone in the city with access to a pair of radios, while Plug-In was awash in radios variously tuned to the two local campus-and-community stations as the bustling crowd wandered around to gauge the piece from different perspectives.
WNMF 2017 was punctuated by a twelve-hour marathon drone performance on the floor of the Duncan Sportsplex, entitled Experiments in Sounds of Winter. Considering that this event was scheduled to run from midnight to noon, immediately after a full night at the concert hall, it was impressive to see how many people accepted the invitation to pack sleeping bags and pillows so that a cavalcade of sound artists could whisk them into and out of the wee hours. Roughly two dozen performers, many of them local independent artists, interweaves their takes on wintry droning to provide an experience surely unlike any other the audience ever had.
This year's edition of the Winnipeg New Music Festival brought listeners to unexpected physical spaces with a program driven by a sense of curiosity. The curation offered some conceptually challenging pieces, but also a fair number of performances that created much accessible, beautiful space for the audience to explore. There is plenty of reason for new-music fans to circle the same week on their 2018 calendar.
---
Photos of Meredith Monk (top) and musicians of the Winnipeg Symphony Orchestra (performing the world premiere of Matthew Patton's The LImits of Almost in the Hudon's Bay basement) by Steve Salnikowski / Chronic Creative.