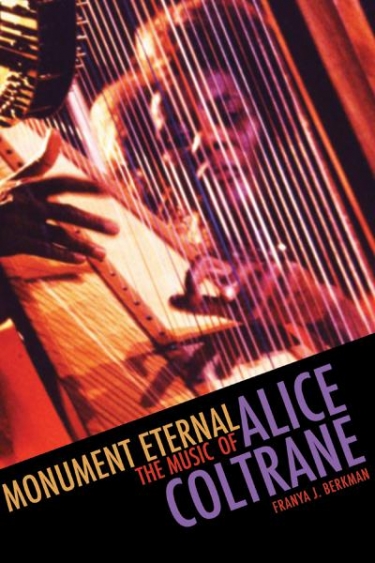 In the five years before her death in 2007, Alice Coltrane was subject to a considerable critical reappraisal. The release of her back catalogue on CD and the live performances she gave with her son Ravi Coltrane in support of her 2003 album Translinear Light seemed to arrive at just the right moment for a re-evaluation her heady, celestial music. Now, in this thoughtful volume written by Franya J. Berkman, we finally get a biography and book-length assessment of her work. Berkman's concise text provides a welcome immersion in Coltrane's life and music.
As Berkman quickly points out, the study of Alice Turiya Coltrane is rich with a series of apparent contradictions. Raised in a Baptist church, where she learned how to play piano and organ, she later converted to the teachings of Swami Satchitananda and spent her last two decades as the head of her own religious ashram. In addition, she came to prominence in the political '60s, when jazz was seen as a musical corollary to black power; but her position as caretaker of her husband's legacy and her own decision to recede briefly to raise four children reflect the complexity of gender politics during that same period.
But it is Alice Coltrane's spirituality that truly guides her musical, political, and personal decisions, and Berkman deftly maps how Coltrane's adoption and adaptation of Hinduism guided her music and life. Adept at both elucidating Coltrane's spiritual beliefs and analyzing her music in relationship to those beliefs, Berkman easily guides us through the stages of Coltrane's music, moving from her time with John Coltrane through her solo periods: the first deeply inflected by her husband, the second radically expanded by her spiritual journey, and the final period focused around mantras recorded in small pressings for worship at her Vedantic Center.
Berkman remarkably articulates the richness of Coltrane's music, a music that embraced a variety of influences and ultimately embodied a unique, transcendent, and personal account of the spiritual possibilities of music.