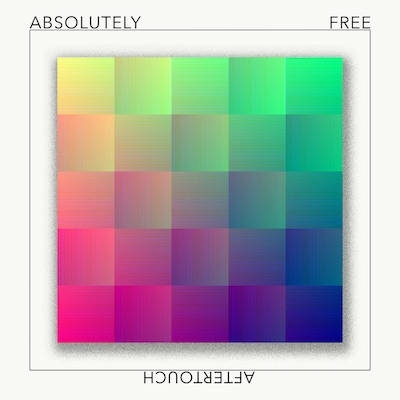 A centrepiece track of Absolutely Free's Aftertouch is "Remaining Light," a sly nod to the title of Talking Heads' fourth LP, Remain in Light. But that's a bit of a ruse, as neither the song nor the album pick up that 1980 masterwork's seminal thread of jittering Afrobeat rhythms and motorik repetition. In reality, the Toronto quartet's long-awaited sophomore album—seven years in the making—drifts away from the band's association with kosmische musik (aka krautrock), landing somewhere in a nearby constellation of early '70s art rock.
"Remaining Light" doesn't sound far from the textured psychedelia of Soft Machine or Meddle-era Pink Floyd. The entire album is warmly arranged, flowing smoothly from track to track. Yet temporal insistence is not abandoned: the rhythm section is mixed front and centre, as befits a band that places its powerhouse drummer, Moshe Fisher-Rozenberg, at the front of the stage. Bassist Michael Claxton keeps the kosmische connection alive with muscular, hypnotic bass figures, while Matt King's voice and guitar float wonderfully through the mix, sometimes guiding the melody, other times being pulled by it. And appropriately enough for a record named after a synthesizer figure, gorgeous keyboards bake everything in a candy-coated glaze.
Yes, there is an undeniable pop appeal to Absolutely Free—one could imagine them playing festival stages alongside the likes of Tame Impala or Animal Collective—but one that's balanced with avant-garde imagination. It makes for addictive listening. And if you listen more closely, you'll hear that King's lyrics are far less utopian than the sonic environment implies. "Remaining Light" addresses "this hegemonic oppression" of police brutality and racialized poverty. Proof that art can be beautiful, yet reflect the world in all its ugliness.