TORONTO, CANADA, August 30, 2021. For immediate release:
After a four-month delay due to challenges presented by the coronavirus pandemic, Musicworks is thrilled to announce the winners of its 2020 Electronic Music Composition Contest. We thank the 2020 entrants for their patience.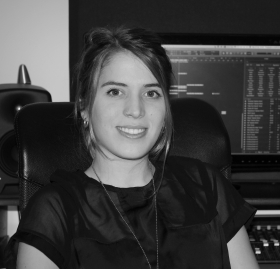 Argentinian composer Rocío Cano Valiño (left) has won first prize with her composition Okno. The piece has also won the inaugural Marcelle Deschênes Prize in Electronic Music / prix Marcelle Deschênes pour la musique électronique, a donor-supported prize awarded to a self-identified female or non-binary composer entrant to Musicworks' annual contest.
"I am truly honoured that Okno has won first place in Musicworks' 2020 contest, and the Marcelle Deschênes Prize in Electronic Music!," Cano Valiño said upon receiveing the news. "I feel great satisfaction to have this recognition of my work in a magazine that discusses contemporary composed music. Okno is special to me because it was composed at the Groupe de Recherches Musicales in Paris, a place where I had dreamed of composing." Cano Valiño is one of five composers participating in Confluence, a co-production between Paramirabo (Montreal), Proxima Centauri (France), and HANATSUmiroir (France), which takes place this Fall.
An interview with Rocío Cano Valiño appears in Musicworks 140 (Fall 2021), available by subscription, from Musicworks' shop, and on select Canadian newsstands and specialty stores. Okno  is included on the Musicworks 140 CD.
More information about the contest winners and their compositions will be posted on our website and promoted on our social channels in 2021.  
2020 Electronic Music Composition Contest winners
FIRST PRIZE ($500): Rocío Cano Valiño (Argentina/France) for Okno
SECOND PRIZE ($200): June Young (Will) Kim (South Korea/Germany) for Black, Emerald
THIRD PRIZE ($100): João Pedro Oliveira (Portugal/U.S.) for La Mer Émeraude
HONOURABLE MENTION: Jason Doell (Toronto, Canada) for Leaning into Softness
HONOURABLE MENTION: Roxanne Nesbitt (Vancouver, Canada) for Soft Storms Welcomed
MARCELLE DESCHÊNES PRIZE IN ELECTRONIC MUSIC / PRIX MARCELLE DESCHÊNES POUR LA MUSIQUE ÉLECTRONIQUE ($300): Rocío Cano Valiño (Argentina/France) for Okno
"The Electronic Music Composition Contest is always our most exciting outreach activity," said Musicworks editor Jennie Punter. "We are absolutely delighted that the winner of the inaugural Marcelle Deschênes Prize in Electronic Music, Rocío Cano Valiño, is also the first-prize winner of the overall contest, and that Canadian audiences will have a chance to hear some of her other work in performance this Fall." 
The tenth edition of the annual contest drew an impressive array of 132 entries from Canada, the U.S., Australia, and countries across Latin America, Europe, and Asia.
Musicworks thanks Alex Buck (EMC Contest First Prize Winner, 2019) and composer Anoush Moazzeni (featured in Musicworks 138) for their thoughtful listening as jurors of the 2020 EMC Contest.
Musicworks' 2021 Electronic Music Composition Contest closes on December 20, 2021.