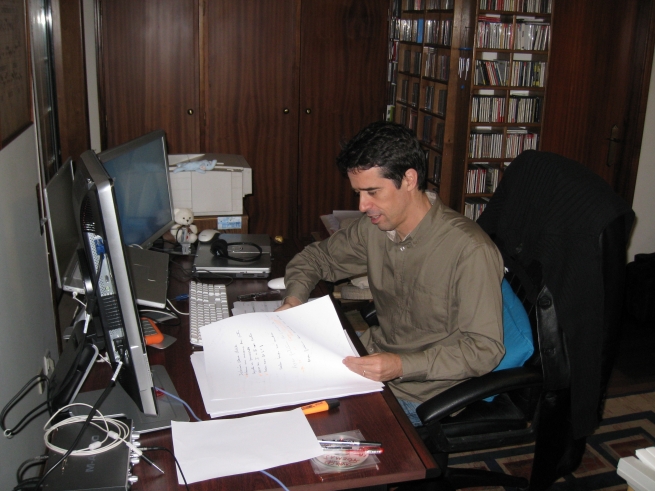 Third place in Musicworks' 2020 Electronic Music Composition Contest was awarded to João Pedro Oliveira's La Mer Émeraude (The Emerald Sea). The composition has also received awards at SIME Competition, Città di Udine Competition, the Destellos Competition and the Chicago Composers Consortium Competition.
"Let us imagine a small invented world, a micro universe where everything exists... matter, energy, spirit, telluric movements, mysteries, natural and supernatural forces. That world is whole and from afar, whoever watches, sees it as a living ocean."
"Imaginez un petit monde inventé, un micro univers où tout existe ... matière, énergie, esprit, mystères, mouvements telluriques, forces naturelles et surnaturelles. Ce micro univers est complet et de loin, celui qui le regarde le voit comme un océan vivant."
La Mer Émeraude was composed in the Musiques-Recherches studio and is dedicated to Annette Vande Gorne and Francis Dhomont.
---
Composer João Pedro Oliveira holds the Corwin Endowed Chair in Composition for the University of California at Santa Barbara. He studied organ and harpsichord performance, composition, and architecture in Lisbon. He completed a Ph.D. in Music at the University of New York at Stony Brook. His music includes opera, orchestral compositions, chamber music, electroacoustic music, and experimental video. He has received over fifty international prizes and awards for his works, including three Prizes at Bourges Electroacoustic Music Competition, the prestigious Magisterium Prize and Giga-Hertz Special Award, First Prize in Metamorphoses competition, First Prize in Yamaha-Visiones Sonoras Competition, First Prize in Musica Nova competition, and First Prize in Earplay Competition. His music is regularly played all over the world, recorded on over fifty CDs, and is published by Doblinger, Babelscores, Suvini Zerboni, Associated Board of the Royal Schools of Music, Mostly Marimba Editions, and Honey Rock Publications. He taught at Aveiro University (Portugal) and Federal University of Minas Gerais (Brazil) and was an invited professor at several other universities. His publications include several articles in journals and a book on twentieth century music theory.