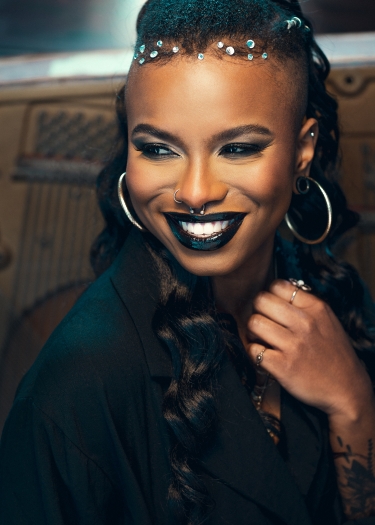 Morgan-Paige Melbourne was a child prodigy who started playing piano at three and singing and composing shortly afterwards. Soon she was winning piano competitions, and at sixteen she had her first composition published with SOCAN. It looked like she was heading for a glittering career as a concert pianist. But, like so many young Black classical musicians, she faced a formidable barrier.
"It was hard to see myself as a classical pianist because there was nobody I could look up to who looked like me," she says. "Playing piano is my heart and soul, but there was so much discrimination—from students, parents, teachers, adjudicators. So, I started leaning toward pop music, because there were more people like me doing that."
Melbourne's music now incorporates not only pop leanings but also many other styles that emerged from her eclectic musical background and political and emotional development. She grew up in a musical family: her Bahamian-born parents had a band that toured the resort circuit and eventually settled in Huntsville, Ontario, where she was born. Growing up there and in Guelph, she played and sang in church, at school and at home, and listened to everything from gospel and R&B to pop, metal, hard rock, and country—plus classical, which she returned to after a teacher played her Jessye Norman recordings. "I was like, 'What? There are Black people in the classical world?' And then I discovered Hazel Scott and Nina Simone and I thought, OK, there is a place for me. But it took me a long time to build the confidence and self-esteem I needed."
Another turning point came when she was given some compositions by contemporary composer Alexina Louie to perform. "I couldn't believe I was playing music by a composer who's alive and I could actually communicate with," she says. "Seeing people from different backgrounds and cultures in the classical realm was inspirational. So now I'm doing whatever is in my heart. Classical is what I grew up with and I love it, but I also love contemporary and pop and rock, and I'm incorporating it all. It's almost like I'm creating my own genre."
Indeed, it's impossible to classify the dazzling range of music on Melbourne's two latest recordings, last spring's Dear Dysphoria and the new Dear Serenity. With beautiful piano melodies, soaring vocals, pop structures, and raw, fiercely emotional lyrics, the diverse tracks reveal Melbourne's proficiency in multiple styles. They also address subjects like racism and mental illness, charting a journey from anxiety and depression towards mental health, power, and peace.
"I'm heavily influenced by social issues, and by my own experiences," she explains. "I have a history of depression and PTSD. I don't experience the darker phases I've had in the past, but music was my only voice when I couldn't even talk to my family about it, until I was able to start going to therapy and not feel bad about that. I'm glad I can speak freely about it now, because it's something I still deal with. It's about finding a way to feel at peace with yourself down the road, because it's not going to happen right away. But finding the path that will help you get there is something I talk about in my music."
That path started with the Dear Dysphoria EP, the first to feature Melbourne's songs. "I wanted to focus on the uncertainty and dissatisfaction one feels in their own mind," she says. "I don't have a studio, so I do everything on my iPad, and I had a podium mike that kind of fit with the sound I wanted, which had a gritty finish in the mastering. Then, for Dear Serenity I was able to get a proper mike and mixer to go from the darker parts of one's mind to finding peace, and the sound is also clearer."
Melbourne also works on film scores and improvised soundtracks for screenings. She was musical director of the Ciné Concert festival in Besançon, France, last year, performing an improvised soundtrack with a clarinetist and a cellist. "A lot of it is just communication," she says. "That was eye contact and just really hearing each other watching the film. Every time it sounded different, but it still worked."
Next, Melbourne will appear at the 21C Music Festival in January, playing works by Dawn Davi, Nauroz Tanya, Kathryn Knowles, Nikolai Kapustin, and Brian Current, as well as herself. "It'll be cool to play music by my colleagues," she says. "Seeing what other composers are doing showed me that this is something I can do, and I don't feel singled out anymore, because I'm getting past what's in everyday media and seeing what's behind it. There's a whole world out there, and that's why representation is so important."
Audio: Marie, composed by Morgan-Paige Melbourne, from her 2020 album Dear Serenity.  Track included on the Musicworks 138 CD.