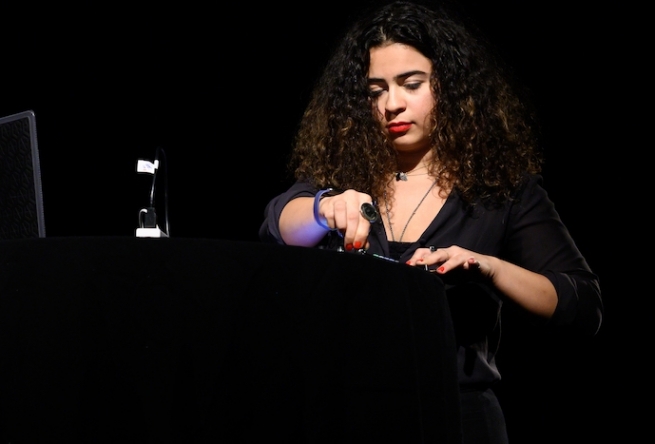 "My relationship to sound is [an] obsession with texture and how sounds affect each other, and also [with] playing with the human psyche." Kimia Koochakzadeh-Yazdi then bursts out laughing, saying, "That's a lot in one sentence."
Koochakzadeh-Yazdi is very funny, and she's also very focused. The Iranian-Canadian Simon Fraser University student is just twenty-one years old and she's only been studying composition for two years, but the interest in her electroacoustic music has evolved from quiet buzz to cacophonous drone, with notable public performances that have included a premiere, a commission, and an artist residency.
And she didn't set out to become a composer. Nor did she ever even think much about contemporary or electronic music before going to SFU. She began playing piano when she was four or five, eventually enrolling in Tehran Music School. Koochakzadeh-Yazdi was practising five hours a day by the time she was eleven years old, and eventually graduated with a diploma in piano performance. Her plan was to leave Iran for Vancouver and continue her studies at the University of British Columbia, but then an email came that changed everything.
"I didn't know what I was going to do," Koochakzadeh-Yazdi recalls. "I was sad. Very sad. Who likes rejection?" She did not get into UBC. Her whole future was upended, but not for long. Koochakzadeh-Yazdi flew to Vancouver for summer vacation and went to UBC for answers. She'd missed placement by just two per cent. She laughs about it now, and swears that she thanked them at the time.
"There wasn't a pause. I'm a person who, if I get rejected, I'm going to try again, and I'm going to get what I like."
Koochakzadeh-Yazdi heard about SFU's composition program and was intrigued. She applied and was accepted. This marked a significant shift in focus. Before moving to Vancouver, her exposure to contemporary music in Iran was limited to one workshop on contemporary notation and works by a few of her teachers there.
"I had no idea what electroacoustic was," Koochakzadeh-Yazdi admits with a laugh. But her more traditional academic music background gave her the tools she uses to create the music she's making now. "I knew traditional harmony, counterpoint, form, everything. They were the rules back then, so now I know how to break the rules. You've got to learn the rules to break them."
Koochakzadeh-Yazdi's breakout piece was the haunting Displacement II for bass flute, bass clarinet, and electronics, which had its premiere at a Vancouver New Music concert in February 2019. She also was commissioned by Western Front to write for their 8.2 octophonic sound system, completed an artist residency at Media Arts Committee, and staged a piece for string quartet at the Banff Centre. She has composed for theatre and film, but says that working with dance artists is among her favourite creative collaborations.
"I prefer dance to theatre or film," Koochakzadeh-Yazdi says. "I feel like it [dance] is as abstract as music—especially contemporary music and contemporary dance; it can be as vague and as open to interpretation. The emotional aspect of it—music can be there to support it and make it into one." Her vision is to "embed" music and dance together; she loves to foster a relationship between different things so that they eventually complete each other. "I want it to be a whole package, like they can't survive without each other," she explains. "Electronics is the same. The electronics perhaps complete the piece, which can still stand on its own somewhat, but the electronics is the extra push, the extra layer."
Koochakzadeh-Yazdi refers to her MIDI controller as her instrument. A self-described control freak, she says her instrument allows her to feel in control of her compositions. "Sometimes the music is so subtle that nobody knows there are electronics, but I know that there's that extra touch, that extra taste," she says. "It's like crunch. If you give someone crunch, it goes down more easily. I have control of that."
Manipulating and elucidating unknown possibilities from traditional instruments with all the creativity of an artistic Dr. Frankenstein, Koochakzadeh-Yazdi creates works that are uniquely her own; her voice as a composer is already distinctly innovative, thoughtful, playful, and daring. Right now, she's obsessed with the sound of a specific type of Styrofoam she bought at Michael's, a big-box crafts store. She likes its granular quality, and scratching its surface. If she has a specific musical tell, it's tension—just thinking about this Styrofoam in Koochakzadeh-Yazdi's hands is enough to raise the hair on one's arms.
"A lot of my music is tense. My sister tells me that she gets panic attacks—well, not panic attacks, but she gets anxious when she listens to my music." She pauses to consider whether she personally derives pleasure from that assessment. "No," she concludes. "But tension is a kind of pleasure."
 ***
FYI: During Music On Main's 2019–20 season, composers Kimia Koochakzadeh-Yazdi and Aaron Graham are the resident "Emerge On Main" artists. They are the focus of the "Spotlight on Rising Musicians" concert on March 3, 2020, at Fox Cabaret.
---
Photo of Kimia Koochakzadeh-Yazdi by Jan Gates.
Audio: The Starts and Stops (2019). Composed by Kimia Koochakzadeh-Yazdi. Performed by Mark McGregor (solo piccolo) and Koochakzadeh-Yazdi (electronics).
---
More information on Kimia here. Order Musicworks 135 (Winter 2019) here.