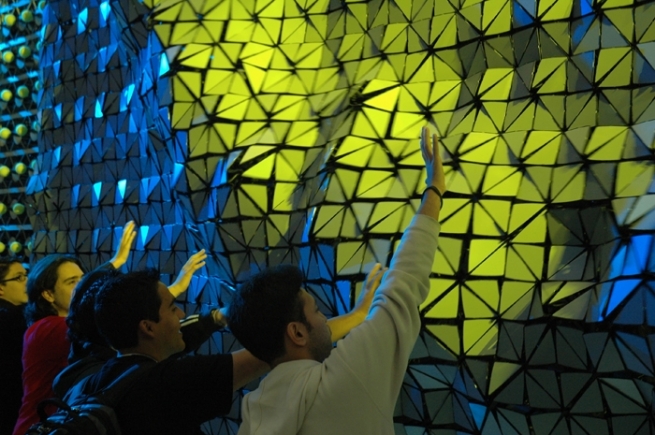 FULL-TEXT AVAILABLE IN PRINT EDITION ONLY
On a 2004 visit to the MIT Media Lab, I encountered a small, flat wall with a skin of silver luminescent triangles covering a background of cables and metal frame. My host, the creator of Hyposurface, Mark Goulthorpe (dECOi Architects, and Professor at MIT) turned on the compressor, causing forced air to begin firing the pistons that pushed the triangular components of the skin outward at high speed. The stationary wall had been transformed into a dynamic surface of drops, text, and transient shapes, shapeshifting from one edge to the other.
Goulthorpe had been developing Hyposurface for several years, having shown it at CeBit in Hanover, and at the Venice Biennale: his intention was to build "the world's first display system where the screen physically moves."
Read more in the print edition.
Image: Audience members interact with the movement of Hyposurface at the 2007 BIO International Convention in Boston, Massachusetts.