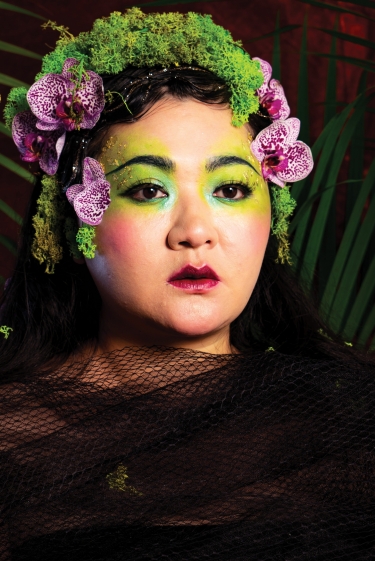 Whether exploring a musical idea on her own or working with a new collaborator, Du Yun follows her intuition.
The New York-based composer, performer, and curator—currently professor of composition at the Peabody Institute of The Johns Hopkins University and distinguished visiting professor at the Shanghai Conservatory of Music—has said that her work is often about finding compassion in the world and that it offers a perspective on topics that audiences may not have taken the time to contemplate. The human-centred aspects of her work become apparent when considering the stories and narrative paths she explores with her many collaborators. One striking example of this is Du Yun's 2017 Pulitzer Prize-winning opera
Angel's Bone
, which invites the audience to contemplate the issues of human trafficking and modern-day slavery through an allegorical story, set on Earth, about two fallen angels. The work premiered in January 2016 in the Prototype Festival at 3LD Arts and Technology Center in New York City. Now, in one of the most significant and ambitious independent opera partnerships in Canada in recent memory, Toronto-based
Arraymusic
and
Loose Tea Music Theatre
and Vancouver-based
re:Naissance Opera
and
Sound the Alarm: Music/Theatre
 and
Turning Point Ensemble
are working together to coproduce the Canadian premiere of
Angel's Bone
, which features a libretto by Brooklyn-based Canadian librettist Royce Vavrek. The collaborators on this all-Canadian production are taking a socially responsible approach, which includes their having sessions with consultants and offering mental-health support for the performers and audience.
In 2019, I was one of six artists commissioned to write for the New York-based JACK Quartet as part of its inaugural JACK Studio—a two-year residency including a commission, workshops, mentoring, and a final performance. I was offered the opportunity to receive mentoring, so I requested that my mentor be Du Yun, a person whose artistic work integrates a holistic and multidisciplinary approach that I felt parallelled my own work. Our first contact took place during the intermission of a concert that was part of the Resonant Bodies Festival hosted at Roulette Intermedium in Brooklyn. I had been a fan of Du Yun ever since a colleague suggested I listen to her music, and so I ran up to her yelling, "Hello!" with my rooster-feather earrings swinging. We met for drinks later that week with composer Raven Chacon in the basement of a hotel on West 13th Street just outside of the Mannes School of Music at the New School, where Du Yun was in residence at The Stone. She was performing shows that week with Chacon (with whom she was starting a new collaboration on an opera, Sweet Land), as well as with Ryan Muncy on saxophone (International Contemporary Ensemble), and with her band OK Miss. I spoke with Du Yun over two sessions held in late 2021. Her effervescence and gregarious nature and silliness shone through as she spoke about her parents and things that make her happy. Our conversations were filled with laughter, tea, and stories about her life—from her piano lessons and studies at the Shanghai Conservatory as a child to the musical compositions she was working on at the time. Du Yun loves astrology and describes herself as a Gemini with "both a social self and a more private, personal self." During her childhood, Du Yun bought broken cassette tapes that were sold on the street near the Shanghai Conservatory. It was difficult to purchase any music by Western artists, so these broken tapes were the only way the teenage Du Yun could hear favourite bands like Pink Floyd, Sinéad O'Connor, and The Cranberries.
Du Yun moved from Shanghai to study at Oberlin College and Conservatory in Ohio. After going through a catalogue of American colleges in the Shanghai library, Du Yun decided to apply to a school in the "O" section, since there were so few schools in that part of the directory. Her studies in the United States were a crucial part of her development as an artist and composer, and also allowed her to meet many of the important collaborators who shaped her early musical writing and would later influence her career.
Du Yun's oeuvre covers a wide variety of musical genres, and the composer draws inspiration from several arts and disciplines, including architecture and fashion. Du Yun's music also borrows creative ideas from sources outside of music. She reads extensively in nonmusical areas and is interested in the ways in which practitioners in those areas approach their specific medium. Fashion designers like Tom Ford, John Galiano, and Alexander McQueen have inspired her. McQueen believed in tradition and was a "total avant-garde bad boy," she said, which she relates to because it features it in her own work. Her desire to express herself through fashion is not about looking cool, she said, but about using fashion is a window through which to view the "styles and aesthetics of designers, how culture works, and how others look at society."
Several of the 2019 Grammy Awards Best Dressed lists—which featured celebrities such as Cardi B in a 1995 Mugler oyster-shell gown, Janelle Monáe in a shoulder-focused Jean Paul Gauthier dress, and St. Vincent in a Giambattista Valli dress with holographic details—included Du Yun. A nominee for Best Classical Contemporary Composition for her work Air Glow, she walked onto the red carpet that night dressed and styled by Kate Fry, the costume designer for Angel's Bone. Du Yun's iconic pom-pom look was created by a team of talented artists: Cici Andersen (hair), Samantha Bates (makeup), and Maureen Clay, an artist with the Creative Growth Art Center in Oakland, California, who handmade the pom-pom cloth.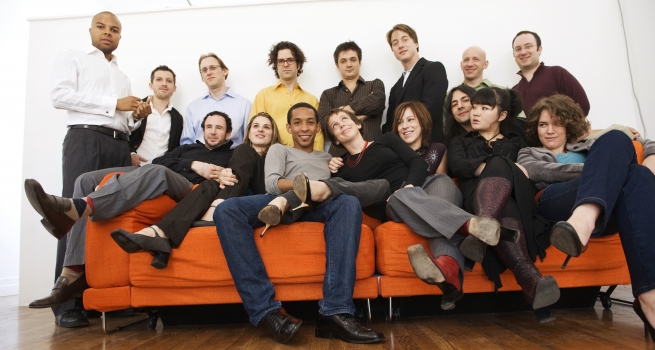 Percussionist David Schotzko, who is currently the artistic director of Arraymusic in Toronto, met Du Yun when they were both undergraduate students at the Oberlin Conservatory of Music, where they collaborated on several of her early compositions. In a recent conversation, Schotzko told me that Du Yun is one of his "favourite people on the planet," and exclaimed at one point, "She's extraordinarily brilliant. How much of her product is aforethought and planned or just visceral aesthetic and instinct?" From their collaborative work as founding members of the International Contemporary Ensemble, the renowned New York-based group that commissions and performs experimental music, to the Canadian premiere production of Angel's Bone, the artists' paths have been intertwined, and their friendship endures. Schotzko can still hear the elements of percussion writing that Du Yun developed at Oberlin in some of her more recent compositions. "Du Yun was always a little different, and I think we haven't quite caught up with [her] yet," he says. "She was always ahead of what people were doing artistically.
"Her dynamic range is wider than that typically played in Western classical music, and is typically much louder," he adds, describing a piece of hers in which the percussion was to be so loud it drowned out the other instruments." Wordlessness . . . less, the concerto that Du Yun composed for Schotzko during their undergraduate years in the late '90s at Oberlin, opens with a percussion solo performed so loudly that the audience can't hear a quartet consisting of two cellos and two violas playing at the same time as the soloist but hidden from sight. The score calls for the soloist to stop playing at one point, which allows the audience to realize that the quartet has been playing this whole time, but has been overpowered by the percussionist. The extra-musical elements in Du Yun's music, not all of which are theatrical, are the by-products of her writing process.
Du Yun has had an enormous impact on Schotzko's playing. "She appreciates when [the player] looks past what's in the score—you work with her to learn her music," he observes. "She wants her players to view the score as a jumping-off point rather than a final goal." The percussion pieces Du Yun wrote for Schotzko during their time at Oberlin all had an open-ended element, a "communication beyond words," explains Schotzko, who says the composer always trusted that he would understand what she was trying to do. "I've never had that kind of relationship with any other composer."
When Du Yun went off to Harvard, she continued working with Schotzko and other Oberlin alumni, which eventually led to the formation of the International Contemporary Ensemble. One of the first major projects the Ensemble took on was workshopping Du Yun's first opera, Zolle (2005), the story of the ghost of an immigrant woman who is trapped between two cultures and is tracing the lines of her identity in the shadowy space on the border between memory and reality. Schotzko recalls that the workshop process "was a challenge for the group. She doesn't work in quite the same way as a composer who creates through-composed music. She was singing her ideas, and there was narration; some of [the score] was completed, but some of it was still just sketches.
"Zolle was Du Yun's first time singing on stage. She was originally going to write it for tenor, but with time pressing, instead of pushing someone to learn it quickly, she ended up singing it herself, and this was a step towards her doing the quasi-punk stuff she's done since then." Smiling, Schotzko adds, "She was ready to embrace it. She was ahead of things. The world is only just starting to catch up with her now."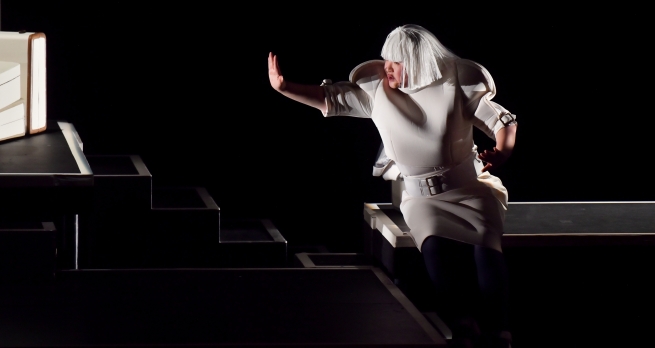 OK Miss, which Du Yun describes as a "rock band and chamber ensemble," features the composer herself on vocals and piano, Shayna Dunkelman (drums), Nich Olas Farrell (guitars, electronics), Grey McMurray (guitar), and Aakash Mittal (winds), the latter of whom Du Yun first met in 2017 when they were serving on a grant-award panel and both ended up advocating for the same artist. After the panel, they walked to the subway and Du Yun asked Mittal if he wanted to play on her recording session. Mittal had only been in New York for a couple of years, and Du Yun had no idea how well he played. Mittal told me he felt welcomed into a synergetic environment in which the composer often sang her thoughts to the performers without musical charts and welcomed on-the-spot changes to the music—spur-of-the-moment-charged arrangements in a rock-band style. Du Yun encouraged the people in the room to go further than their own experiences and encouraged Mittal to try styles other than bebop to get deeper into the music. Sometimes Du Yun was very particular about an idea, but it wasn't always about a specific rhythm or pitches but rather a particular aesthetic.
Du Yun sings to her collaborators to offer them an idea of what direction to go in and to convey the feelings of her ideas. Mittal believes one of the many reasons her music is so good is that she is interested in the artists she hires, and writes with specific people in mind. Mittal found it easy to be himself and feel in service of the other artists and her music. "[She is] genre-esque in a tongue-in-cheek way," he said, and is always willing to be playful "not just in music but also in life," qualities like those he noticed in the late jazz drummer and visual artist Milford Graves. The media often portrays Du Yun and Graves as serious artists, but they can also both be silly. With OK Miss, Du Yun often works beyond genre. "One day they might be playing a metal tune with multiphonics on the hits, and Du Yun performing as the lead singer," Mittal said, while other days they would be jamming in more of a free-improv style. "The continuum she's a part of, in developing and creating work, draws from new music and other places, but it's completely her own. She's comfortable having her own voice across communities and media."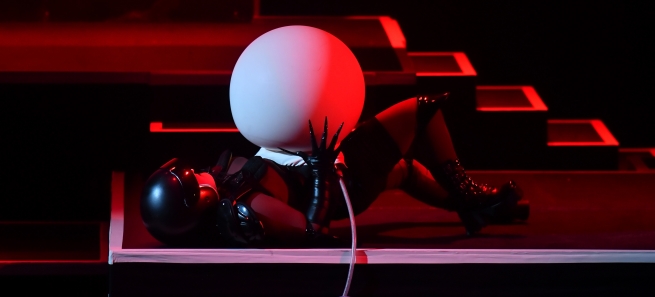 While Du Yun has worked in opera, and her work has many theatrical elements, she feels that the word alone does not describe her large-scale works, which often pull apart the typical concepts associated with opera. The idea for Angel's Bone developed from a series of discussions with librettist Royce Vavrek that revolved around a book about sex trafficking that Du Yun had read and a dream about angels that Vavrek had had around the same time. During the research and consultation process undertaken as they were creating Angel's Bone, they learned that the go-between is often close to the victim of sex trafficking. Because Du Yun and Vavrek are not survivors of human trafficking, they wanted to explore this phenomenon by focusing on the go-between, so that the story would resonate with society without potentially triggering trauma for survivors. Du Yun explained that "we can see ourselves with our morality in question."
For the Canadian premiere production of Angel's Bone, Alaina Viau of Loose Tea Music Theatre is producing and codirecting alongside Debi Wong of re:Naissance Opera and Alan Corbishley of Sound the Alarm: Music/Theatre. I asked Viau about the process and challenge of mounting and presenting a work that plays within many different musical genres and delves into the topic of human trafficking. "It's not a traditional opera," she points out. "It's brought up conversations around gender and what it means to present this work in Canada. Diversity is a [major] part of the conversation," and the question arose, "How does race play into this presentation?" Viau spoke about how "people who have been trafficked become traffickers, which leads to the necessity of collaborating with consultants in order to be socially responsible. [What is] being presented is the original setting in this new presentation, [giving] more power to the victims and allowing them to have power in the story, so as not to make it worse by re-traumatizing the victim."
In acknowledging the systemic issues in Canada—and all over Turtle Island—regarding Indigenous women, these four indie opera companies are working to ensure that they are budgeting for Indigenous consultation as well as for mental-health services for the performers and the audience during and after the performances by providing access to mental-health support. Viau says that "this is hard subject matter to experience; it's not pleasant, but that's the point. [This work] is providing an experience to action people into doing something by creating empathy and [hopefully] the desire to create social change." Viau describes Angel's Bone as vast and expansive and says that it builds on Du Yun's previous work.
"She's pushing herself in her work [and therefore] pushing opera further."
---
PHOTOS:
Top photo of Du Yun by Zhen Qin, makeup by Nina Carelli, art direction by SpaTheory.
Photo of International Contemporary Ensemble circa 2008 courtesy of the Ensemble.
Photo of Du Yun performing role of Wander Woman Ghost in 2022 NYU Skirball production of her piece Zolle by Ian Douglas.
Photo of Du Yun performing her work A Cockroach's Tarantella at 2022 NYU Skirball by Ian Douglas. 
NOTE: The mention of Turning Point Ensemble is the first paragraph of this article was not included in the original print version.