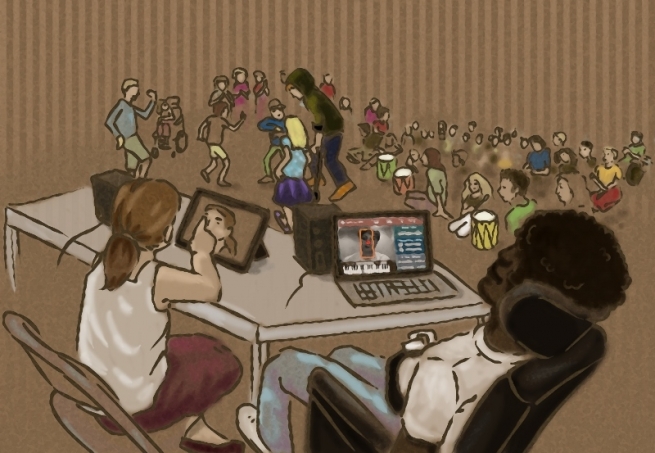 The title of this post is borrowed from Toronto percussionist
Germaine Liu
. You'll have to read Mary Dickie's lovely story in the Fall 2015 issue to see how Germaine uses the words. You'll find an entirely different spin on the notion of friendly exchanges in Greg J. Smith's Visions of Sound centrespread piece on
Montreal's Le Révélateur
(electronic sound artist Roger Tellier-Craig and video artist Sabrina Ratté).
Friendly exchanges. The evocative notion captured the vibe of every article, for one reason or another, during production of the Fall issue. While in planning mode, however, my mind got hooked on these three words: mind, body, spirit. It started last spring, when I nudged Lawrence Joseph about music therapy, a subject we first discussed more than a year ago. In June, Lawrence attended a conference entitled "Improvisation and Community Health," which was co-sponsored by a number of like-minded organizations. This event, which included plenty of jamming, became the jumping-off point for Lawrence's thoughtful feature "Fresh Moves in Music Therapy,"  as well as the inspiration for a delightful illustration by Montreal artist Chantal Paré, included at the top of this post.
In the Fall issue Stuart Broomer's feature on
Joshua Abrams' Natural Information Society
is augmented by a companion piece that explores the currents of African spirituality felt in the relationship between Moroccan music and jazz. Composer
Anna Pidgorna
tells Nick Storring how and why traditional Ukrainian weeping songs inform her recent work. 
Christopher Willes delves into the provocative sound art of
Christine Sun Kim
, who was born deaf. Louise Gray traces the development of the
Human Harp
, a monumental music project directed by "bridge-botherer"
Di Mainstone
.
Victoria's Open Space centre introduced me to Tahltan Nation performance artist Peter Morin, who discovered early-twentieth-century recordings of family members and has been returning their songs to the land through his powerful, collaborative art. Alexander Varty puts us in his pocket to experience the opening night of Tahltan Song Cycle, then unfolds his story about Peter's creative journey.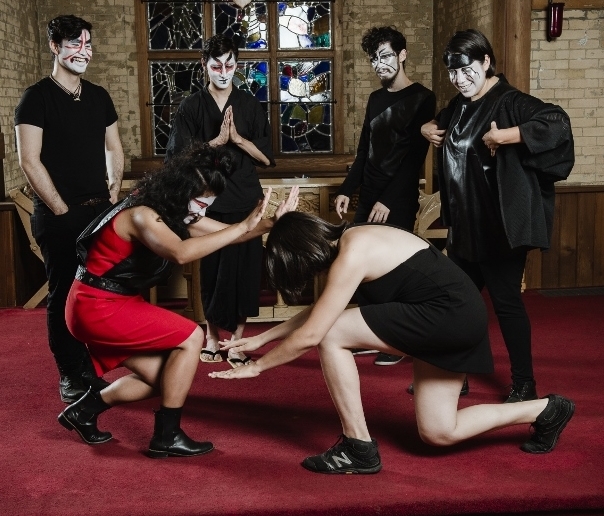 Musicworks and the Music Gallery are old friends. So when David Dacks, the Music Gallery's artistic director, invited Musicworks to drop by for the centre's fortieth-anniversary season, well, how could I say no? For most of its life, Musicworks was an activity of the Music Gallery—sharing resources and facilities but, otherwise, independent—until going solo in 2003.
As editor, I spend much of my time looking ahead. When you're in fast-forward mode, it's difficult to pause, rewind, and listen back to your own history, let alone that of an old friend. In October, the Music Gallery is uniting its former and present artistic directors in a panel discussion. As moderator, I have the pleasure of pressing rewind to discover the ideas and challenges that have shaped this vital centre for creative art music.
Since 2002, the Music Gallery has been based in Toronto's historic St. George the Martyr Anglican Church, and presented most of its concerts in the sanctuary. Yamantaka // Sonic Titan's Alaska B suggested the Music Gallery as a photo-shoot location -- how apropos! One sweltering August evening, photographer Kevin Jones took portraits of Alaska B in the church's courtyard-style garden, while I got to witness the other band members transform from their street selves into their performance selves.  While YT//ST definitely prefer to show their dramatic side in  photo shoots, Kevin managed to grab a few fun cool frames in between setups; in the above shot, foreground you can see Alaska B (right) and new YT//ST singer Joanna Delos cooling down, as band members (left to right) Hiroki Tanaka, Brandon Lim, Brendon Swanson, and Ange Loft look on. 
Our cover story
and image showcase one of Toronto's most thrilling, adventurous bands and one of the city's warmest, most vibrant performance hubs.
(And, for the record, I provided refreshments, and David ensured step-ladder safety. Cuz that's the kind of thing old friends do.)
Why not start your holiday shopping today? Your adventurous music-loving friends deserve
a gift subscription to Musicworks
,
starting with #123, Fall 2015. Each issue of
Musicworks
comes with a companion CD of new work and rare tracks from artists featured in the magazine.