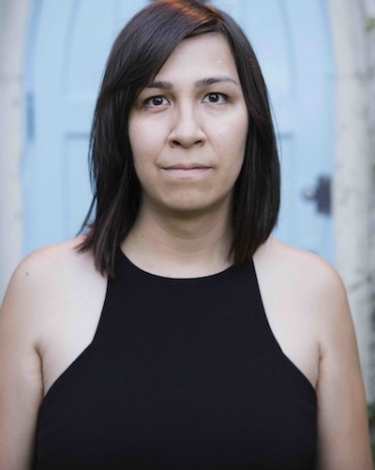 I HAD BEEN GRIPING TO ALASKA B, cofounder of the creative ensemble YAMANTAKA // SONIC TITAN, that Bloordale didn't have any decent pizza. I'd recently transplanted myself to the Toronto neighbourhood, one of her stomping grounds, and found it discomfiting to not know where to find a sublime slice nearby. She suggested, of all places, the local 241 Pizza, one of the city's grimier chains: "It's just the right amount of greasy and crappy without being weird." So, late one night I popped into the cramped corner 241. A small lineup filled the place. Even on a hot summer night amid the pizza ovens, the staff—an assortment of older men of various ethnic backgrounds—was kind to everyone. They patiently walked a young fellow, new to the English language, through the concept of "pop" by distinguishing the celebrities he'd heard about from the cans in the fridge.
This tiny, earnest pocket of cheese and good company, in a neighbourhood rapidly gentrifying, felt like one of the nicest places on earth. And wouldn't you know it, halfway through my meal, in walked Alaska B with some of her bandmates. Turns out she routinely visits the joint. I thanked her for the tip. My preconception that only non-franchise grease pits can serve up a humble slice restrained me from seeing the sublime in-betweens. Alaska B is exhausted by "the obvious." She knows—intimately—how preconceptions can stifle creativity, and has constructed a holistic universe built from the tasty in-betweens.
//
WHEN ALASKA B WAS GROWING UP, she often listened to traditional Celtic songs from a cassette tape that included "The Nightingale Sings." She has an Irish background, but her Chinese heritage, for those who like labelling people, has been easier to pluck. "People thought it was really weird, and I'd ask, 'Why?'" says Alaska B. "If it was a white Irish kid, it'd be cool. But because it's me, it's, 'Why?' There's a pressure to fit a stereotype, even in art. It kind of became a joke: if we just do this thing, we could say 'That's our culture!' and you can go, 'Oh! Nice!' Being of mixed race, I have a lot of hilarious influences that people would never believe."
What Yamantaka // Sonic Titan is and what it sounds like have proven to be amorphous. It's a band that engages in productions outside of stage shows and album recordings, venturing into areas such as multimedia theatrics and video games. For live shows, YT//ST members paint their faces, dress in coordinated outfits, and often erect elaborate sets of cutout landscapes—all within a colour palette of white, black, and red—to form a comic-book universe that, in one stroke, evokes Kabuki theatre, WWE wrestler Goldust, the 2002 Japanese anime film Tamala 2010: A Punk Cat in Space, and other cultural touchstones. The band's sound flows and crashes through doom metal, punk, opera, and prog. The voice of cofounder Ruby Kato Attwood (who left the band in early 2015) is like a dream transponder emitting shouts of thunder. The song lyrics aren't in synch with the universe the rest of us know.
During YT//ST sets, Alaska B takes the drums, but also plays piano and bass, and draws on her background in animation and programming. She compares herself to a shark: she'll sink to the sea's basin and die if she's not swimming forward—that is, learning something new. She's currently teaching herself recorder. Her creative work is inspired by anything that fascinates her—from Norse mythology and Tove Jansson's Moomin books to First Nations and Sailor Moon. She likes juxtaposing disparate ideas, covering a range, swatting at the notion that anyone is raised in a vacuum. The prominent chants and rhythms in YT//ST's music reveal the influence of indigenous and Japanese music on the band. The ensemble's constantly fluctuating roster is consistently diverse. Alaska B says people often assume "Raccoon Song," the opening track on the band's debut album YT//ST (2011), to be exotic and Asian, when in fact its content is based on Iroquois sources, about as local as it gets. "We've had four different Native members in the band over time, and generally people bypass that fact. When they talk about that track, they go, 'Mmmm . . . ASIAN!'"
//
YAMANTAKA // SONIC TITAN WAS FORMED IN MONTREAL in 2010, in part to help band members get through an especially rough time being a person of colour in Canada. Back then, xenophobia in Quebec was at a frightening high. The provincial government's "reasonable accommodation" bill, which sought to ban people in front-line government agency positions from wearing religious face-coverings at work, was clearly aimed at women in niqabs. The proposal and the inevitable rhetoric brought out the worst in some people. Shub Roy, a member of Dirty Beaches, Night Musik, and ex-guitarist for YT//ST, discovered many of his gig posters defaced with the words "Dirty Sons of Immigrants." France-style racism had risen from the French-Canadian gutters, and Montreal's celebrated music scene was no safe haven.
"People of colour, racialized minorities—we became this caste of different people in the music scene," says Alaska B. "This whole created-universe thing came out of that, people from different bands bringing in different ideas. The sound of the band changed tons over the years."
The feeling of being outsiders, together with the dialogue around change, united the band. "Always being pigeonholed as being brown, thinking that because you're Bengali means you drive a cab—when you get [this attitude] from other people in your music scene, it's pretty rough," says Alaska B.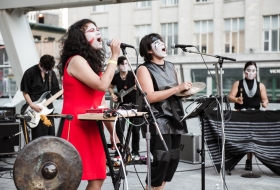 "No, we're rockers. We play music."
Canada treats ethnic diversity with fetishistic hand-wringing. The country trumpets its multicultural pride to drown out the neglected problems facing those same communities. During the Olympics or the Pan Am Games, costumed dancers are jubilantly propped up, then quickly put back into storage before anyone gets too critical about it. Ethnic-minority cultures are celebrated as long as they match society's preconceived notions of what they should look and sound like. Alaska B has grappled with these grievances in dealing with dopey journalists or completing awkward grant applications. "I'm going to play rock music and I'm white: Money! I'm going to play rock music but I'm not white: 'Is this a sellable thing?' " is how she sums up the hunt for funding to support the band's projects, and the response she often receives. "Suddenly there's a question of if you're actually any good. So now this is part of the conversation. This doesn't happen all the time, but I've felt it. So we began poking holes in the concept." YT//ST has never been interested in performing what the world expects of them.
//
MAKING YOUR OWN WORLD CAN BE VERY LIBERATING—not to mention just plain cool. Think Kool Keith, rapping about his toy chest of supervillains and space gynecologists along a canonical time line; his most popular moniker, Doctor Octagon, was killed on his album First Come, First Served (1999), then revived and killed again on Dr. Dooom 2 (2008). Likewise, avant-jazz musician and bandleader Sun Ra—a major inspiration for YT//ST—was devoted to the world he conjured for himself: a hallucinogenic sonic cosmos of diplomatic space people. Alaska B describes YT//ST's universe as a more serious version of the mythos surrounding bands such as Kiss and Gwar—which feels like a considerable understatement, all things considered. The universe YT//ST sings about is not exclusively drawn from the ethnic backgrounds of its band members. If anything, it's inspired by the in-betweens: the similarities between what seem like disparate ideas. Alaska B likes to muse on the strings between Buddhism and Norwegian black metal: the celebration of life by reflecting on death, and the retaliation against fascistic aspects of Christianity.
YT//ST, shortlisted for the 2012 Polaris Music Prize, draws from the Iroquois' Great Peacekeeper story, about the creation of an Iroquois alliance around the Great Lakes. It also draws from the story of Sun Wukong, also known as the Monkey King, the main character in the Chinese novel Journey to the West—a fantastical legend that any cartoon nerd will quickly tell you served as the basis for the Japanese manga series Dragon Ball. The band's sophomore album, UZU, shortlisted for the 2014 Polaris Music Prize, follows Mazu, the Chinese patron goddess who protects those who voyage the ocean by travelling through an unfamiliar world.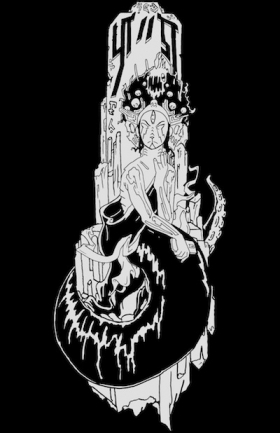 Recently, the band has been working on the score for the video game Severed, produced by the Toronto-based independent video-game developer DrinkBox Studios. Alaska B, who has no creative control over Severed outside of the music, finds it funny that the game happens to star a woman who has lost her hand, echoing the story of the Norse war god Tyr (whose hand was yanked off by the wolf Fenrir), which also influenced UZU. The band's forthcoming album, Alaska B hints, will include elements of the Iroquois creation story (Sky Woman creates the earth with the help of water animals, who place mud from the bottom of the ocean on the back of a turtle) and the 1980s anime series Space Battleship Yamato, a space opera about a valiant cosmic naval force. But these cultural touchstones won't be obvious upon listening. "I don't like being didactic about my influences," she says. "I'd rather things be obscure."
The YT//ST universe doesn't only exist in the band's albums. It extends throughout the collective's body of work. Its own video game, Your Task//Shoot Things, currently on hiatus, would give the YT//ST universe a Super Mario Bros. shape. Alaska B wants to make a digital archive of all the prints and props cluttering her home, if only so she can separate herself from nostalgia and end a potential fire hazard. If you missed Opera 33, YT//ST's one-shot production, then you've missed that chunk of the story.
Alaska B says the YT//ST magnum opus would be a multimillion-dollar, two-and-a-half-hour-long stage show, coupled with a book and meant to be watched online, with interactive moments incorporated. "I've always been a 'go big or go home' type," says Alaska B. "I would get more projects done if I did smaller ones. But I only take on huge things."
//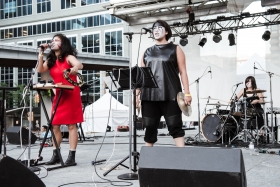 THE SUN IS SETTING. The CityTV megascreen that looms over Toronto's Yonge-Dundas Square has transitioned from a Mantracker marathon to a Storage Wars Canada marathon. Yamantaka // Sonic Titan's set for the Filipino street festival Kultura—surprisingly talent-stocked with Phèdre and Maylee Todd—is two hours behind. Alaska B and her bandmates try to set up their instruments while a drag performer lip-synchs to The Pussycat Dolls' "When I Grow Up."
The band's extended lineup involves lots of instruments. Two gong-players from Pantayo—an all-female kulintang group that performed earlier on the Kultura bill—are joining YT//ST, as is Pantayo's Joanna Delos Reyes (above, left) [also: Ange Loft (centre); Alaska B (right)]. She is YT//ST's new lead singer, replacing Ruby Kato Attwood—part of the most recent shuffle that also saw the departure of guitarist John Ancheta and the addition of Hiroki Tanaka on guitar and of sludge-punk outfit HSY's Brandon Lim on bass. This is the first YT//ST lineup to have both a bassist and a guitarist. It's the new lineup's third public performance, its second with Lim. Reyes had been working with the band on the Severed score when she joined YT//ST.
"I don't think that I'm taking over anyone's position," Reyes tells me. "It just feels like I'm opening up a new thread of musical exploration. My vocal stylings are much different."
I tell Reyes that her voice sounds more metal than that of her predecessor. While metal isn't her musical background, she doesn't disagree. Her enunciation punches much harder than Attwood's spellbinding hazes. Some of the band's older hits, such as "Reverse Crystal // Murder Of A Spider," have been modified to suit Reyes' singing style. The band's next album will reflect the sensibilities of both the new and older members. The collective evolves yet again—"the obvious" ripped away before it has a chance to scab.
//
IF YOU ARE LOOKING FOR CONSISTENCIES, you have to track the interests of Yamantaka // Sonic Titan, not your assumptions about it. Alaska B's identity is bound to the things that fascinate her: the video games Earthbound and GoldenEye 007, Sun Ra, folklore, and philosophy. If you know to step over what you think you know about YT//ST, you can discover a lot more—maybe even some really nice pizza. You can even find it in the band's preferred colour palette: white, black, red.
"The red is a temperance, but in its own way it's the biggest brightest colour," says Alaska B. "Everything else becomes background when the red shows up. The rest of the time, it's a play in black and white. In all my work it's like that: there's always a little bit of black and white with a splash of red: you know, a penguin with a diaper rash."
---
AUDIO: Crystal Cavern (battle) by Yamantaka // Sonic Titan  and Pantayo (from the original soundtrack for the DrinkBox video game Severed, 2016). 
Yamantaka //Sonic Titan photos by: Kevin Jones.  Top photo: Alaska B.  Drawing by Alaska B: "Untitled," 2015. Archival ink, drafting vellum, digital colour, 11 x 17 in, Toronto. Artwork created for Yamantaka // Sonic Titan's upcoming album, posters, and T-shirts. YT//ST performance photos: taken during Kultura festival in Toronto, August 2015.