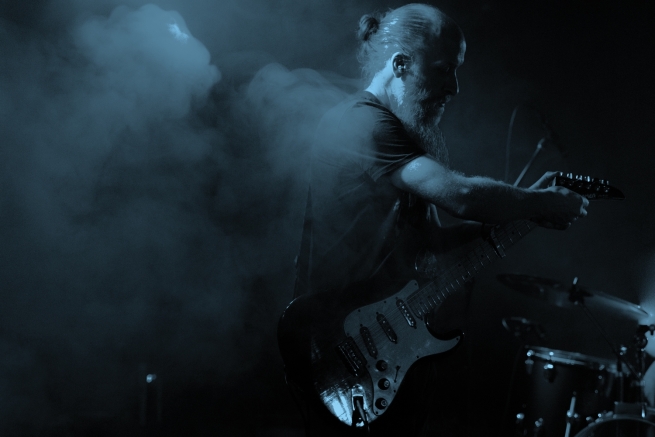 Over the past twenty years, Berlin-based Canadian guitarist and composer Aidan Baker has developed a creative rhythm, using his guitar as a gateway to seemingly disparate sounds and marrying noise, krautrock, metal, drone, and free jazz in thrilling and unexpected ways. Through his workmanlike approach, he has amassed a sprawling discography—the selected discography on his CV lists fifty-two releases alone, and around three times as many releases are listed on his Bandcamp pages. As soon as the reality of COVID-19 set in earlier this year, an Internet meme emerged that the pandemic lockdown would be a boon for creativity thanks to all the extra time people now had. Try telling that that to Baker. "I found it difficult to get motivated and work on recording," he says over the phone from his home in Berlin: "Would I be able to tour the material—would the record industry even be operative and releasing records?" Those questions lingered in his mind because, even though he's been fortunate enough to access Berlin's relief funding for artists, the prospect of being unable to return soon to performing soon will be financially devastating. Couple that precariousness with revelations in the daily news and it's hard to imagine anyone being particularly productive at such an uncertain time.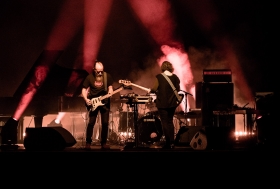 I first came across Baker's music just over a decade ago through Nadja—his drone-metal duo with his wife Leah Buckareff—and was drawn to its intentional blending of heavy metal, shoegaze, drone, and a myriad of other styles. "We would often get lumped in with metal bands or put on metal bills just because people didn't know where else to put us," he recalls. "It was either with metal and metalheads or with noise musicians. We kind of went between the two camps, and I liked straddling the fence of those two genres." While it seemed obvious that they were—like their peers, the guitar-fronted bands Isis and Jesu—interested in freeing metal music from confining song structures, their application of these ideas sounded completely different from the aforementioned bands. From the beginning, Nadja treated genre and style like points on a continuum between which they could move freely, rather than as a fixed set of strict rules. This attitude not only set them apart but, as Baker attests, also made the band difficult to place.
This ethos is equally apparent in Baker's solo work and in his many musical collaborations throughout his career. On Scalpel (2007), a self-described drone-folk album and a standout in his discography for its spare instrumentation, Baker opts for acoustic rather than electric guitar. On Liminoid / Lifeforms (2010), he enlists frequent collaborators Clara Engel and members of ARC and Picastro to help him craft a lush, writhing post-rock opus. Baker takes up the bass guitar on Brick Mask, the 2013 album debut of B/B/S/, an improvisational trio with guitarist Erik Skodvin and percussionist Andrea Belfi that mines its sounds from a bleak, claustrophobic darkness. Released that same year, Forever In Another World—from Caudal, a trio with Irish bassist Gareth Sweeney and Colombian percussionist Felipe Salazar—approaches expansive dream-pop sensibilities before shifting to driving, hypnotic krautrock. These subtle shifts open new sonic palettes to Baker, while still being aesthetically consistent with his ever-expanding body of work.
In 2020, Baker and bass clarinetist Gareth Davis released the second instalment of their Invisible Cities collaboration, which finds the duo building songs from improvised sessions, in which they fuse ambient atmospherics with field recordings to evoke a sense of place. From his home in Amsterdam, Davis contextualizes Baker's style. "At the experimental end of so much music, there's really interesting things happening and so much cross-fertilization is possible between that," he says. "There's some incredibly interesting stuff happening in metal, which is really complex and really beautiful in so many ways. That's only one step away from what would happen if you took certain elements of free jazz and really stretched them out. Noise music of course has similarities both to free jazz and to metal. Different kinds of rock music are already getting into the same territory. Some of the more atmospheric areas of metal are like drone music. To me, there's so much beautiful and interesting stuff that's happening in all these areas, which share voices and share elements. If people open their ears a bit, they can find great stuff."
Baker has always been an omnivorous listener, aware of the multitude of directions he can take. "That may have just been my upbringing, because my parents are both musicians; music was always around in the house; and even though they predominantly listened to jazz and classical, pop music was still around," he explains. "So I never had this idea that I needed to pigeonhole myself or anything. I think the idea that my aesthetic can be applied to any genre was never really an issue for me. It just seemed kind of natural." With this sensibility engrained at an early age, his choice to embrace the guitar allowed him to follow those musical whims. Baker's first instrument was actually the flute, which he took up when he was around ten years old. Although it provided him with a musical education that he followed to the Royal Conservatory, he was frustrated by his inability to use it to create his own music. "There are hardly any solo flute pieces that are just pieces by themselves," he says. "So, this idea of being able to play just by myself and still produce something coherent or something that was already concrete was a big part of what drew me to the guitar. I could make songs and just play by myself and sing, or play with pedals and create this self-contained piece in and of itself."
Not long after taking up the guitar, Baker began to explore playing the instrument unconventionally. He cites as a turning point his listening in his teens to Dinosaur Jr. and to Sonic Youth's 1990 album Goo. Both those groups pried the guitar from its rock underpinnings and leaned into more abstract playing styles. "That's really when that idea clicked for me, that the guitar was more of a tool than an instrument. My compositional style would change from trying to figure out riffs and chord structures to a more sonic kind of thing."
He describes his style as deconstructive. "Which is pretty vague, but intentionally so," he says. "I do recall a friend seeing me once play in London and telling me afterwards that he was amazed that I never played a chord in the entire set—which I hadn't thought about. I barely played any notes really, because it was more about creating the sounds and the textures." While Baker makes use of several guitar pedals to warp the sounds of the instrument, he's careful to not completely mask the characteristics and tones of his guitar. "I do resist that. I find that people can be way too reliant on their pedals for the sound. I like to think that my pedals are amplifying what I'm playing rather than creating what I'm playing."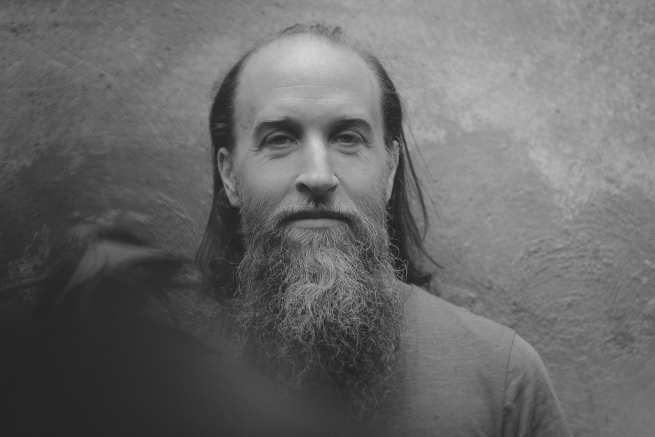 With the guitar fulfilling his desire to create on his own and play at the peripheries of convention, Baker dove headlong into making ambient music. He characterizes that experience as an important step in terms of asserting his own artistic vision and autonomy, which has continued to motivate his work, and has taken on various forms, such as booking his own shows and tours and releasing his own music, lessons he learned early on, touring with Nadja. "We often found when touring that we would run out of merch to sell on the road and we'd have to get in touch with the label and say, 'We need another thirty records or something, because we're down to nothing,'" he explains. It's a good problem to have, and it ultimately drove Baker and Buckareff to start Broken Spine Productions—the label under which many of his solo outings, collaborations, and even books of poetry are released—which has allowed them complete control of which recordings get released (all of them!), when, and in what quantities.
This DIY mentality has introduced him to a wider community of artists and musicians. "We've worked with a few agencies here and there, but we've always kind of maintained this DIY ethos in terms of booking and tour-managing ourselves and arranging travel ourselves. I really find that that helps make us part of a community," he says, adding that it's given him a connection to fans, fellow artists, and the people working behind the scenes at each venue, promoting and putting on the shows.
Take one look at Baker's sprawling discography and that sense of community is also quite clear in the numerous ongoing projects and collaborations he has been a part of in over two decades. As much as his choosing the guitar signalled his desire to make music on his own, his creativity has been driven by the thrill and challenge of working with others. "Part of the fascination of collaborating with others is taking my sound or my aesthetic and seeing how others play off it and how that affects me and my playing."
Davis, who has a similarly long CV, explains that his connection to Baker likely comes down to a shared work ethic and discipline. More importantly, they share a curiosity that fuels their need for musical exploration. "We both have interests that can go from, 'Okay, let's try something that's more noise influenced, or free-jazz influenced or improvised influenced or drone influenced, or rock influenced,'" he explains. "We both have that desire to approach our music by saying, 'Let's try that. See how it works.'"
---
FYI: New and forthcoming releases from Aidan Baker include: Aidan Baker  / Simon Goff / Thor Harris, The Bit (Gizeh Records); Aidan Baker, There / Not There (Consouling Sounds); Hypnodrone Ensemble (in which Baker plays guitar), Hypnodrone Ensemble Gets Polyamorous (Wolves And Vibrancy); and Nadja, Luminous Rot (tba 2021).
Hit the play button at the top of this article to listen to Icy Moments w/ Bass Pulse. Composed and performed by Aidan Baker. Previously unreleased. Find it on the Musicworks 137 CD.