The 2021 Musicworks Electronic Music Composition Contest awarded two artists with honourable mentions: Jean-Philippe Jullin for Nadir and Diana Nadia Lawryshyn for Streams of Consciousness.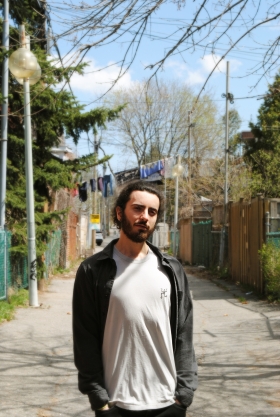 JEAN-PHILIPPE JULLIN
Born in 1995 in Marseille, France, Jean-Philippe Jullin is currently studying digital music at the University of Montreal. Holding a diploma in audiovisual technique, it is through his previous work in the audiovisual field that his language was shaped, mixing elements of art and technology. As a composer of experimental music, he is passionate about sound experimentation and seeks a different way of thinking and creating music. His compositions, performances, and installations aim to establish a dialogue between humans and their environment by bringing the listener into the work. The sound meets the image and the material, approaching a multiplicity of techniques and meanings.
A recipient of the Faculty of Music's excellence grant, Jullin obtained the Desjardins first prize in an interactive creation competition of the Montreal Society for Arts and Technology with the installation Le Chant du Canevas. His composition work was rewarded at the 2021 Jeu de temps / Times Play (JTTP) competition, also obtaining some jury prizes. His new performance Songes d'Aus, a complex interaction between the performer and his computer based on processes of shared control and joint action, will be presented at the next Artificial Intelligence Music Creativity Conference held in Japan. If his main field of activity is now oriented towards sound creation in collaboration with machines, it is with the aim of conceiving experiences of active contemplation, where various elements are assembled to question our perception of space and time.
"A nadir is the point on the celestial sphere representing the vertical downward direction," Jullin explains. "It is the position of the sun at midnight. By extension, it means the worst time, the time of least hope and success. Nadir is the study of the lowest point. This work describes a descent in layers, depicting a dystopian vision in which any sense of improvement is illusory. The materials are abstract, born of random processes with heavy treatments, organized in time like an implosion. The darkness is then contrasted with sometimes pop sounds, a kind of hallucinated version of an apathetic world. Dark, plastic and absurd, Nadir is ten minutes of useless noise. This is my vision of the world: downward.
"Nadir was composed during a dark personal period of the pandemic, allowing me to extract some complex thoughts so as not to let them overwhelm me. My inspirations for this work were mostly Paul Dolden and some hyperglitch artists like Soup and Woulg."
---
DIANA NADIA LAWRYSHYN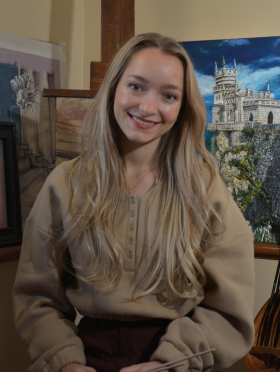 Ukrainian-Canadian multi-disciplinary artist Diana Nadia Lawryshyn uses technology to layer sounds the way she layers brushstrokes in her paintings. To experience her work, simply slip on headphones, sit back, and let the thoughtful arrangement of sound tell a story full of captivating imagery that is re-shaped and enriched each time you listen.
"People are easily distracted, even when the world around them is hustling and bustling," says Lawryshyn. "Using field recordings collected in downtown Toronto and at the Kingston waterfront, sections of orchestral recordings, and improvisational recordings at the piano and the bandura, Streams of Consciousness uses sounds of water as a representation of personal thoughts. The piece is divided into two movements. The first movement, 'Drifting,' illustrates the feeling of focusing in and out of reality. The second movement, 'Brainstorm,' illustrates a deep thought processes and the development of ideas."