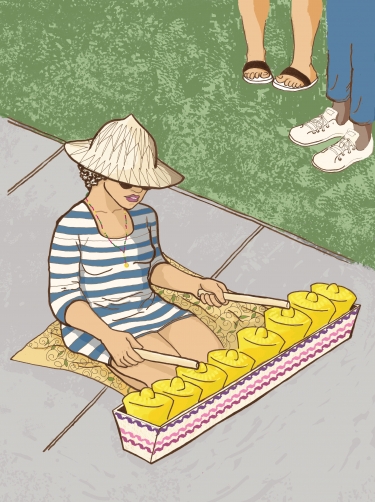 The usual anticipation for nice weather has been feeling like more like desperation—a longing for warmth, good vibes, and the freedom to explore everything under the sun.
I am planning to fill my "no Netflix" summer with as many park hangouts, patios, concerts, and spontaneous events as possible.
Musicworks' staff, contributors, and other friendly ears will be on the scene at many music and arts festivals this coming season—and we can't wait to see what we find.
Scroll down and check out eight festivals across Canada that we're excited about!
—Jessie Rivést,
Operations & Circulation Manager
Illustration by Althea Balmes (from Musicworks 128, Summer 2017)
---
sponsored listings
---
Toronto Summer Music
2018 marks the 100th anniversary of the end of World War I. This summer, Toronto Summer Music will explore music inspired by conflict past and present—some of the most beautiful, emotional, and challenging music ever written. This year's festival will include incredible artists such as the Escher Quartet, Syrian clarinetist Kinan Azmeh, and the New Orford String Quartet, plus Ben Heppner's tribute to gospel music, a tribute to Yehudi Menuhin by Jonathan Crow, a staging of L'Histoire du Soldat featuring the TSO Chamber Soloists, a World War II big-band concert, a celebration of Vivaldi at the Church of the Redeemer, and more!
---
Festival International de Musique Actuelle de Victoriaville
The 34th edition of the Festival International de Musique Actuelle de Victoriaville will include world premieres, world-renowned musicians, visual arts, two experimental short films programs, and a circuit of sound-art installations in public spaces. FIMAV is a laboratory of contemporary music, jazz, rock, electroacoustic music, and free improvisation. It is the biggest event of its kind in North America. Follow us into a world of audacity and avant-garde!
---
21C Music Festival once again welcomes musicians and composers who push the boundaries of contemporary music. Eight concerts over five days will feature five world, 16 Canadian, 12 Ontario, and three Toronto premieres. Highlights include Kronos Quartet with Jherek Bischoff, performing the world premiere of a new work by Bischoff and three Canadian premieres; pianist Anthony de Mare, with his special project Liaisons: Re-Imagining Sondheim From the Piano, presented in two parts over two nights; pianist Simone Dinnerstein with string orchestra A Far Cry  juxtaposing two works by J. S. Bach and two by Philip Glass; a world premiere by pianist Dinuk Wijeratne and clarinetist Kinan Azmeh, who will also play original works that mix delicate arrangements and adventurous improvisations; Grammy Award-winning vocal ensemble Vox Clamantis; violinist and singer Maarja Nuut and electronic music composer Hendrik Kaljujärv; sibling pianists Katia and Marielle Labèque, performing the original two-piano version of Igor Stravinsky's The Rite of Spring, as well as Bryce Dessner's El Chan and Philip Glass's Four Movements for Two Pianos. New Music Concerts closes 21C with a program titled Zipangu! Tickets and festival passes are on sale now.
---
OBEY Convention XI
May 24–27 in K'jipuktuk / Halifax, Nova Scotia 
OBEY is a four-day journey into innovative voices that is designed to encourage curiosity about genres, cultures, and identities. What began as a distinctly punk, three-show, D.I.Y. weekend ten years ago has become an internationally recognized celebration of new ideas in sound and music. OBEY invites you to "join us this spring, at the edges of everything." And they truly mean everything. The 2018 program features industrial gospel, new classical, chamber jazz, kuduro, doom metal, diasporic music, Cubist funk, and avant folk—genres that exist at the fringes, if they exist at all. Halifax, which is literally at the edge of the continent, is a place where many people live in a state of constant financial precarity. For these reasons and more, it's been both essential and sometimes infuriating for OBEY to uphold ideals that resist capitalist interpretations of creativity. More than ever, this year's program is inspired by themes of play, affirmation, celebration, freedom and all-out wilding.
---
RE:FLUX
RE:FLUX explores new frontiers in sound through experimentation, and invites spectators to explore the space between musical conventions in order to find new sensorial possibilities. The festival offers an experience that transcends all expectations by reinventing music as we've come to know it, seeking its purpose without ever finding it. In this 13th edition, RE:FLUX is offering a plethora of activities, including many music and sound performances, art exhibits and installations, artist talks, workshops, radio performances, and a DJ after-party. RE:FLUX is also proud to host Léandre Bourgeois as artist in residence.
RE: FLUX 13 main programming:
May 31: Pastoralia—Grottoesque
June 1: Adam Basanta—Small Movements, artist in residence Léandre Bourgeois
June 2: Jullian Hoff and Charlotte Layec—Verklärter Rohr, Terri Hron—Nesting
---
Zula Presents: The fifth annual Something Else! Festival
of Creative Music
Zula Music & Arts Collective Hamilton has been presenting adventurous, creative, vital live music in the city since 2014, programming world-renowned touring artists, as well as national, regional, and local artists, and connecting them with audiences from near and far. Zula's programming covers a wide range of jazz, improvised music, the avant-garde, and newer traditions in music and the arts from various scenes around the world. This year's artist in residence is Ottawa's Jesse Stewart, who will perform concerts with Eugene Chadbourne and William Parker, Joe McPhee and Nicolas Caloia, Michael Snow, and Heather Cornell. The festival will also include William Parker and Patricia Nicholson's music-words-and-dance project Hope Cries for Justice, concerts by The Young Mothers, Artifacts Trio, Gord Grdina Quartet, and more! Tickets: $20–35. Passes: $100–125.
---
Westben Centre for Connection & Creativity
Westben Centre for Connection & Creativity announces its inaugural Performer-Composer Residency. This international gathering of creative risk-takers whose practice involves some combination of both composition and performance will meet for an intensive four-day collaborative workshop culminating in a final performance on July 12. This holistic international and intergenerational summit of musical exchange is set in a natural, breathtaking landscape, tended by the attentive and loving Westben community. Over the course of the residency, each participant will create their own workshop, participate in everyone's projects and design and perform in a final concert program of original music for the main summer-concert series at The Barn—Westben's acoustically phenomenal 400-seat, timber-frame performance venue. The public will have opportunities to interact with artists throughout the week at the Clock Tower Community Centre and outdoor, under-the-stars, and in-the-forests pop-up concerts and explorations. 
Westben Concerts at The Barn, held June 10 to August 5, presents over 200 artists of classical, Broadway, jazz, folk, fiddle, and comedy, including Tafelmusik Baroque Orchestra, Colin Mochrie, Sarah Harmer, Vancouver Chamber Choir, Montreal Jubilation Gospel Choir, StepCrew Fiddlers, Michael Kaeshammer, and more.
Westben is deeply woven into the beautiful rolling hills of Northumberland County in the Trent Hills, two hours east of Toronto, two-and-a-half hours west of Ottawa, and 40 minutes from Peterborough, Cobourg, and Belleville. 
---
Electric Eclectics
Electric Eclectics, an annual festival of experimental music, takes place on the August holiday long weekend. Electric Eclectics has gained a reputation for programming performers on the cusp of breaking out to international careers, as well as long-established legends of various genres. Past performers include Mykki Blanco, Silver Apples, Tony Conrad, Lydia Lunch, AIDS Wolf, Katie Stelmanis (Austra), Noveller, Julianna Barwick, The Gories, Holy Fuck, Damo Suzuki, HEALTH, MYTHS, Mary Margaret O'Hara, Chelsea Wolfe, Let's Paint TV, Nicolas Collins, Edwin van der Heide, Tim Hecker, Iskwé, and many, many more.
Attendees at Electric Eclectics 13 can expect to see an expansion of our truly unique blend of main stage performers, installation artists, DJs, and films, all under the open skies of rural Ontario. All festival tickets include free camping.
Deeply discounted advance tickets are on sale now. Please visit our website or Facebook page for links and pricing details. Our 2018 lineup will be announced in early May.
---
Connect to thousands of music-loving subscribers with a hyperlinked banner ad in our monthly e-newsletter, In The Works. 
Contact [email protected] for more info on our reasonable rates, package deals, and booking deadlines. 
---