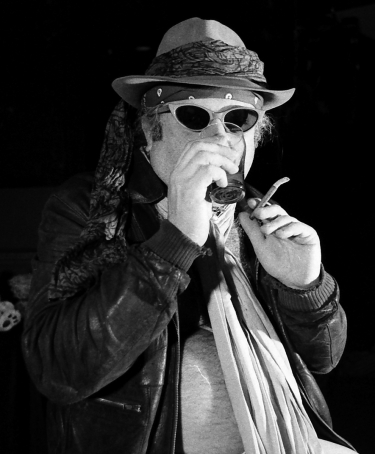 Interpretation takes the sensory experience of the work of art for granted, and proceeds from there. What is important now is to recover our senses. We must learn to see more, to hear more, to feel more.
—Susan Sontag, "Against Interpretation"
"My work speaks for itself and doesn't need to be explained," Charlemagne Palestine insists, as we chat over coffee in the lounge of a small London hotel. "Explain as little as possible."
In 1964, when Susan Sontag wrote her persuasive essay "Against Interpretation," Palestine was a teenager with a passion for playing the carillon at St. Thomas Episcopal Church in Manhattan, close to the Museum of Modern Art. Early in the evening, day after day, he would hammer the instrument's keys with his fists and pound its pedals with his feet, sounding the bells while relishing the physical thrill of performance. Subsequently, his music for carillon, grand piano, or church organ, and even his work with synthesizers and electronics, has remained aesthetic in the root sense—a vigorous plunge into feeling and concentrated perception, the antithesis of anesthesia.
Palestine's accent still discloses his Brooklyn origin, although he and his wife Aude have made Brussels their home for more than a decade. Interpretation is off the agenda, but he loves to talk, chewing over and savouring words, enjoying their mouth-feel and plasticity while stretching and teasing their meaning. "While I was being a carilloneur, playing every evening on that strange instrument, I lived in a neighbourhood where a lot of famous jazz musicians lived—Pharaoh Sanders, Charlie Mingus, Hugh Masekela. These were influences that were about 'live.' I became more and more a live presenter. I can't imagine rehearsing my music. I have always had trouble with doing practice outside of the real situation. As a student I would practise, because you were taught to do that, but very quickly I got it out of my system."
On a number of occasions in recent years, Palestine has collaborated in performance with violinist Tony Conrad. They first met in 1968, when curiosity led Conrad to find out who was creating those extraordinary sounds that rang out daily from the St. Thomas bell tower. They became friends. Conrad invited Palestine to supply carillon music for his film Coming Attractions, and they experimented, working with sound together. During the early '70s they lost contact. Meeting again after more than thirty years, Palestine and Conrad discovered that the creative affinity between them had intensified.
"When I play with Tony we never discuss it. We just play," Palestine asserts. An Aural Symbiotic Mystery (Sub Rosa CD) and More Aural Symbiotic Mysteries From Belgie (Taping Policies DVD) bear witness to their singular musical chemistry. Alluding to these releases, Palestine mangles their titles with a theatrical splutter and a chuckle, and adds, "I like that what I'm doing has an effect on others, but I rarely enjoy experiencing some recording after I've done it. I prefer to be doing something else, a new piece."
As a boy, Palestine was trained to chant in a synagogue choir. Later, he studied for a short while with magisterial Hindustani singer Pandit Pran Nath. Over the years, voice has played a significant role in his live performances. Indicatively, it's the voice emerging from the body, bearing its textures and distinctive grain, that Palestine finds compelling, rather than some disembodied ideal of song. That is vividly shown by "Island Song", one of many ritualistic, performance-based videos he made during the mid-1970s.
In the film, Palestine rides a motorcycle along rough, unsurfaced roads during a visit to the Atlantic islands of Saint Pierre and Miquelon. As the bike careers along recklessly, the camera fixed on the road ahead and carrying the viewer with it, Palestine snarls and growls, keens and wails. The soundtrack preserves the engine's roar, atmospheric turbulence, and the rider's exhilarated voice registering every jolt that reverberates through his speeding body.
"I don't like it when someone does something that is sound, and the person who presents it doesn't care what you see. That annoys me," Palestine continues. "If there's nothing to see, you should see nothing; so it should be done in the black. Watching an orchestra on TV may sound really beautiful, but you see one instrument and then another and a guy conducting and they're all dressed the same. I find that troublesome. Wagner's Bayreuth system, where it was total theatre, makes sense to me. From the beginning, I was doing performance art. I enjoy doing work as an artist, not as a musician."
In a review published in The Village Voice in April 1977, Tom Johnson registered his alarmed response to Palestine's volcanic performance of The Lower Depths: Descending/Ascending. Not only was the sound of this pianistic tour de force loud and relentless, but the daemonic energy of Palestine's playing seemed to verge on self-destruction. Confronted with the pianist as body artist, Johnson drew comparison with the tendencies toward self-mutilation evident in Iggy Pop's onstage antics and the shock art of Chris Burden. "It will take a real miracle to pull Palestine through many performances like this one with body and soul intact," he suggested. But Palestine did survive, not least because for several years he withdrew from performing, shifting his restless energies into the making of visual art and sculpture. It is clear that for him—as it was for painter Mark Rothko, whom Palestine has often cited as a kindred spirit and source of inspiration—art is a natural and necessary biological function.
In place of a hermeneutics we need an erotics of art.
—Susan Sontag, "Against Interpretation"
It clearly irks Palestine that his music has been slotted so often and so easily into the category of minimalism, conflated with the work of Philip Glass, Steve Reich, La Monte Young and Terry Riley. Those composers were elevated to iconic status during the years when Palestine was in self-imposed exile from the musical scene. It wasn't until the '90s that a new generation of listeners—wary of commercialized and jaded minimalist offerings and attuned to the immersive, visceral rock of bands such as Sonic Youth—rediscovered Palestine and his beautiful, gutsy, intense, and repetitive music. Since then he has returned to musical performance, and the catalogue of his recorded works has steadily grown. The recently released Rubhitbangklanghear (Sub Rosa CD/LP) documents a 2010 collaboration in his Brussels studio between Palestine—on "portable" carillon—and the wildly athletic California percussionist Z'ev.
"I've never liked compartmentalization of music. It's always given me claustrophobia," Palestine complains. "It is true that sometimes we [he and the minimalists] use the same intervals, but I don't feel close to minimalist music, which is very rhythmic and feels like you're in a hurry. That doesn't work for me, and I don't fit into that category. Some years ago I was invited to Rome. They tried to do a sort of gladiator thing: there was me, Phil Glass, Terry Riley, and Michael Harrison. Phil Glass played a piece that he had composed. Composer, then player—that's exactly what I am not. It's all been done in real time. The piano I played on that occasion detuned . . . just naturally detuned. I played it so hard it sort of melted. When I play piano I like to take a few slugs of cognac and get into a non-metronomic, non-notational mood. My rhythms are sexual, not machine-like."
In the hotel lounge where we're talking, another guest presses a button and a noisy espresso machine churns into action. "If you wanted to notate the sound of this machine, a drone like that, you might have a note with a sostenuto for a certain amount of time—but that isn't at all what's going on there. There's a whole spectrum of things," Palestine observes. "If we finally came up with a notation that did actually correspond, it would look very interesting; but you still have to go back to the espresso machine, because that's what makes the sound. So why don't you just push the button?
"What a revolutionary idea! Fuck the score and just push the button! And that's what I did.
"Happily we were born in this time of recording. I have no notebooks. In the late '60s I worked at the New York University electronic music centre that Mort Subotnick had founded on Bleecker Street. There I recorded a lot of electronic pieces. I have a few hundred tapes that are the equivalent of a few hundred scores. They exist on magnetic band."
Selections from this tantalizing archive of material have recently started to become available on limited-edition releases from the estimable Italian label Alga Marghen. Palestine still often works with electronics, but during these early investigations he felt a particularly strong affinity with Mark Rothko's passionate exploration of colour moods, plastic rhythms, and tactile space. Around the same time, Palestine developed his Spectral Continuum Drones that last up to four hours, grappling with the resonant properties of church organs.
When Morton Subotnick moved from New York to Los Angeles to become one of the founding members of the California Institute of the Arts, Palestine accompanied him, and that led to a particularly momentous encounter. "In 1969 at CalArts I bumped into a Bösendorfer Imperial piano," he recalls. "I got to play this instrument, which had nine notes lower than on any other piano in the world. Ignaz Bösendorfer, the original manufacturer, worked with composers like Ferruccio Busoni and Franz Liszt. Liszt composed noisy music, music that could compete with marching bands. And the Bösendorfer at its best is a very noisy, thick-molasses piano. It has sounds like ten times that espresso machine going on in its spectrum. Today, the preference of Yamaha, who bought the Bösendorfer company, and of most pianists who use it, is for a bright, percussive instrument, where the sound is not too heavy and doesn't get in the way of their playing. The Bösendorfer I used when I recorded Strumming Music in 1974 was the opposite. The sound got in the way, and that is why I played it. I don't play the notes; I play above the notes. I was never a very good classical or jazz keyboard player—but this phenomenon of sound . . . [The Bösendorfer] was like an electronic instrument."
In 2005, in the Church of St. Apollinare at Monticello di Lonigo, Italy, Palestine recorded From Etudes to Cataclysms (Sub Rosa, 2xCD), an extraordinary set of vibrantly sonorous pieces played on a piano with two separate bodies, one fitted above the other, that had been patented in 2000 by instrument-builder Luigi Borgato. This unique keyboard, with its extensive set of pedals, enabled Palestine to exercise the skills of coordination he had honed decades earlier playing carillon. But generally he struggles to find a keyboard suited to his particular creative requirements. "Today piano-playing is a difficult dilemma, trying to find an instrument like the Bösendorfer, superb for my kind of playing. The approach is the same: to create an instrument that sounds like nothing you ever heard before. I do that, even performing with . . . I don't want to say 'bad' pianos, but pianos with difficulties. I do that, but the experience is totally different. I always try to play like I'm riding an old racehorse. And we do get there, eventually. But it has nothing to do with what you hear on Strumming Music."
On Strumming Music, originally released on the French record label Shandar, Palestine uses a tireless alternation technique, developed over the course of five years, with the sustain pedal constantly depressed to create—in his own words—"rich mixtures of pure strummed sonority." The front cover of the original vinyl release incorporates a sketch by Palestine of himself seated at the Bösendorfer. On the reverse are notes scrawled in his own handwriting, complete with words vigorously crossed out, rather than erased. This calligraphy, like the music it supplements, is idiosyncratic and tactile, a trace of the artist's hand, the enduring residue of his physical action. The sound of Strumming Music is corporeal, deeply sensual, shamelessly beautiful, and involving. It pulsates and steadily intensifies, conceptually simple yet intuitively complex, a music of arousal and elation, a concentrated pursuit of the sonorities of bliss. As Palestine suggests, its proper context is not minimalism but eroticism.
During the time he was based at CalArts, Palestine performed arpeggio-based piano pieces that lasted several hours. In terms of duration, they resembled his New York organ drones, but Palestine recognizes a qualitative difference. "In California I played slower. The pace of life is slower," he remarks. "If you are sensitive to the rhythms of place, your music is always in transformation. When I returned to New York, with all the noise from the street, the subway and the traffic, I developed an attack style at the piano. In Brussels or in London, it's another rhythm." Further adjustment will be required in October this year when he will play concerts in Winnipeg, Montreal and Toronto.