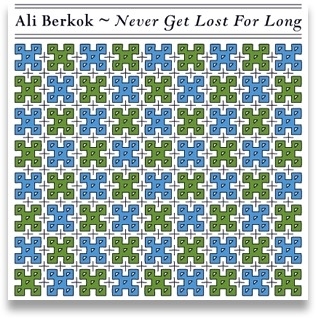 Dapper Toronto imprint All-Set! Editions may be a newcomer to the subterranean ecosystem of experimental music distribution, but it already has a clearer sense of self than other more established labels. It's spearheaded by a trio of composer-players, multi-instrumentalist Mike Smith, bassist Pete Johnston and pianist Ali Berkok. Its identity can't easily be articulated in a phrase as elegant and economical as the sort of work they're releasing, but there's an undeniable cohesion in the seven discs they've produced thus far.
Arguably, the best way to approach the work they're doing collectively is to say what it is not. According to Smith, a crucial attribute they share is "essentially being jazz musicians who don't want to make jazz music." Of his training as a bassist, he says, "I felt uncomfortable trying to prepare myself to be this sort of 'athlete' who knows a million tunes and can play everything." Berkok, for his part, managed to secure a six-nights-a-week standards gig in Hong Kong after a stint at Banff, where he had attended workshops conducted by such luminaries as Susie Ibarra, Dave Douglas, and Mark Dresser. Though the Hong Kong engagement would have been a dream job for many of Berkok's erstwhile schoolmates, for him it served only to cement the end of his love affair with jazz. Meanwhile, Johnston, upon graduating from Dalhousie, sought out private lessons with storied composer Steve Tittle, who in turn urged him to invest deeper in counterpoint. For Johnston, who shared Smith's distaste for jazz-jock rivalry, shifting to a more decidedly composerly mode was a natural move.
Each of the three musicians' current projects—chronicled on All-Set! and elsewhere—indeed demonstrate a comprehensive and compositional outlook on music-making. Yet, while any given recording of theirs is a dynamic, and even peculiar, amalgam of different flavours, the result is always refreshing—free of any funny aftertaste.
All-Set!'s seeds were sown a good eight years prior to its blossoming. "In 2008," recalls Smith, "Pete said, 'Let's start a record label and put out all this music.'" And I said, 'That's a great idea,' and then proceeded to do nothing about it.'" The real truth, however, is that the three members of All-Set!'s lead cast were each rather industrious through those intervening years.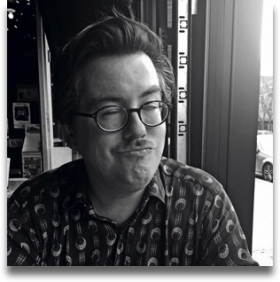 A chief preoccupation for them all was Smith's band Muskox, which in many respects laid the foundation for All-Set!'s prevailing sensibility. Nimbly mining folk traditions, prog, American minimalism, early music, and, yes, even jazz, Muskox never allowed their streamlined complexity to outshine their soulful, cockeyed melodicism. "I think Ali would agree that the Muskox music was the most important and formative music we have ever played," offers Johnston modestly. "I had to work very hard to be able to play all the complex rhythms that Mike was writing, and learned a great deal in the process. Though I brought to it my own frustrations with the 4/4 jazz improvising, Mike's music totally melted my brain and brought me more joy than I can recount in words. After that, I began to think much more about composing, about rhythm, and generally about making music that explores different elements than I had been previously concerned with."
Johnston's yielding attitude toward Smith's vision belies his own creative prowess and initiative. A great example: in light of Mike's aforementioned inaction in regard to the label, Pete established All-Set!'s precursor, Woods And Waters. Primarily a vehicle for his own See Through Trio (currently featuring Karen Ng on sax and Tania Gill on piano, along with him on bass), it also issued releases by Muskox and the trio Aurochs, a pattern-oriented improvising group then comprising Berkok on piano, Johnston on bass, and All-Set!'s "secret sauce," drummer Jake Oelrichs. (Oelrichs is also the brains behind All-Set!'s spruce, convenient Web site.)
Various See Through projects retain a central position in the new imprint's discography. The trio—a tautly composed jazz outfit that owes as much to Christian Wolff's meandering melodies as to, say, Monk—has yet to publish a new recording since All-Set!'s emergence, but 2016 saw recordings emerge by the See Through 5 (a more rock-ish venture, adding Oelrichs on drums and Smith on synth) and the more abstract See Through Two (a duo with fellow bassist Rob Clutton). Both highlight Johnston's unique voice as a composer.
Mike's initial packaging concept for All-Set! releases—a notion he intends to eventually revisit—was to have albums accompanied by eight-page pamphlets, "like Tijuana Bibles," he says (presumably with the cartoon smut of those twentieth-century porn strips supplanted by the generous liner notes the All-Set! triumvirate plans to start using one day). Although the label has yet to make such a radical departure with its packaging, its current smart CD jackets are instantly recognizable, with their boldly hued patterns framed in white. And Smith, deferential as always, is quick to acknowledge that the layouts are inspired by those of the budget classical label Odyssey. Such superficial derivations aside, All-Set!'s trademark visual aesthetic, crisp and charismatic, translates directly to the sonic ends of things.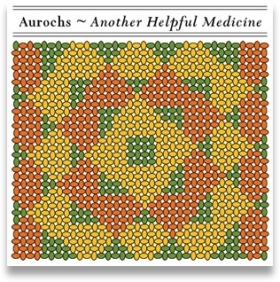 In addition to Johnston's assortment of See Through recordings, which variously channel fluorescent Krautrock-suffused counterpoint and interlocking bass, All-Set! is also home to Aurochs' newly expanded lineup, with Smith cast in a dubwise role, bending new shapes from the acoustic trio. Berkok also released a solo tour-de-force, Never Get Lost For Long, which offers chewed-up and spat-out standards ("Giant Steps" surfaces as a ploddingly rectangular ballad-étude) alongside quirky original compositions.
Transcombobulation is another label highlight—a disc consisting of Smith-penned synth duets, featuring Jonathan Adjemian and the hollow pulse of a Yamaha MR10 drum machine's preset beats. Their lean, funk-sec dialogues (also available as leadsheets!) are as pithy as Cluster, but get as far out as the Bley-Peacock Synthesizer Show. The Mike Smith Company's Famous Wildlife Movies seems to pick up almost seamlessly where Muskox left off: canny and tuneful, with bright, widescreen, prog-derived arrangements.
All-Set!'s three principals already have much more up their sleeves, especially so in Smith's case. He's plotting a collaborative narrative follow-up to Transcombobulation (spoiler alert: it involves puppets) as well as a new song-oriented configuration of the Mike Smith Company featuring Robin Dann (of Bernice notoriety) on vocals. And while All-Set! is currently centred around the coterie that founded it, the label is certainly an open-ended endeavour, prepared to welcome like-minded work once opportunity knocks.
For such a tightly knit bunch, the label's music is ambitiously diverse. It's all unified by a stylish deliberate quality, though: every note placed just so, but with ample breathing room. "The solos aren't as clearly identified with a personality as they are on a jazz record," notes Berkok, of their collective performance ethos. "I think about it as realizing the compositions—expanding from them—rather than just fetishizing the improvised parts," adds Pete. These statements speak to the modesty that underpins their output. Though it can seem like everything about the label is bold and super put-together, the aversion to chopsy blowing and the preference for abstract images to represent the work over heroic furrowed-brow action-shots gesture toward All-Set!'s unassuming, gentle core.