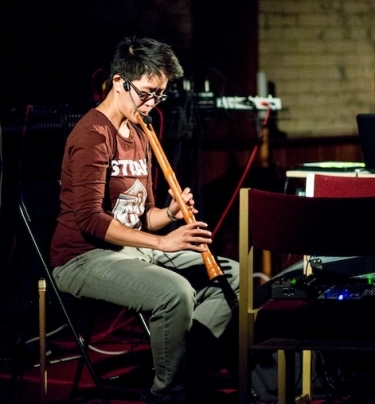 Heidi Chan began combining her passions for arranging, technology, and traditional instruments when her father gave her a demo version of the music software program Cakewalk. "Because it was a demo version, I couldn't save anything," she recalls. "So I had to leave the computer on for, like, months and months to keep working on a song. I didn't actually really know how to use it. So I used a Walkman to record my songs coming out of little computer speakers. So the recordings I have of those songs [laughs] are really bad cassette recordings." Today Chan is a composer, arranger, and music researcher, as well as an accomplished multi-instrumentalist, who sings, plays percussion (drum kit and Japanese taiko drums), electronics (modular synth, software, effects), piano, bass ukulele, Chinese dongxiao and Japanese shinobue (Asian flutes), and erhu (Chinese violin).
Chan's exposure to both traditional and contemporary Asian music when she was growing up informed her artistic development, and she still maintains a close connection to her culture and language. Born into a Chinese-Canadian family, Chan loved Cantopop (Hong Kong's melodic pop music) as a child; and her mother, who plays guzheng (Chinese zither), took her to performances of traditional Chinese folk music. While an undergraduate in religious studies at the University of Toronto, Chan joined Kiyoshi Nagata's taiko-drumming ensemble Isshin Daiko. "In my musical journey, taiko drumming has been a profound influence in terms of my musical development, work ethic, and the opportunities it's given me," she says.
From 2007 to 2012, Chan was based in Hong Kong, where various creative experiences ignited her desire to expand her sound palette. She provided instrumental accompaniment to renowned theatre director and educator Tang Shu-Wing's production of Titus Andronicus, which toured to European and Asian destinations in 2012 (Chan also performed in the 2015 revival of the production). In 2014 she joined the Shakespeare's Globe company production of A Midsummer Night's Dream, performing on multiple instruments (guzheng, erhu, Renaissance-style drum, etc.) as part of a trio. For two of her years in Hong Kong she was an assistant sound editor and foley artist for the post-production sound department of director Johnny To's acclaimed production company Milkyway Image, and was involved with dialogue dubbing and editing, field recording, and performing and editing foley sounds. This work led her to begin aligning ambient sounds and field recordings with various electronic sounds.
Over the years, Chan has become increasingly interested in improvisation. After returning to Canada, she began playing at Toronto's Audiopollination series, in which up to three musicians sign up for a twenty-minute slot and improvise with whoever else signed up for the same slot. It was through a particular session of another Toronto series, CoexisDance (featuring improvised duets by dancers and musicians), that Chan met Andy Yue, who plays keyboards and electronics, and with whom she cofounded Deenzi (Cantonese for electronic). Together they use technology to modernize their eclectic electroacoustic soundscapes. In October 2016, the duo performed an improvised session in the X Avant festival, presented annually by Toronto's Music Gallery, for which they showcased their looping of the sounds of processed flute and melodic keyboard through computer software.
To mediate her musical vision, Chan uses the nexus between traditional ethnic instrumentation, electronic samples, and software. "Growing up, I listened to music, like Cantopop, that was quite structured and predictable. In taiko drumming, for example, everything is composed, [although] there is some room for soloing." Chan more recently has been directing her solo and collaborative projects toward more experimental approaches and sounds. In the Japanese folk-music ensemble Ten Ten, founded by Aki Takahashi (shamisen, voice), she  creates contemporary arrangements of traditional Japanese music passed down by Aki's grandmother. Chan cofounded My Bach Has Fleas with Lorne Shapiro, whom she first met at a dinner party, where the two musicians discussed the ukulele and their ability to play only one of Bach's songs well, Two-part Invention No. 4 in D minor. Chan plays bass ukulele, while Lorne plays concert ukulele in a working duo that performs two-part arrangements of Baroque and Classical pieces, plus music from the films of Japanese animator Hayao Miyazaki.
Chan's current solo project Bachelard is inspired by French philosopher Gaston Bachelard's famous 1958 psychoanalytical study The Poetics of Space, and his notion that childhood homes conjure up nostalgia and daydreams. Having moved frequently, Chan rarely had a childhood home with associated nostalgic memories. The idea of imbuing a space with profound romanticism helped her think through how she could commit feelings to her environment. In order to create soundscapes that generated similar childhood nostalgia, Chan uses Bachelard's theory to build ambient sounds, many of which combine hardware synthesizer with the Cantopop samples of her childhood.
Chan hopes to push her musical limits even further in the coming months. A current Ph.D. student in ethnomusicology, Chan is interested in the intersection between folk music-making with traditional methods, and the ability of technology to emulate folk sounds and instrumentation. Chan nurtures her love for music and software while working at Saved By Technology (Canada's first computer-music-equipment retail store) founded by Rush's synth keyboard programmer Jim Burgess. There Chan keeps up to date on all the new technology, including Ableton Live, which she uses to make her experimental tech-folkloric music. "I'm still going to keep hybridizing and taking one thing and putting it into another context." 
---
Photo of Heidi Chan by: Terry Lim