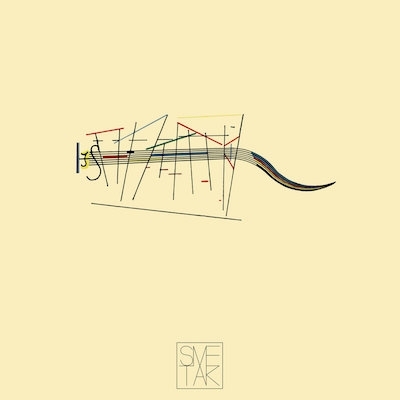 The first comprehensive biographical article on
Walter Smetak
in English
was published in Musicworks 121 (2015)
. Since then, interest has been growing: in 2017 the BBC Radio show
Hear and Now
dedicated an episode to his work; Smetak was the only artist to receive a full chapter in
Sound Art: Sound as a Medium of Art
, an encyclopedic 744-page catalogue published by MIT in 2019. This year, the Lima, Peru-based Buh Records has reissued Smetak's only commercial recordings,
Smetak
(1974) and
Interregno
(1980), both with texts in English and Spanish.
Born in 1913 in Zurich, Switzerland, Walter Smetak was a cellist, experimental musician, inventor of musical instruments, fine artist, teacher, and mystic who worked in Salvador, Brazil. He mentored two of Brazil's most popular singer-songwriters, Gilberto Gil and Caetano Veloso. As Solange Farkas, the director of Museum of Modern Art-Bahia, wrote in her catalogue essay for the retrospective Smetak: Imprevisto (2007), "Walter Smetak's oeuvre ranks among the most relevant bodies of research conducted in Bahia and in Brazil in the 1970s and 1980s, and remains at the cutting edge of art production [to this day]. The instruments he designed are true fine art installations of great beauty and visual impact, and through his sculpture-instruments he proposed a cosmic, mystical music that transcends our ears."
Smetak was produced by Caetano Veloso and Roberto Santana and edited by Veloso and Gilberto Gil. Veloso plays on the recording and wrote liner notes. The recording features Smetak's eleven-member ensemble utilizing instruments of his design. MANTRAM features a solo for the vina, an instrument that Tuzé de Abreu called Smetak's "maximum creation." At a glance, the instrument is reminiscent of a sitar, with large calabash gourds for body and head. In addition to the cello-like bridge, the vina also features sympathetic strings, a small harp, bells, a tube to blow into, and an electronic pickup. The instrument sounds like a contorted cello that could have been created by Tim Burton or Hieronymus Bosch. Dansom is a raucous, free-flowing improvisation that the Art Ensemble of Chicago could easily have joined in on. Sarabanda, projeção improvisada includesa features Smetak on cello quoting J. S. Bach's Sarabande from the Cello Suite No. 5 in C Minor, before progressing into an extended experimental improvisation.
Smetak later released Interregno with his group Conjunto de Microtons, an ensemble that existed from 1973 to 2005. This second LP features ensemble work, as opposed to Smetak as soloist. The conventional scales and baroque quotations of the first LP are gone. The disc opens with Tendenciosa, a piece that features long crescendos that appear to be created by reverse tape effects; Thomas Gruetz, Smetak's assistant, who played on the LP, once demonstrated this effect for me by playing acoustic microtone guitar with bows. On Interregno, Smetak plays an electronic organ using filter effects and distortion, giving the ensemble a sound often reminiscent of Sun Ra.
These two LPs document the music of a transdisciplinary visionary whose work influenced Brazil's most celebrated musicians and fine artists, yet remained unknown in English-speaking circles. Now, with the reissue of these LPs, the broader public can enjoy Smetak's work and hear how experimental music advanced, independently from the cities of the global north, in Salvador de Bahia, Brazil.