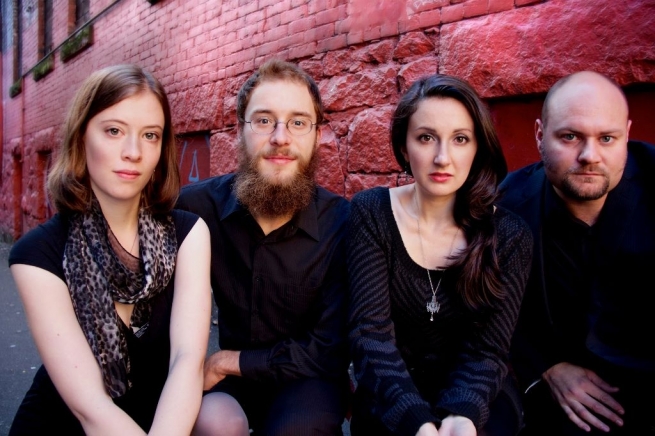 This year's Vancouver New Music annual fall festival was devoted to string quartets. At Quartetti, which ran for three days at the Orpheum Annex in downtown Vancouver, audiences were treated to diverse performances of a wide array of pieces from Black Dog String Quartet (Vancouver), Quatuor Bozzini (Montreal), JACK Quartet (U.S.A.), Quartetto Maurice (Italy), Penderecki Quartet (Kitchener-Waterloo), Quartetto Noûs (Italy), and the Mivos Quartet (U.S.A.), as well as a showcase of works by Raven Chacon and his Indigenous Education Program.
Two concepts helped guide the weekend. As VNM artistic dirctor Giorgio Magnanensi suggested, "The string quartet is in fact a sort of metaphor of and a tool for witnessing, understanding, appreciating, and participating in an intense work-group dealing with issues of leadership and democracy, commonality, and autonomy of purpose. All this is happening in a highly refined, technical and organizational field and within an intimate relationship between playing and listening, individual and collective thinking simultaneously harmonized as one dialogical activity." In his preshow artist talk on opening night, John Kastelic, composer and violist for The Black Dog String Quartet, told the audience that he sees the string quartet as a songbird with four voice boxes instead of two; a single entity that can also diverge yet still come from the same source. This idea that the quartet is a single instrument played by four individuals instead of an ensemble is something I carried with me throughout the entire festival.
I found myself drawn towards three breathtaking pieces. Cassandra Miller's About Bach, played by Montreal's Bozzini Quartet opening night, presented a microscopic view of Bach's music crystalized in time; a long-form, looping, and fossilized take on a musical ideology, as though the composer himself were presented like an insect fossilized in amber.
The second highlight would have to be the JACK Quartet, which closed out the first night with a climax of sound and deconstruction that left the audience in absolute awe. JACK began its performance with John Zorn's The Alchemist, which presented an intense physicality and magical chemistry—alchemy, if you like—from the players. Once this intense explosion of sound and energy subsided, the quartet ended the night with Sabrina Schroeder's UNDEROOM, an exploration of the sounds and materials of the string quartet itself. This final piece showcased a transparent take on the instruments by amplifying and spatializing them live on a four-channel system. The quartet became the ocean, nighttime traffic, and the wind through a forest. The instruments were deconstructed into a soundscape easily understood but equally alien.
On the final night, the Mivos Quartet presented three engaging and challenging pieces. The highpoint performance was George Lewis's Playing With Seeds, a highly theatrical and jagged work, but also eighteen minutes of pure musical joy. The third piece in their set was the oldest work presented, Sofia Gubaidulina's deeply challenging String Quartet No. 4 (1993). In her program notes, Gubaidulina said "the 'real' arises from the 'unreal'," perfectly describing the beginning wherein the live quartet (the real) and the electronics (the unreal) felt completely detached from each other, yet slowly coalesced so clearly that I was on the edge of my seat. This illustrated my only gripe with the festival: the program notes were accessible only online, not during the event. Gubaidulina's piece was one that only truly came together for this listener once this context was established. This is just one example of how the lack of printed program notes created problems for the listener, and throughout the weekend I found myself wishing for context that was not readily available.
Quartetti successfully presented a wide variety of possibilities. Overall, it was a great success and presented a narrative truly valuable to new music.
---
Photo: Black Dog String Quartet