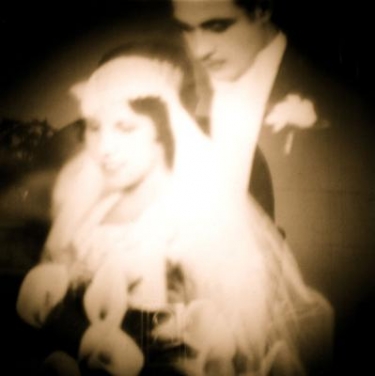 Standard Form is a Toronto-based print shop that has been putting out books and music for the past five years, averaging a couple of releases a year that range from avant jazz to post rock, from the likes of Feuermusik, Canaille, and I Can Put My Arm Back On You Can't. This last year has seen a small explosion of releases in the Rural Routes series, curated by musician Damian Valles and consisting of nine excellent three-inch CD-R releases packaged in handsome cardboard jackets.
The Rural Routes series reflects the tension among a growing group of urban thirtysomethings who find themselves drawn to a rural environment after a period of city dwelling. Whether this rural living is the result of an attraction to nature or to a less distracted existence, it is a new frontier (yet again) for creative types. While not a new phenomenon, it does seem to produce a drive for making interesting art, of which the Rural Route Series is the latest example.
Damian Valles' contribution, Rural Route No. 1, sets the stage for the series with a trio of beautiful processed-guitar pieces recorded at his home in the Kawartha Lakes region. All three have a lovely sense of wide-open space, which allows the strong tone of his guitars to resonate against the background of a crisp summer night, occasionally calling on a storm, but most often resting on the breeze.
For Rural Route No. 2 Kyle Bobby Dunn has created two ambient tracks, drawn from his memories of his Albertan childhood. The dark Dissonant Distances rubs heavy cloud forms against each other while Senium III draws us into a celestial music of the spheres, with lovely shimmering sonic suspensions hovering over the prairies.
The U.K. artist Martin Clarke on Rural Route No. 3 submits a series of processed field recordings recorded in the Shetland Islands. The sound sources are processed into echo-y and metallic structures, as if we were listening to them from the bottom of an oil drum—until the last track, which features the sound of clicking stones that could possibly be the source material for the seven variations (or "states" as he calls them) that preceded it.
Alex Durlak's contribution, Rural Route No. 4, is the most aggressive recording of the series, with a heavily processed twenty-minute guitar improvisation that bursts into pure sublime abstraction through a live granular synthesis patch. The piece ebbs and flows into ecstatically tense pools of sound.
In contrast, The Finnish Kuukka brothers who make music as The Gentleman Losers present a purely idyllic snapshot over the three ambient tracks they contribute to the series with Rural Route No. 5. Elongated lap-steel phrases and extended organ drones prop up small snippets of field recordings such as the sounds of children playing at night or the quiet sound of snow falling outside.
The extremely prolific Machinefabriek—the alter ego of Rutger Zuydervelt—contributes the loveliest music of the series (no mean feat in itself), with a relaxed and moving piece that features a simple descending figure, perhaps made by a music box, embraced in a lovely, slowly undulating drone. It is a beautiful piece in which to submerge oneself for a quiet evening at home.
Nick Keupfer's contribution to the series, Rural Route No. 7 provides a more eclectic take on a rural sense of place, with six tracks that move from a reverb night-drone to field recordings of animals and an amateur church choir, and then to a nice and crunchy guitar track that almost crawls across the floor. The narrative freshness of the pieces is a nice change of pace from some of the more consistently abstract music provided by Keupfer's colleagues in the series.
Bible, Burke, and Henry, featuring Daniel Burke from Illusion of Safety, seem to take Keupfer's work and bring it back into the fold in Rural Route no. 8, creating a long ambient piece using various layered field recordings. It is unfortunately one of the least interesting pieces in the series; especially considering the strength of the other CD-Rs in the series.
Finally, the series closes with Rural Route No. 9, a mysterious twenty minutes by the artist named Keepsakes. Throughout, the sound of a piano is morphed into quiet and fragile resonances. The sound brings us back to the solitude that a rural environment can provide—time away to reflect on the possibilities of beauty.
Taken as a whole, the nine releases in the Rural Routes series are a lovely collection of music, reflecting a well-curated group that show off local rising talent alongside well-chosen musicians with a longer musical history. They also reflect quite well the possibilities of the three-inch CD-R for digital snapshots conveying a sense of place, whether truly rural or caught between two transit points.
It also serves as a nice transition point for the Standard Form label, which will be expanding into three imprints: an artist's-book label called Perish Publishing and two music labels. The two music labels are the pop-influenced Idée Fixe Records and the experimental-influenced Komino Records. While both will have the same beautiful production values that Standard Form brings to their releases, Komino will be the imprint concentrating on the type of music that is reflected in Rural Routes. With vinyl releases in the works by Alex Durlak, Canaille, Damian Valles and Boars, Komino promises to be worth keeping an eye on.