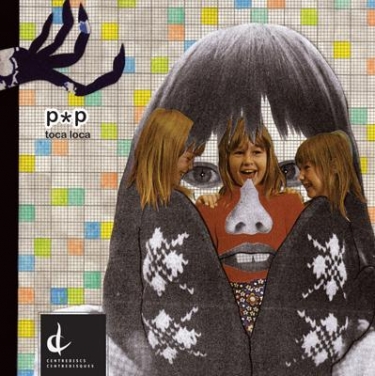 Toca Loca is a kick-ass ensemble with some of the heaviest performers in new music: Gregory Oh, piano and voice; Simon Docking, piano and voice; and Aiyung Huang, percussion and voice. All of them deserve kudos for this ambitious project of taking on pop music in the context of peer-to-peer sharing in new music. The idea of sharing music is always an interesting one and certainly not new, but the concept of peer-to-peer in this world of anything-goes composition is the kind of hip notion that makes Toca Loca the savvy group it is. To help realize the project the group invited eight composers from the contemporary music world—most of who used a pop song as reference point in their pieces—as well as works from performance artist Myra Davies, indie pop artist Laura Barrett, and jazz composer Quinsin Nachoff.
The CD booklet for P*P is so impressive it deserves some mention. It features Shary Boyle's graphically brilliant collage work on the front and back covers. Emily Holton's text drawing gives the CD an entry into another world—that of comic strips—and behaves like a story within a story. Yesim Tosuner's street-art-like drawing has the macabre character one might find in some of Francis Bacon's work. And Misanthrope Specialty Co. (a.k.a. Reverend Aitor) refers to the hallucinatory world of Francesco Clemente. His full-page drawing of the group as half-animals should be Toca Loca's logo. This is a great example of how good CD-booklet artwork can be.
So what should we expect from this selection of composers (who also include Aaron Gervais, Andrew Staniland, Geof Holbrook, Juliet Palmer, Bob Stevenson, Veronika Krausas, Erik Ross and Nicole Lizée)? For that, I highly recommend listening to this CD.  I wonder what's next for Toca Loca. A date with Lady Gaga perhaps?