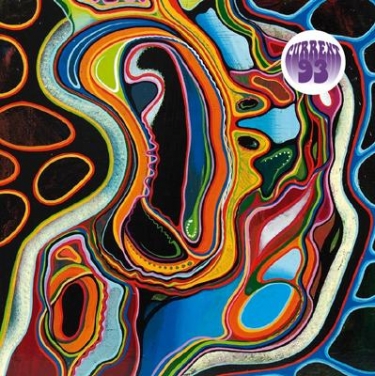 The flip side of the increased move towards digital distribution of music has been that boutique labels have taken up the challenge to create objects that continue to encourage record collecting. France's Rotorelief is one such label creating beautiful keepsakes that inflame collectors' passions. The label's owners have the presence of mind to focus on the long-lasting tentacles of the industrial music genre, which has always had rabid fans willing to collect rare items by obscure bands. Rotorelief's limited edition vinyls are meticulously designed to complement the music within—a nice level of attention is even given to their three-inch sampler CDs.
Rotorelief's statement of historical purpose is declared by its planned release of new albums by Sand, the German psych-folk band from the Krautrock era. Many of the artists on the label share a heavy debt to this era of '70s experimentation—some were even participants—and to Sand's particularly gothic bent. Rotorelief's first Sand release is actually a re-release of Golem, a rare and highly influential album that sowed the seeds of the British psych-industrial bands like Current 93 and Nurse with Wound. It is as if a whole genre were formed by one album. From the opening suite of helicopters, Golem paces through a pastiche of odd styles—musique concrète, folk, propulsive rock—all overlaid with flanged vocals that carry forth an expectation of the end-times. Rotorelief reinforces Sand's influence on the label's curation with a twelve-inch EP of Current 93's cover of Sand's When the May Rain Comes—long a staple of Current 93's oeuvre, and one of their loveliest performances.
While those two releases are designed to get attention, Rotorelief rounds out its catalogue with a strong selection of veteran German and French industrial artists. Siegmar Fricke's Pharmakustik project creates a beautifully resonant cloud of ambient texture and space on Neurochemie. Christian Renou's Brume creates a sound collage, with a subtle techno beat driving the music forward on ainsi soit-il!. Le Syndicat's Festin d'Acier LP gets even more danceable, with a pulsingly heavy album, replete with a classic sense of industrial grandeur. Jean-Marie Onni and Van Minh Lê have been making noise music for thirty years, and this new album imbues the noise with an ear for catchy rhythms.
The highlight for me is the new album by CoH, the Russian electronica artist now based in Sweden. Z-rated is a homage to the work of Japanese filmmaker Takashi Miike, specifically the Zebraman series, which follows the adventures of a self-anointed, and not particularly talented, superhero. CoH's album weaves his meticulous minimal techno in with familiar sound scraps from the sonic archives—Beatles songs, Rosemary's Baby's soundtrack, and the like. Somehow, CoH's minimal approach changes the way we hear these rather familiar quotations, creating a beautiful album that resonates far beyond simple pastiche.