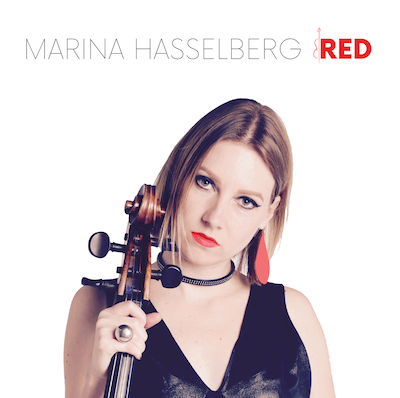 Ricercar Primo, by composer Domenico Gabrielli, opens Vancouver cellist Marina Hasselberg's Red by dropping us into a hollow, windy atmosphere that feels a little like a haunted house. Her cello gradually enters with a Bach-like solo, resonant and a little forlorn, surrounded by swirling electricity. The piece presents a dichotomy between futuristic electronics and classical cello that continues to reappear throughout the album: The two styles weave together yet never fully merge, creating a push and pull that gives Red its boundless energy.
Hasselberg has long explored this genre-hopping style, working with artists in classical, experimental, and pop music alike. While Red is her debut solo album, it feels like a culmination of her career so far, showcasing her fluid style as a soloist and collaborator. The album features original tracks and works composed by Gabrielli, Linda Catlin Smith, Martin Reisle, and Craig Aalders; alongside Hasselberg on cello are her collaborators, guitarist Aram Bajakian, drummer Kenton Loewen, electronics artist Giorgio Magnanensi, and violinist Jesse Zubot.
Red's most enticing tracks highlight how disparate layers play off each other. Deep Blue, the album's pinnacle, builds from a reverberant nasally tone that crescendos and slithers around as a buzz swarms around it, growing from slowness into a chaos made of bleeps and frenetic cello playing. Much of Red exists in this kind of fuzzy haze, teetering between moments of grace and disturbance. But by the end, Hasselberg finally finds ambient-inspired radiance—it's yet another turn that shows us her versatility and willingness to dive into any adventure.