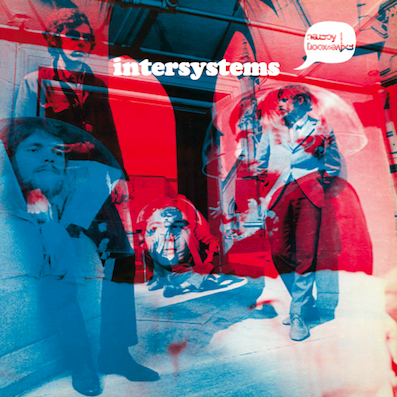 Released in late 2015 by the Italian label Alga Marghen in both CD and LP formats, the richly documented Intersystems boxes set the bar high for reissuing and critically examining the legacy of one vigorous—however obscured by the ensuing almost half century—branch of experimental sound art, spoken word, visual, and performance art of the late 1960s.
The three-CD set is published with a thirty-page 125x140-millimetre booklet full of informative contextual liner notes, but it's the deluxe LP set that reflects the wider picture and group's true significance. It contains three painstakingly reproduced heavy vinyl LPs, a 132-page large-format softcover book, plus a bound small-format graphic short story. As a total package it appears to aim no less than to reclaim and restore Intersystems' legacy within the zeitgeist of the North American avant-garde of the late 1960s. The three-CD set contains all the music on the LPs, but its text has been edited down to suit the format.
These Intersystems publications form the initial offering in the projected JMC (John Mills-Cockell) Retrospective conceived by its producer William Blakeney as a complete collection of the Canadian composer and sound artist's recorded works, originally released between 1967 and 1977. The series will eventually consist of nine audio discs in both CD and LP formats, three each for the groups Intersystems, Syrinx, and Heartbeat, all musically directed by Mills-Cockell.
What was Intersystems? In 1967, four artists at the beginning of their practices in different arts joined together in a creative partnership in Toronto, Canada. They were all twenty-four years of age. In addition to installation artist Michael Hayden and architecture and structural engineering student Dik Zander, Intersystems included sound artist and composer John Mills-Cockell and poet Blake Parker. In addition, it also hired other fabricators, painters, photographers, designers, and art directors to assist in the production of its works, such as its large-scale, venue-specific installations and its graphic short story Comic Power. This relatively short-lived but prolific collaborative union of Canadian artists merged experimental and electroacoustic music at the liminal moment when modular synthesis became commercially available, along with electrokinetic and light sculpture, poetry written and spoken, and warehouse-scaled immersive installations. The latter challenged participating audiences to "open their minds" to alternative experiences which attempted to recreate those offered by the perception-altering substances commonly used in the youth culture of the day.
Intersystems' collaboratively produced works and the live productions they generally called "presentations," began with Mind Excursion (designed and built by Michael Hayden and Dik Zander) at the University of Toronto on February 9, 1967, and ended with Network II at Toronto's Masonic Temple on January 21, 1969. Their presentations, however, quickly spread to other centres in southern Ontario. As their boundary-pushing work garnered publicity and a volume of mostly positive reviews, they were embraced by gallery curators and programmers further afield. Intersystems' presentations were hosted on the other side of the country at the Vancouver Art Gallery, then across the border in New York City, Washington DC, Pittsburgh, Southern Illinois University (at the invitation of Buckminster Fuller), and finally in Montreal.
The deluxe three-LP box chronicling the Intersystems collective's protean production is a limited edition of 500, featuring remasterings of all three Intersystems albums by its co-founding member Mills-Cockell in collaboration with producer Blakeney. The albums are Number One Intersystems (LP 1967) sleeved in the original design by Hayden, Peachy (LP 1967), and Free Psychedelic Poster Inside (LP 1968) housed in a silkscreened envelope reproduction of the original. In true Dadaist—and counterculture—fashion, there was no poster inside the 1968 edition.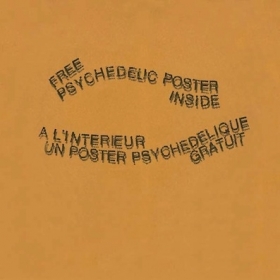 As central to this edition as the LPs is the large 31x31-millimetre well-researched and lavishly illustrated 132-page book. It contains fourteen items, including a detailed chronology of all the Intersystems presentations, initial critical reception in newspaper reviews, installation photographs, programs, and other documents, as well as the poetry of Parker that is heard on the tracks and recent texts by surviving cofounders Hayden and Mills-Cockell. Also in the box is a 17x23.5-millimetre reproduction of the separately bound bilingual twenty-four-page graphic short story Comic Power (Intersystems 1968) with text by Blake Parker, photographs by Brian Thompson and art direction by Bart Schoales.
According to notes in the book, Comic Power—created for the Mindex Department Store—was a corollary to Parker's "soap opera" Geordie and Renée. Lines from the graphic story and poems appear on their third and final album Free Psychedelic Poster Inside, couched in Mills-Cockell's creation of a several-part texture of sine and other waves, pink and white noise, sometimes slowly modulated and animated by twitchy and even violent stereo pans. Crossfaded snatches of organ-like chords drift into the soundscape, all of which dramatically echo the loose narrative of a young couple's relationship set in '60s soap-opera tropes and clichés.
Mills-Cockell acknowledges the influence that Dadaism, William Boroughs' cut-ups, and chance procedures had on the work of several group members. He told me in a phone interview that Parker often employed cut-up and reassembly procedures in his poetry. These processes were echoed in his own music. "I made [magnetic] tapes employing similar techniques," he told me, "which I recorded, [physically] cut to pieces and then spliced back together. I also often used I Ching-based operations inspired by the practices of John Cage."
Mills-Cockell summed up the group's modus operandi for presentations: "Michael [Hayden] and Dik [Zander] provided lighting, projections, and staging [as well as other elements]. Our approach was iconoclastic and nihilistic. There's no better description."
The first meeting of the three core members—Mills-Cockell, Hayden, and Parker—took place not in a bar or at an art-gallery opening but rather, fatefully, in a new course in electronic music. It was offered in the fall of 1967 in a dank little room located in the sub-basement of the Royal Conservatory of Music in Toronto, directed by the late composer, music educator, and arts administrator Dr. Samuel Dolin. A cofounding member of the Canadian League of Composers, Dolin had as his assistants his students Mills-Cockell and Anne Southam (1937–2010). (Southam in short order made important contributions to electroacoustic music, later embracing a lyrical minimalist style in her compositions for acoustic instruments.)
Despite the RCM's quite modest collection of sound-generating, sound-processing, and recording equipment, the course appears to have been an important Toronto focal point of intergenerational transfer of aesthetics and compositional technique as well as technology. The influences of classic electronic studio technique, of Dolin, and of the RCM's means of production flowed directly and seamlessly into Mills-Cockell's Intersystems compositions. Mills-Cockell told me that he recorded the Intersystems albums at the CMC Electronic Music Studio, at the group's studios, and at his apartment, where he assembled a DYI bare-bones studio.
Assessing the work on these three albums is problematic on several levels. It is made even more difficult by the lack of critical writing on their reception during their period of release, and by their very transgenre multiplicity. (Mills-Cockell referred to Intersystems' approach as well ahead of its day, locating it at the birth of contemporary mashup culture.)
It is only fitting that Alga Marghen, which specialises in sound poetry, artists' records, twentieth-century composition, and outsider music, has chosen to publish the complete works of this unlikely group of young Canadian artists who captured and expressed, for a brief two years, the cutting-edge intermedia zeitgeist of North American culture. 
Top image: Intersystems' Number One Intersystems LP (1967); design by Michael Hayden, photos by Brian Thompson, text by Blake Parker, music by John Mills-Cockell.