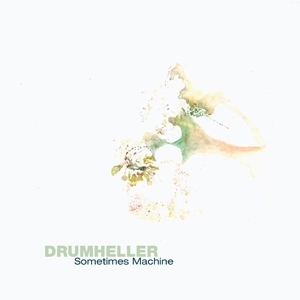 Supergroup is both an apt and a ridiculous descriptor for Drumheller, which comprises some of Toronto's most celebrated experimental and jazz musicians—Nick Fraser, Eric Chenaux (now a Parisian), Brodie West, Rob Clutton, and Doug Tielli—each member teeming with personality and talent as both a player and composer. While ostensibly fulfilling "supergroup" criteria, their slightly introverted and peculiar collective demeanour demands a more humble tag. Operating from a decidedly jazz foundation, the group's skewed tunefulness and textural whimsy recall Sun Ra, Ornette Coleman, or Eric Dolphy.
On their latest CD, Sometimes Machine, the group continues to avoid eruptions of free-blowing altogether, and instead celebrates more mundane ecstasies and, accordingly, more subtle and eclectic detours from form and idiom. As such, many of the album's pieces disintegrate rather than explode, chasing wilfully aimless melodic distractions, stubborn loops, obscure instrumental colours, timbral non-sequiturs, or sentimental mirages. Meanwhile, there are more disparate moments, such as the closing track, Tielli's beautiful "Furls," which adopts a gestural language similar to that used by some members of Wandelweiser Group.
Sometimes Machine is a delightful listen, maybe Drumheller's strongest disc yet. The group's core ingredients remain intact, but each piece is an inconspicuous barrage of small, destabilizing elements.