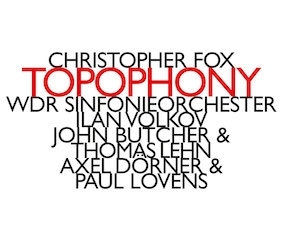 Ilan Volkov is responsible for some remarkable mergers of composed and improvised music, having conducted some of Roscoe Mitchell's first Conversations with the Icelandic Symphony Orchestra in 2016, combining transcribed improvisations with live ones. In the previous year, Volkov commissioned and conducted Christopher Fox's Topophony, a rare symphonic setting for improviser(s), debuting the piece with harpist Rhodri Davies as the soloist. This CD presents three versions of Topophony (from twenty-one to twenty-four minutes long), two with improvisers and one without.
Fox's orchestral piece is a "musical landscape," as he calls it, a slowly emerging series of thirty-nine "interconnected harmonies" in which sustained sounds arise, overlap, and disappear. Certain elements ensure that even an orchestra-only performance has an underlying dynamic: the conductor's beat is constantly changing. Improvisers don't rehearse with the orchestra, hear only one rehearsal, and are separated from one another within the orchestra.
The resulting pieces are both beautiful and shocking. The orchestra-only version approaches the beauty of stillness, like ripples on a pond or drifting sands, animated by Volkov's unarticulated but shifting beat. In the two versions with improvisers, it takes on a richer character, orchestra and improvisers functioning as contrasting environments for one another. With trumpeter Axel Dörner's drain-pipe sounds and Paul Lovens' percussive punctuations, the layers assume a new dynamism; with John Butcher's bird-chirps and a soaring glissando, and Thomas Lehn's electronic burbles, there's greater divergence, a stronger assertion of two different worlds. What's shocking? The rightness of all of this, the sense that what was once a common relationship—improvising soloists (like Beethoven and Mozart) supplying spontaneous cadenzas to concertos—might be restored with some regularity.