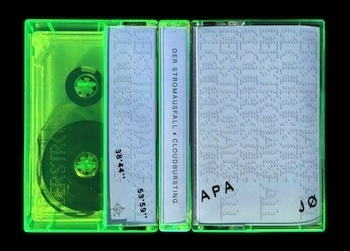 For the first half of this collaborative noise performance that took place in a pop-up storefront gallery in the Dundas West area of Toronto, JØ (Johann Diedrick, NYC) and APA (A Pure Apparatus, aka Xuan Ye, Toronto) perform entirely without electrical power. An outage during Diedrick's micro-residency show led to a last-minute improvisation in a different mode than was planned: the musicians used saxophone, melodica, voice, bicycle, branches, plastic bag, and other objects to create a screeching, industrial wall of sound with direct and troubled presence.
There's a cathartic tension in the two artists' shrill dialogues and abstract percussion on
Der Stromausfall
, the A side of the cassette. In
a nearly hour-long video of the performance available on Vimeo
, Ye grimly drags a drum across the gallery floor, then a minute later she blasts away on a saxophone. But the visual experience isn't necessary to appreciate the rich fervour of Diedrick and Ye's collaboration—it's gripping and challenging enough on tape.
Cloudbursting, the B side, features the originally planned performance, after power was restored to the gallery. Ye creates textures with electric guitar and voice while Diedrick performs with custom electronics: his sound-shower machine is a self-made instrument equipped with a pure data patch to morph organic sound into rising and falling pentatonic scales (in this recording, he samples Ye's voice, crystallized as a single note). The DIY instrument's name suggests beauty, but Cloudbursting rarely rests in ambient territories, as harsh and chaotic layers of melody and noise dominate.