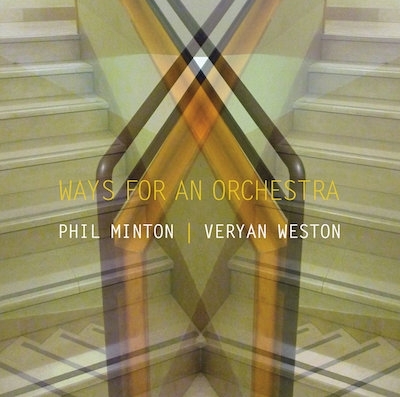 English singer Phil Minton and pianist Veryan Weston have been working together since the early 1980s, their wayward path crisscrossing and combining music hall, art song, free improvisation, and union anthems. Usually restricted to duo and quartet formats, here they make the most of a unique opportunity to match their material to an orchestra, creating an hour-long program in five movements that includes many of their most memorable songs.
There's an exuberant, insistent freedom here, beginning with an orchestrated excerpt from Mouthfull of Ecstasy, their treatment of James Joyce's Finnegans Wake, and concluding with the corrosive rage of Jacques Brel's "Who's Next?" about the horrors facing a young conscript. Along the way the material stretches from "The Cutty Wren," a song about eating policemen that dates from the 1381 Peasants' Revolt, to a version of Leiber and Stoller's "Jailhouse Rock" that substitutes extreme chromaticism for the original melody. Every song extends the range, from Ho Chi Minh's prison poems to the slyly elliptical language of Canadian collaborator Paul Haines's "Airport Insecurity."
It's the energy, skill, and incisive bite with which Minton, Weston, conductor Tonino Battista, and the Orchestra del Teatro Comunale di Bologna deliver this mix of radical cabaret and free improvisation that make this so successful. Minton's exaggerated diction, vocal virtuosity, and broad expressive range find their ideal complement in Weston's liberated lyricism and precision, extended here to his orchestral arrangements. Balancing wit, art, and an insistent political consciousness, this is among the most engaging recordings of the year.