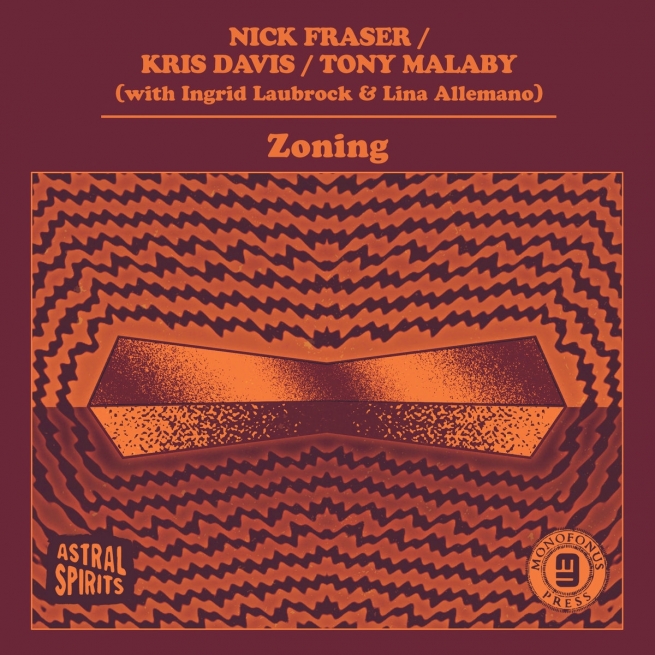 On half of Zoning's six tracks, Toronto drummer Nick Fraser, Canadian-in-Brooklyn pianist Kris Davis, and New York saxophonist Tony Malaby are joined by German saxophonist Ingrid Laubrock and Toronto-Berlin trumpeter Lina Allemano. This Toronto-recorded session is effective with both configurations.
On the trio's performance of Davis's composition "Events," the exposition is pulled out to a logical point, the pianist's rapid key-clipping and Malaby's intense growling action climaxing together, until dark piano voicing—coupled with a tender reed line—transforms the track into a near ballad. In quintet form, the tunes modulate from ambulatory to atonal. The former is evident on Fraser's "Wells Tower," in which balanced and individual split tones from Laubrock on tenor and Malaby on soprano saxophones bounce to a neatly harmonized intensity, as Allemano creates a brassy affirmation to the narrative. Free sounds are featured most prominently on "Sketch 46," another Fraser piece. Here, intermittent keyboard patterning and strumming and stopped internal piano strings form the backdrop to crying corkscrew sequences and no-key pressure blowing from the reeds, as Allemano's twitters and doodles course among the reed layers, with the track firmly anchored and completed by chiming keyboard runs.
The compositions and performances of this international crew can still be compared and acclaimed favourably with any similarly constituted group, anywhere.