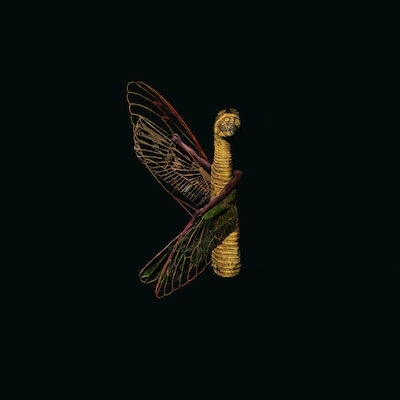 Some of the most mind-bending and genre-blending music is emerging from the fertile underground scene of Cairo, Egypt. Maurice Louca is a founding member of the Dwarfs of East Agouza trio with Alan Bishop of Sun City Girls fame and Montreal's Sam Shalabi, as well as other Cairo-based groups such as Bikya and Alif. Originally a rock guitarist, Louca began to mine other musical territories after starting to work with synthesizers in 2003.
Saet El-Hazz (The Luck Hour) is a six-movement work which infuses electroacoustic noise and free improvisation into 1960s psychedelia. A swirl of sound is sculpted by a septet that includes prepared guitars, acoustic bass, and Indonesian xylophones (serang) modified to provide access to the quarter tones of the Arabic maqam scale, along with trumpet, cello, harp, and percussion. Imagine early Pink Floyd with their Western scales sifted through an Arabic sieve, remixed by Iannis Xenakis in his Polytope de Cluny period.
"El-Fazza'ah (The Slip and Slide)" opens the album and is also the longest track, taking up ten of the thirty-eight total minutes. Beginning with fuzzy drones and crashing metallic reverberations, a central bass riff eventually emerges surrounded by a dizzying circus of sound. Noisy and melodic at the same time, it is reminiscent of Floyd's "Astronomy Domine" minus the vocals. "Bidayat (Holocene)" strips things down to solo guitar, first joined by bass and sparse percussion and then by other instruments, each round of the melody continuously building to a joyous romp. The title track is similarly structured, beginning with a guitar duet before rising to a noisy yet gentle climax.
According to the liner notes, Saet El-Hazz refers to a good time involving "a great deal of debauchery." If that is true then the music is in harmony with the title's sentiment, as Louca and band manage to simultaneously regenerate and degenerate '60s psychedelia into a pulsating and chaotic yet beautiful elixir.