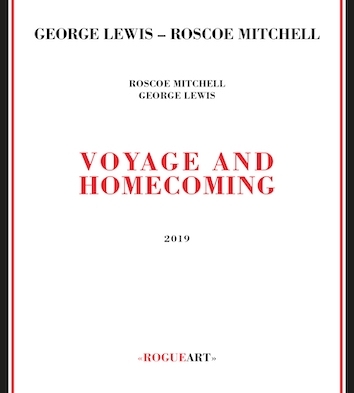 Roscoe Mitchell and George Lewis, two great standard-bearers for improvisation and experimentation, have enjoyed a long partnership. A 1975 Mitchell quartet recording from Toronto's A Space introduced Lewis as trombonist and as composer of Music for Trombone and B Flat Soprano; Mitchell appeared on Lewis's 1993 recording of his interactive computer program Voyager; the association continued in the 2000s in a trio with pianist Muhal Richard Abrams. This 2018 Berlin concert may not be a summative statement, but it's a fine retrospect and update.
The performance consists of three pieces, each distinct. The opening Quanta begins with Mitchell on sopranino saxophone creating a series of high-pitched, multiphonic honks and squeals, with Lewis joining in on laptop, processing Mitchell's signal and adding squawks and whirrs of his own, the two creating an abrasive celebration of the creative potential of noise. The second track reaches back to the Voyager program, but this time it activates a grand piano, an acoustic transformation that adds a bright and virtuosic pianistic voice to Mitchell's alto and Lewis's trombone, the latter providing a joyous explosion that's at once lyrically inspired and a classic journey through the instrument's repertoire of sounds. The music is sufficiently unpredictable that the results resemble that trio with the late Richard Abrams.
In the concluding Homecoming, another echo of the original Voyager CD, Lewis and Mitchell forego electronics, renewing the exploratory acoustic exchange with which they began so many decades ago.